26 May 2021
What is the price of a Realme TV in India?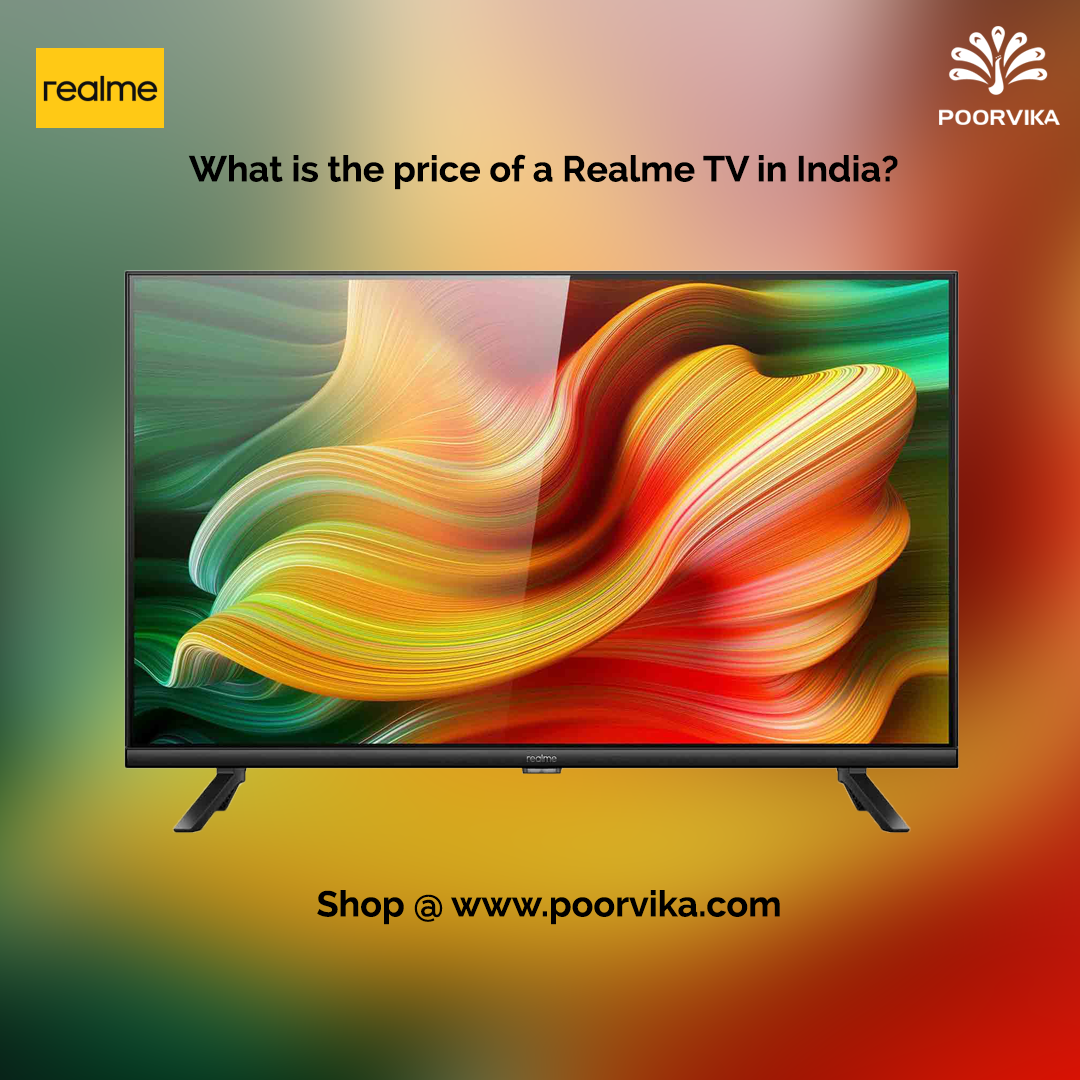 Since the inception of COVID-19 things aren't the same for many of us. Because we are currently in a scenario where we cannot neither daringly step out of our homes nor remain without doing anything for our living. Few years back parents were insisting children not to watch television. Because parents thought watching television was merely similar to wasting our precious time. But now it is very sarcastic to see parents insisting their children to watch television. Because classes happen either through TV channels or online mode. In this blog we will be discussing about the price, performance, and other features of Realme smart TV.
Realme became more successful because their products offer best value for money. So people were interested to buy realme products. They entered into India as a sub brand of Oppo and now realme has a separate fan base for their products. Over the last couple of years, their popularity has grown very vastly. After enjoying massive success in the smartphone industry, they're trying to capture the TV market share from other tech giants. Televisions are no more TV, they're smart televisions. Because apart from streaming content through DTH providers, TV's are capable of doing so many amazing things. In current scenario, functionality of TV is very vast and massive. After connecting the TV to internet, an individual can explore about anything on a bigger screen.
Realme TV: Design and Build Quality
Realme has done everything to stand out from the crowd, the realme android TV follows the same design of other televisions available in the market. It has a huge 43 inch massive LED display and bezels on all three make the TV look like it is bezel free. After turning off, the lights we bet you will not be able to see bezels at any cost. Without the stand, weight of the TV is just 6.7 kilograms.
The TV comes with table stands and screws to install them on the bottom of the TV. It also supports wall mount, but as per the brand policy you will have to purchase wall mount separately.
Entire body and the chassis of the realme TV is made out of plastic. Quality of the plastic seems pretty dense and solid, even after pressing hard on the edges, there was no kind of creaking sounds. Overall build quality of the TV is phenomenal. Generally budget friendly TV's tend to have a lot of flaws. In terms of design and build quality, the realme TV is incredibly good.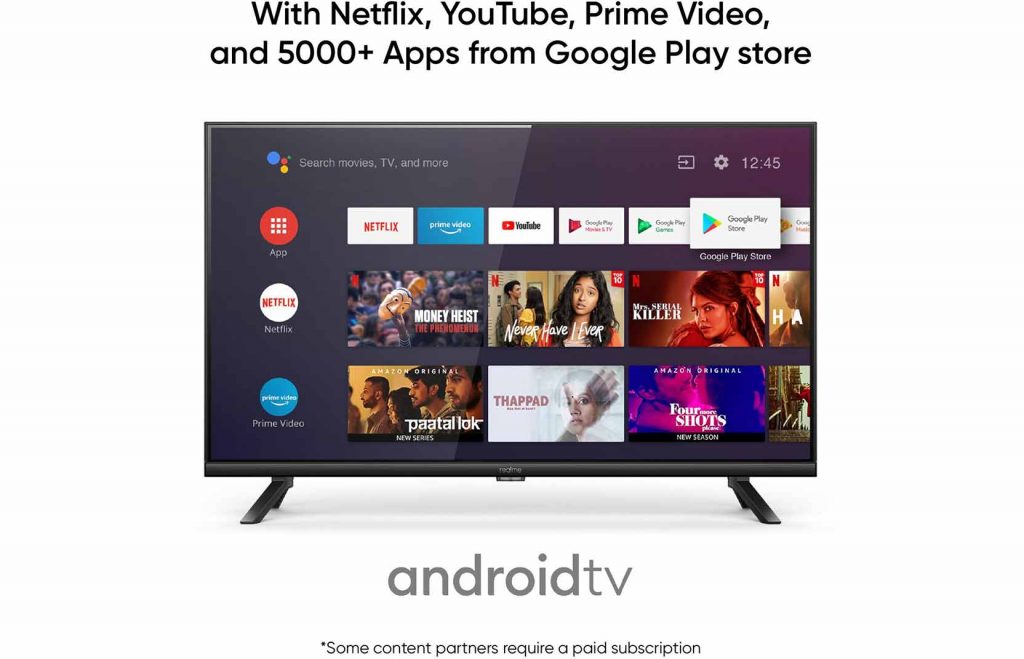 Realme TV: Visual Experience
After using smartphones for several years, our eyes has got the ability to easily recognize the difference in picture quality. So customers will not buy a TV which has a very mediocre display. So manufacturers are very cautious about the quality of display. Since realme TV has an LED display, we can expect good amount of brightness, vibrant colours and stunning viewing angle.
Generally budget friendly TV's suffer from screen bleeding. But the realme TV uses LED panel, so it is the right time to bid adieu to good old LCD televisions.
It also supports HDR (High Dynamic Range) in Full HD resolution. So content doesn't just look clean and sharp, user can see the colours in a very prominent manner. Panel of the display can produce maximum brightness level of 400 nits which makes the TV ideal across all lighting conditions. However at maximum brightness, colour reproduction of the display is a bit oversaturate. Yet it is definitely not a setback because most of the people prefer bright and punch colours.
Since the TV has a very bright panel, you will be able to watch all kind of content clearly even if sunlight enters through the windows of your hall. If user is sitting at optimal distance, they will be able to view entire content on the display of the realme TV.
Watching movies shows on online platforms like Netflix, Amazon Prime and YouTube is a surely a bliss to everyone's eyes. Next thing you can do with the realme TV is using it as a gaming monitor. Visuals of games will look blur free and non-pixelated.
HDR & Colour Gamut
Realme TV is able to produce eye-catchy visuals because of two elements namely DCI-P3 Colour Gamut and HDR10.
HDR is a photographic technique which analyses each frame of a video to deliver brighter and cleaner content. It uses static metadata to process to tweak colour calibration of the TV's display to enhance the visual experience to a great extent. 10 bit colour panel of HDR helps the screen to produce around 1 billion colours. HDR closes the gap between reality and technological advancement by offering lively and accurate colours.
Speakers
Four speakers of the realme TV can deliver total audio output of 24 Watts. The sound is audible enough to fill a large hall too. There was no kind of distortion even at higher volumes. It also has optimal amount of bass so user can easily identify lyrics of songs without much effort.
Most of the times, you need not connect 5.1 channel home theatre, as the speakers of the TV does an exceptionally good job which is worth appreciating.
User Interface
It runs on Android Pie 9.0 Operating System. Unlike other TV's the realme doesn't come with tons of preloaded applications. Because of light user interface, the TV didn't slouch a bit while switching between applications.
Since the TV supports Google Assistant, user need not use the remote in order to control the TV. It also has chromecast built-in feature thus you can stream content from other devices to the realme TV.
Ports
The realme TV comes with minimal number of ports yet they're useful for media and connectivity. The list of ports includes three HDMI ports, LAN port, digital audio out port, 3.5 mm AV connector jack and two ports for USB.
This television is ideal for people who are looking to buy a new TV at affordable price. By launching this TV, it seems like realme has done a great job.
Actual price of Realme 43 inch TV is rupees 25,999 whereas you can buy it for just Rs.23,999 from our website Poorvika. Avail our safe and secure delivery service to get products instantly to your doorstep.