28 May 2021
Is the ASUS ROG Zephyrus G14 Ryzen R7 4800HS gaming laptop worth buying?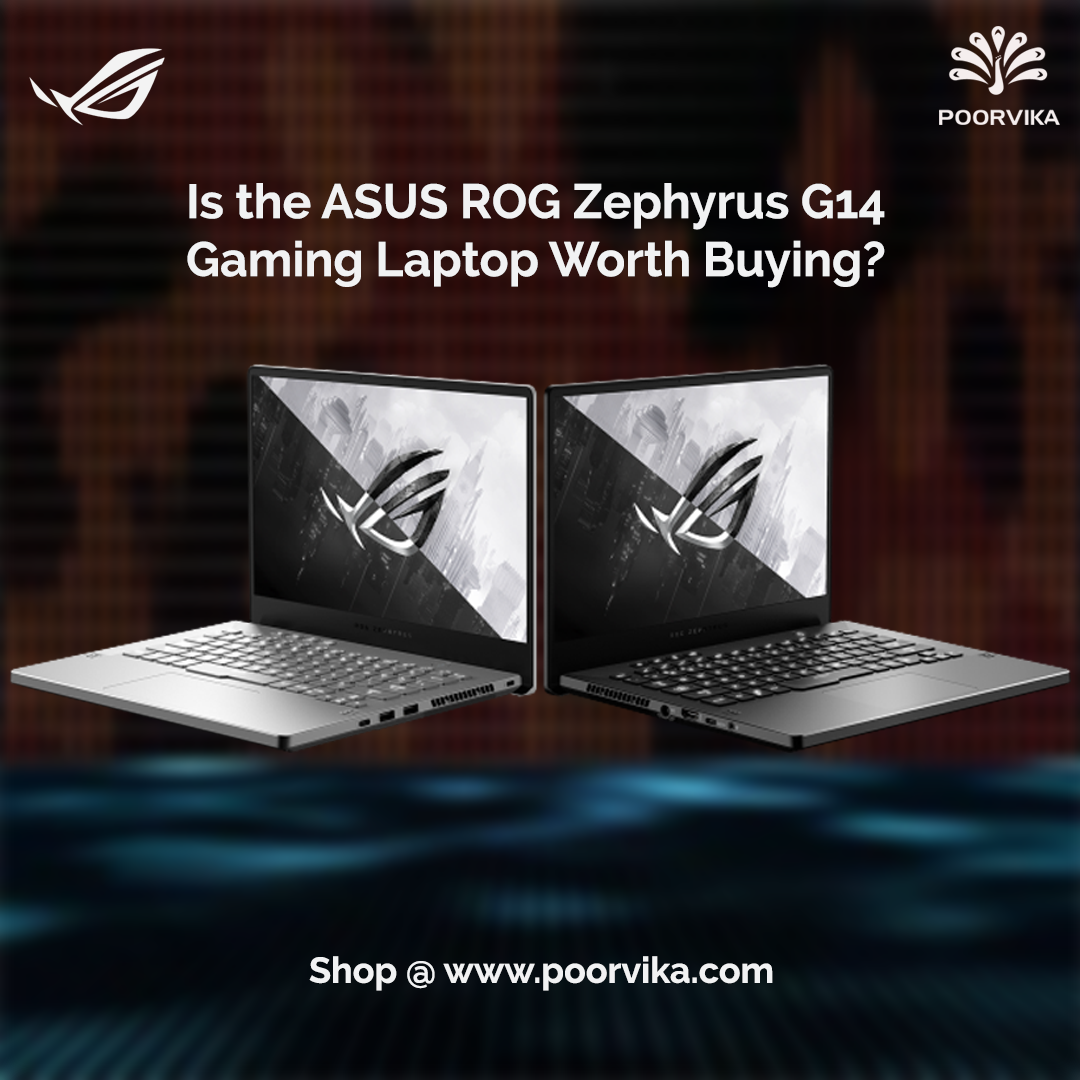 Games are undeniably the best medium to cure your boredom. Are games meant only for entertainment? Nope, in order to complete each level of a latest game, you need to have skills like decision making, aptitude and logical thinking. Gaming is not about pleasure, according to recent studies surgeons who play games are less likely to commit errors. Sounds crazy right? But there are stats to prove it. And these days game developers put a lot of effort while developing a game. They study the psychology and human behavioural science. Only then they will be able to develop a game which is quite hard and interesting to play. As said earlier, quality of games has grown to a great extent. So we need a really good device to play games. There are several discrete gaming components available in the market, yet it is always better to buy a gaming laptop. Because only a laptop can get your things done on the go. Today in this blog we will be discussing about the ASUS ROG Zephyrus G14 laptop is worth buying or not.
Except ASUS, no other company has products which are specifically designed only for gaming. You can use gaming laptops for productivity and basic purposes too. Because Gaming laptops are very powerful so they can handle any kind of tasks effortlessly. ASUS was able to become an indomitable force in the industry because of people's obsession towards games. Read the blog to know how the specification of the ASUS ROG Zephyrus G14 will help to have an edge over others.
ASUS Zephyrus G14: Design & Build Quality
The ASUS ROG Zephyrus G14 laptop has a traditional clamshell design. AniME Matrix feature on the laptop's lid, displays content at the back of the laptop. ASUS has used CNC milling in order to put holes precisely on the lid of ASUS Zephyrus laptop. The AniME Matrix feature, displays content at the back of the laptop's screen, so we will not be able to view contents on it. Though it is not a very functional feature, it enhances the aesthetic beauty of the laptop.
Entire body has a matte ceramic finish, so the laptop is able to resist fingerprint marks, smudges at any cost.
Entire body and chassis of the ROG laptop is made of magnesium-aluminium laptop. Hence the laptop weighs very less, yet the build quality is phenomenal. Hinges of the laptop is very dense and robust. The lid of the laptop will not wobble even if you're slamming the keyboard.
ASUS Zephyrus G14: Display & Keyboard
There are several components which has to work together in order to deliver great gaming experience. Among the various components, display and keyboard plays a very prominent role. Because these two components enhances the user experience of a laptop.
The ASUS ROG Zephyrus G14 has a 14 inch Quad HD with a supporting screen resolution of 2560 x 1440 Pixels. Since the pixels are held in a very close manner, content looks clean and sharp on the display of Zephyrus G14 laptop. It also has 100 percent SRGB certification. So user can expect exact replication of real life colours. Matte surface on the laptop's display, prevents light glare. And the overall visual experience of the laptop's display will delight your eyes.
Keys on the Moonlight White colour keyboard of the laptop has optimal amount of actuation so you will not have to press them hard. Since the keys has a very less key travel, sounds of the keys cannot be audibly heard.
ErgoLift hinge of the laptop elevates the bottom part of the laptop slightly, to offer ergonomically better position than conventional laptops. It also allows more air to circulate freely, thereby improving the performance
ASUS Zephyrus G14: CPU
CPU is the most important component of a laptop. Because it executes all kind of command which user is assigning to the laptop. Without CPU, laptop will not be able to function at all. ASUS ROG Zephyrus G14 runs on AMD Ryzen 7 4800HS processor. Each core of this Octa core processor consists of 2 threads. So totally the Ryzen 7 processor has 16 threads. The Ryzen 7 4800HS processor has a base clock speed of 2.90GHz. This clock speed is more than enough to get your everyday tasks effortlessly. But it has the capability to achieve maximum clock speed of around 3.80GHz. For a gaming laptop its CPU doesn't have to be very powerful. Because gaming requires robust graphics card which is also commonly known as GPU in order to process and render graphics of a game.
The CPU does an exceptionally amazing job in both benchmark test and real life too. In the multi core benchmark test of Cinebench R23, the processor was able to score whooping 10590 points.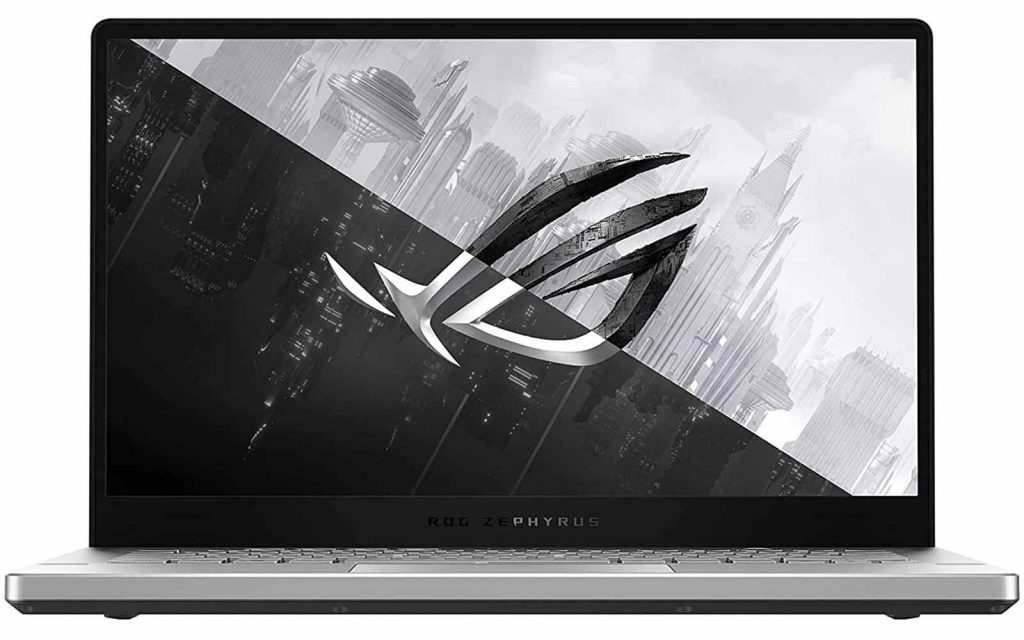 By using 7 nanometre lithography, AMD is able to reduce the power consumption of the Ryzen 7 480HS CPU.
Graphics Card
Graphics Card is the most vital element for a gaming laptop. Because without discrete GPU, user will not be able to play graphically intensive games. The ASUS ROG Zephyrus G14 laptop has a 6GB NVIDIA GeForce 1660Ti Graphics Card. We were able to play all kind of demanding games like Shadow of the Tomb Raider and Counter Strike Global Offensive, without any struggles.
The laptop was able to handle every game in high resolution with graphic settings. We didn't face any kind of stutters, lags even while continuously playing games. On average the laptop was able to deliver more than 65 frames per second. The Turing architecture of NVIDIA GeForce 1660Ti delivers 50 percent more instruction per clock and consumes 40 percent lesser power than Pascal architecture.
You can use the ASUS ROG laptop for editing videos as well. Because video editing application like DaVinci Resolve, relies heavily on the muscle of GPU.
Memory
It has a 16GB DDR4 RAM to tackle multiple applications and provide breezy multitasking experience. For storage, ASUS ROG Zephyrus G14 has a 512GB Solid State Drive that ensures user doesn't have to experience slowdown at any cost.
Battery
Generally gaming laptops don't do well in terms of battery. Because heavy applications and games consume battery like a monster, so gaming laptops run out of steam very quickly. But the 76 Watt Hour battery of ASUS ROG Zephyrus G14 laptop, offers a total stand-by time of 8 hours. Even under heavy usage, the laptop was able to last for 6 hours.
Verdict
If you're looking for a high performance gaming laptop, the ASUS ROG Zephyrus G14 is the best choice currently available in the market. It has the ability to meet all kind of requirements effortlessly.
Original price of ASUS ROG Zephyrus G14 is rupees 165,990 but you can buy it for just Rs.109,990 from our website Poorvika. Avail our safe and secure delivery service to get products to your doorstep.