01 Jun 2021
Best features of the ASUS VivoBook X415JA-EK094TS Home Laptop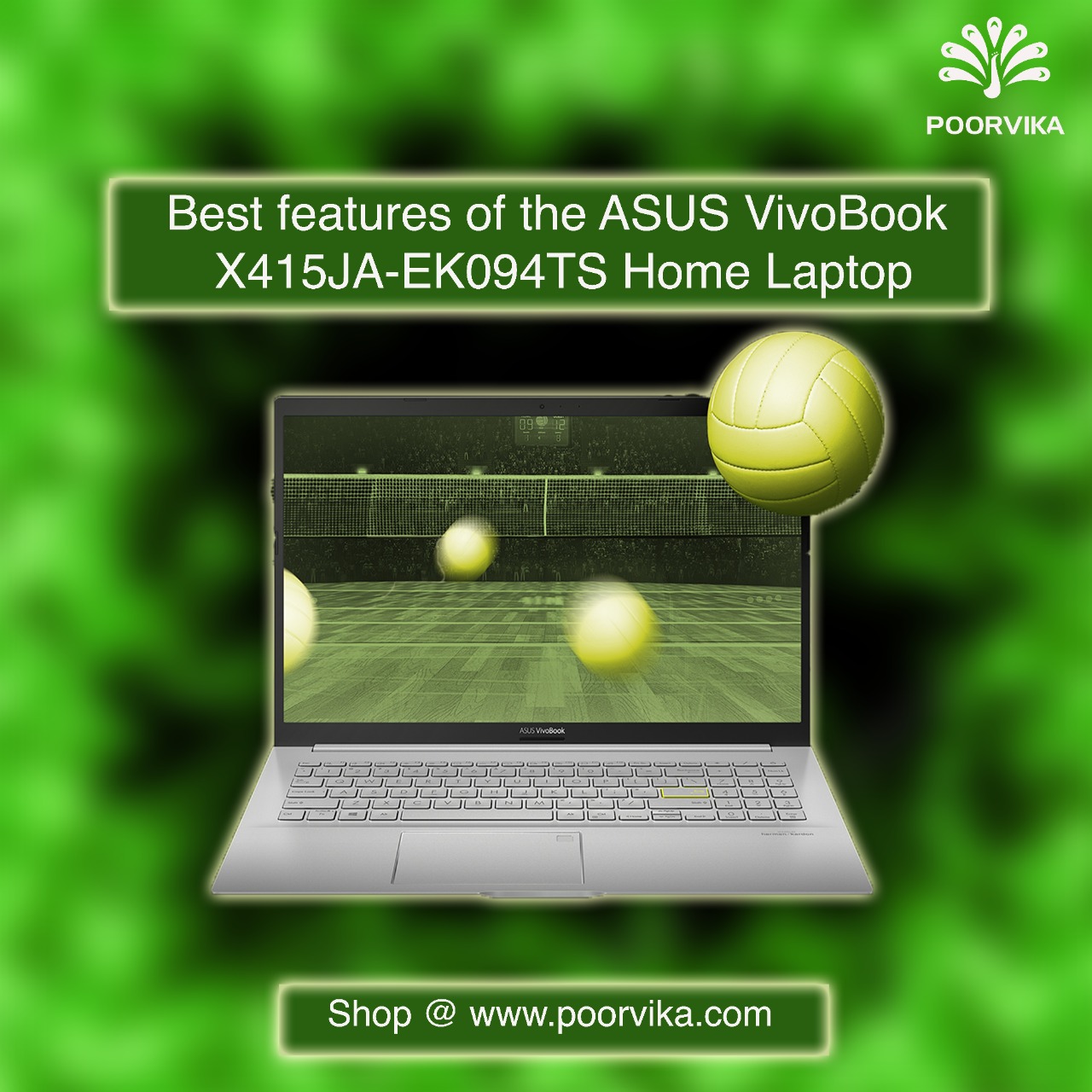 In present scenario, laptop has become one of the most essential aspect of our life. Because we are badly in need of a laptop to keep our productivity intact. Since other electronic products like 'Smartphones has certain limitations, hence the importance of laptops has increased to a great extent. Generally smartphone users are classified into Android and iOS users. The same thing continues with laptop too. Windows and Mac are the two operating systems which most of the people use across the globe. If you're a windows user, ASUS VivoBook EK094TS laptop from ASUS is a really good choice. This blog will be a comprehension of the best features of ASUS VivoBook EK094TS laptop.
People are very conscious about form factor of laptops, so companies are manufacturing 14 inch laptops. As weight of 14 inch laptops is very less and hence it is easy to carry them anywhere you want. Unlike smartphones, manufacturers cannot completely change the design of laptops. But over the years laptops have underwent massive changes. Bezels have become slimmer and keys don't protrude above the surface of the laptop.
ASUS VivoBook EK094TS: Design
Edges of the ASUS VivoBook EK094TS are sharp and the overall aesthetics of the laptop is very pleasing. Matte brush metal finish gives the laptop a premium feel and ASUS VivoBook doesn't look like it belongs to the budget segment. The ASUS VivoBook EK094TS laptop is 6.8 percent slimmer than its predecessors. Only thing which this laptop lacks is: Ergo Lift feature of other ASUS laptops. It elevates the position of laptop by at least two degrees which allows user to work comfortably using the VivoBook laptop. It is available in Transparent silver colour which looks lovely to your eyes.
Display & Keyboard
14 inch Anti-glare display of the ASUS VivoBook EK094TS laptop has a supporting screen resolution of 1920 x 1080 Pixels. Thus display of the laptop is able to deliver crystal clear content without any kind of grains or distortion.
Colour reproduction of the display is accurate with good level of contrast and saturation. Slim bezels on left and right side of the laptop ensures great viewing angle to users.
Typing experience on the Chiclet keyboard of ASUS VivoBook EK094TS is top notch. It has just 1.4 mm key travel hence you will not even feel the downward motion of keys while typing. However lack of numpad can be bit annoying while working on worksheets.
ASUS VivoBook EK094TS: Chipset
Here comes the most important component of a laptop. This tiny component of a laptop controls the entire functionality of a laptop. The ASUS VivoBook laptop runs on Intel Core i5-1035G1 processor.
10th Generation Intel Core processors took performance to another level. And it is through 10th Gen processors were the game changing factor for Intel. As Intel was struggling to compete with 7 nanometre lithography of AMD. But Intel got better than ever by launching 10th Gen processors which were built using Ice Lake microarchitecture.
Although difference in performance can be explicitly seen only while using intensive applications and editing videos on Premiere Pro. Ice Lake microarchitecture of Intel made its predecessors as feeble and worthless.
User can visualize performance gap between Ice Lake and its predecessors. Because performance of laptops which run Intel Core 10th Gen processors is similar to a raging bull. Are you curious to know what makes processors which use Ice Lake microarchitecture so fast?
Hold on, we are going to reveal everything shortly. Using the turbo boost technology and the support of Hyperthreading, the Quad Core processor is able achieve a maximum clock speed of 3.20GHz. This kind of clock speed is pretty high for a Quad Core processor. But processors which were built using Whiskey Lake microarchitecture was able to reach 4.1GHz.
Though 10th Gen chipsets has lesser clock speed than its predecessors, Ice Lake outshines Whiskey Lake and Cascade Lake in all possible ways. Because Sunny Cove core of 10th Gen processors has 18 percent more Instruction per Clock. Hence Intel is able to deliver better performance at lesser clock speed.
ASUS VivoBook EK094TS: Performance
However user will not able to feel the swiftness of 10th Gen processors while browsing, editing sheets and watching videos. It is only evident while running Emulator in Android studio.
The Intel Core i5-1035G1 chipset is capable of performing 29,513 Integer Math Mops/Sec and 6,074 Million Matrices Extended Instructions per second.
In the Single Core benchmark test of Cinebench R23, the i5-1035G1 processor has a total score of 1078 points. Only few Hexa and Octa core processors manages to score more than 1000 points in single core test. Because except the raw processing power of single core, there is nothing to help chipset to increase the overall score. Whereas Multi Core test uses Hyperthreading support in order to boost the overall score.
Cinebench benchmark test uses Cinema 4 suite software to create three dimensional forms. And the scores are based on raw power of the CPU. 
Graphics Card
In addition to CPU performance, there is a massive improvement in gaming as well. Because of Intel Integrated UHD graphics card.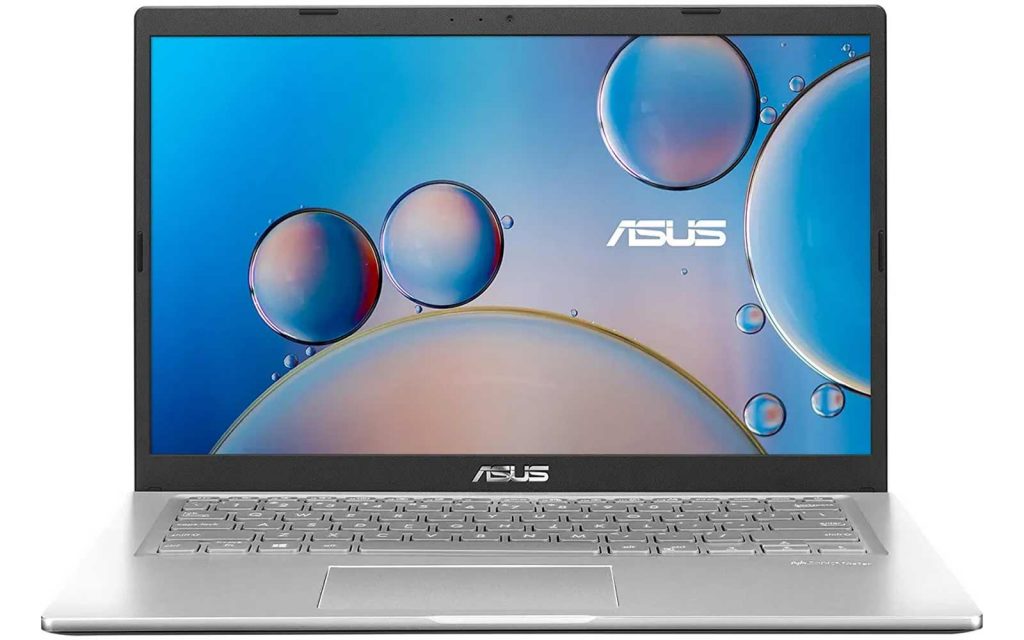 Processing and rendering power of Intel UHD is nowhere near discrete graphics card like GTX and RTX from NVIDIA. But the potentiality of Intel UHD is more than enough to allow user to run heavy games like Call of Duty in low graphic settings. Editing photos, designing posters on Adobe Photoshop is not be an issue at all.
Combination of robust CPU and Intel UHD delivers a very satisfactory overall performance.
Memory
The ASUS VivoBook laptop comes with 8GB DDR4 RAM. It works flawlessly, in order to deliver great performance even while user is working on many applications simultaneously.
For storage, the laptop has a M.2 NVMe PCIe 3.0 512GB Solid State Drive. Since SSD don't have moving parts inside them, it can work at unbelievable speed.
Battery
ASUS VivoBook packs a 37 Watt Hours 2 cell Lithium-ion battery which has enough charge to offer a standby time of 6 hours.
Battery life of ASUS VivoBook EK094TS isn't very impressive as their Zenbook and ROG Zephyrus series laptops.
Ports
On both sides, the ASUS VivoBook laptop features an array of ports for connectivity. The list of ports are 2 USB- Type-A ports, 1 USB Type-C, HDMI port to share content from your laptop to peripheral device, 3.5 mm headphone jack with microphone support, discrete slot for Micro SD card reader.
Hope the blog did justice to the title by explaining about best features of ASUS VivoBook laptop. Buy ASUS VivoBook EK094TS Laptop for just rupees 49,990 from our website Poorvika.
Avail our safe and secure delivery to get your products instantly to your doorstep.