02 Jun 2021
Beats Solo Pro Wireless Noise Cancelling Headphones- Review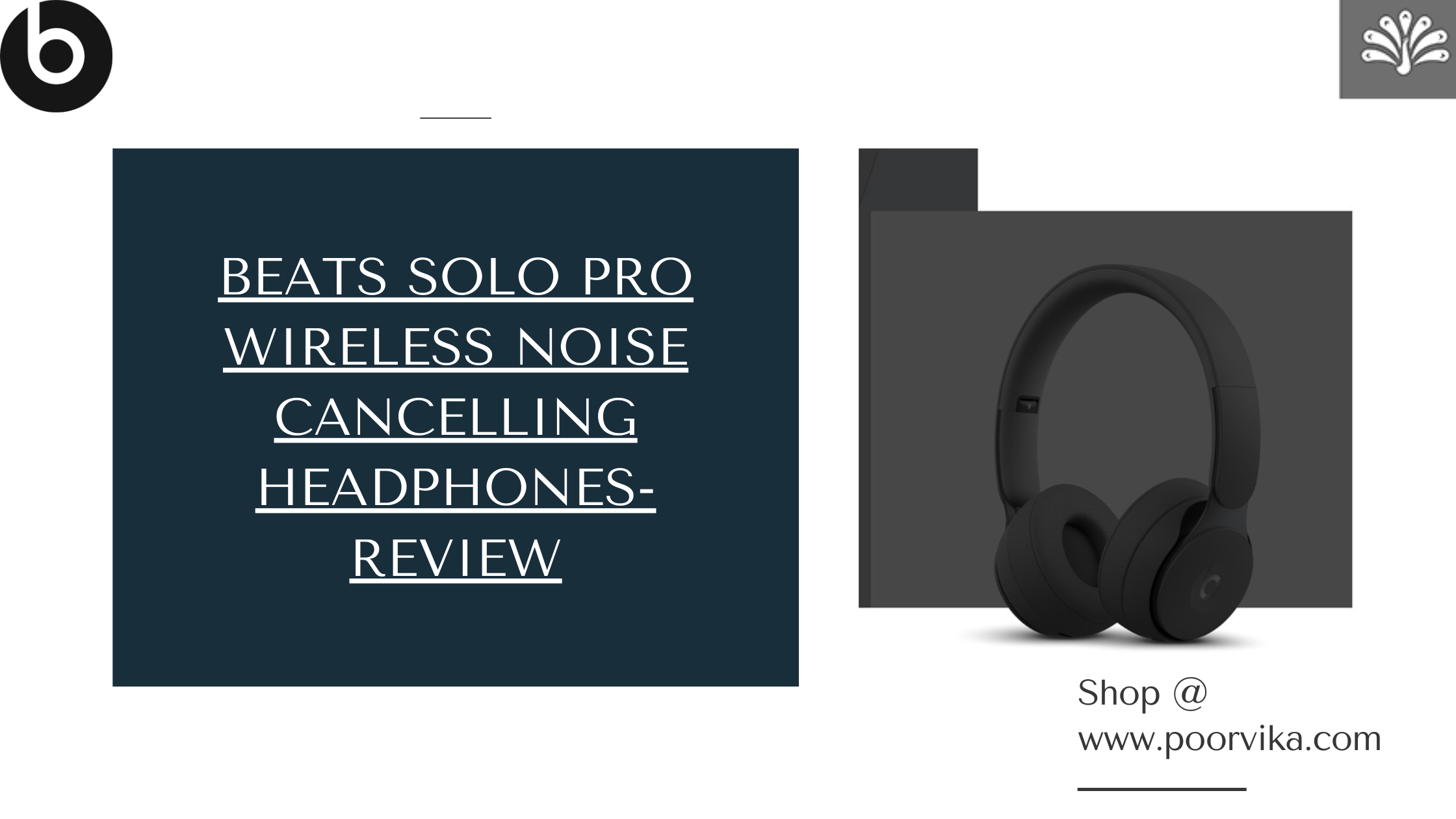 Music gives you creativity. You often see colours and shapes dancing around in your head while listening to your favourite music. But attending a webinar or conducting a conference in the Work From Home (WFH) scenario is hard as Home will not provide you with the much-needed office environment to concentrate on your work.
Suppose you're doing a lot of teleconferencing or video chatting, you need the best headphone with a good microphone as they improve the audio quality and help you hear every word vividly.
Are you thinking of buying a new headphone and don't have time to do your market research? Don't worry! We are here!
Let us have an in-depth glance to know more about the Beats Solo Pro Wireless Noise Cancelling Headphones that are available to lift your mood in no time.
Noise cancellation:
The advanced Beats Solo Pro Wireless Noise Cancelling Headphones comes with the Pure Active Noise Cancelling (ANC) feature. It blocks the external noise and uses real-time audio for distraction-free listening wherever you are.
It continuously pinpoints outside sounds to block while responding to individual fit in real-time and optimizes output quality.
Transparency mode gives you complete control over your listening experience. Switch it on, and you'll be able to listen to your music while you still hear the outside environment.
You can switch listening modes on your beats Solo Pro wireless headphone and choose the level of noise cancellation you require.
New Apple H1:
The new Apple-designed H1 chip powers the Beats Solo Pro Wireless Noise Cancelling Headphones. It brings a few hours of talk time, high-speed wireless connections, a better audio experience and improved synchronization.
The H1 is engineered with ten audio cores, creating incredibly low audio processing latency and allowing real-time noise cancellation. Get the theatrical experience while watching TV shows or movies!
Stay connected:

With Class 1 Bluetooth technology, this wireless headphone offers an extensive range for you, so they stay connected with you no matter where your day takes you.
A speech-detecting accelerometer and dual-beam forming microphones detect your voice and filter out outside noise for excellent call performance.
Just ask Siri:

Chatting with your favourite personal assistant is easier than ever. You can simply say "Hey Siri" to activate the voice assistant or press and hold the "b" button on the right earcup till you hear a voice. You don't want to reach your iPhone to do that.
Answer phone calls from Beats Solo Pro Wireless Noise Cancelling Headphones:
Press the "b" button on the earcup to control phone calls. Press once to end or answer a call. Again press once to attend a second incoming call and put the first call on hold. You can do everything with just a tap.
Charge your Solo Pro headphones with Lightning cable:
Plug your headphone into a power source using the Lightning Cable. As the headphone charges, the LED pulses. When charging is complete, the light turns white and remain lit.
Charging time of Beats Solo Pro Wireless Noise Cancelling Headphones:
With just two hours of charging, you get 22-hours of playback even when you turn on the Active Noise Cancelling (ANC) or Transparency mode.
And with just 10 minutes of charge, you get 3-hours of continuous music.
If you turn off the Active Noise Cancelling or Transparency mode, you can enjoy up to 40-hours of playback from 2-hours of charging or up to 6-hours of playback from a 10-minute charge.
Enjoy Spatial Audio with support for Dolby Atmos:
Apple is delivering Spatial Audio with support for Dolby Atmos to Apple Music. By default, Apple Music will automatically play Dolby Atmos tracks on Beats Solo Pro.
Apple Music will be adding new Dolby Atmos tracks constantly, curating a unique set of Dolby Atmos playlists for you to find the tune you love.
You can share audio:

Audio Sharing allows you to wirelessly share audio between Beats Pro and any other pair of Beats headphones or Apple AirPods. You can listen to and share music or podcast, or even a movie. Use your Apple iPad or iPhone to share the music.
Style meets comfort:

This design is focused on ergonomics to ensure a comfortable fit for extended use. The brushed metal sidearms are flexible and durable. When you take your headphone on both hands, you can feel a robust body structure, coated rich finish, and that makes you feel sophisticated.
Find your Beats Solo Pro Wireless Noise Cancelling Headphones!

Need help to find your Beats Solo Pro?
If your Pro is missing or lost, the Find My app can help you track them down using the vast and global Find My network. Devices in the Find My network use secure Bluetooth technology to detect your devices nearby and report their approximate location back to you, so you can find them instantly.
Buy the Beats Solo Pro Wireless Noise Cancelling Headphones and sing along to your favourite songs with them. Click here to find out the Beats Solo Pro price in India.
Poorvika's Online Shopping Website (www.poorvikamobile.com) has a wide range of products in various categories, and you can get your favourite product with the best deals and offers.
We have collaborated with HDFC, Standard Chartered and other leading banks to offer you the best offers, deals and discounts, cashbacks and Easy EMI options.
Please use Poorvika's Safe and Secure delivery option to have your Beats Solo Pro Wireless Noise Cancelling Headphones delivered right to your doorstep without any delay. Our delivery experts ensure that all orders are Safe and Sanitized.

Click here to check out my other blogs to stay on top of Upcoming Smartphones, Earphones, and many more gadgets. Get the latest Tech News and Updates, all in one go!