04 Jun 2021
What is the best 55 inch Smart TV to buy?

Few years back televisions were considered as the enemy of students. Because parents had a misconception about the role of televisions. But in present scenario, students are able to pursue their education through television and laptop. Many schools are streaming classes through TV channels, so that students can learn according to their convenience. It is really surprising to see a product impacting our lives in a very intensive manner. Today in this blog, we will be discussing about the best 55 inch smart TV to buy. While speaking about televisions, there are certain aspects which makes a television best in its segment.
Samsung is the most popular television brand across the globe. They are known for offering top notch products. It is also the main reason behind their dominance, in television industry for several years. They own 33.1 percent television industry's market share. And they are on the top spot for 15 years. This is something, which no other company except Samsung has done. Their Galaxy series smartphones came with a tagline "Do What You Can't" and now it seems like they're doing what others cannot do. All new Samsung 4K Ultra HD television has the ability to captivate everyone in our planet.
Samsung 4K UHD: Visual Experience
Visual experience of the Samsung 4K UHD TV is absolutely stunning. The picture clarity of the TV is super sharp because of the 4K UHD screen resolution. Resolution is a technical term that refers to the number of pixels a display is capable of holding inside it. And the number of pixels play a very prominent role in determining picture clarity of a TV.
In present scenario, watching Full HD content on a display which is larger than 32 inches will not be very pleasing to our eyes. Because watching blurry and pixelated content on a large display can be really annoying. So, companies introduced 4K to sweep away the issues of Full HD televisions.
Wide Colour Gamut
Many displays with higher number of pixels are not able to produce vibrant and eye catchy colours because those displays have a very poor colour gamut. In order to deliver accurate colours, display of the TV must have a good colour gamut.
Wide Colour Gamut is a technology which is widely used by all TV companies to deliver beautiful colours. Which means by using this technology, companies will be able to deliver colours which are attractive enough to make our eyes lust. Because no one will like to watch content on a display which doesn't have the ability to offer attractive colours.
Since the Samsung TV uses LED panel, you need not worry about poor picture quality because of issues like screen bleeding. Traditional LCD displays tend to bleed because they use backlight technology to display content on the screen.
Samsung 4K UHD: Picture Enhancer
The Samsung TV has several features to boost the picture quality to a great extent. It has some interesting features like High Dynamic Range, Hybrid Log Gamma, Contrast Enhancer, Auto Motion Plus and Film Mode. Samsung is using all these technology to bring world class cinematic experience to home.
Combination of all these technology works like a charm in real life. Colours look phenomenal and watching any kind of videos will be a visual treat to your eyes.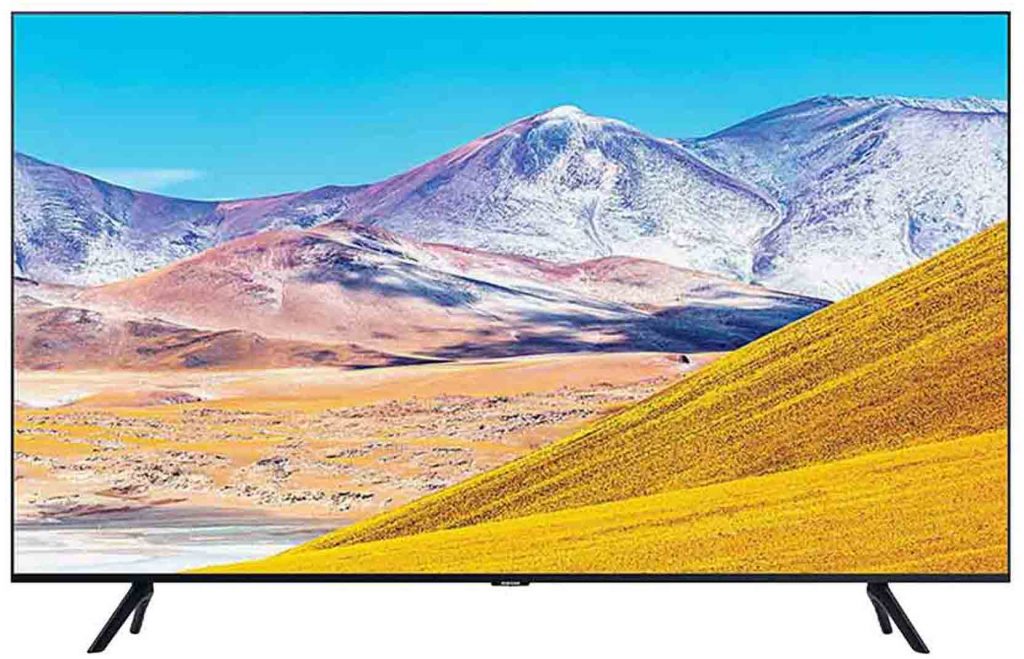 Among all the features, most impressive and functional feature of the Samsung 4K TV is Hybrid Log Gamma. It is a technology developed by British Broadcasting Company and Nippon Hoso Kyokai to deliver SDR content into HDR. Hybrid Log Gamma enhances SDR content into HDR to make our viewing experience breezy and soothing.
Crystal display of the Samsung 4K UHD TV, has the potentiality to deliver billions of colours. Which means you can easily recognize each variant of a same colour.
Colour mapping technology of the television synthesizes each frame of the video to offer visual experience without any kind of compromises.
Since resolution of this television is 4 times larger than Full HD, we can visualize even the smallest details in a very dramatic manner. Generally Full HD TV's suffer from this limitation because they don't have sufficient number of pixels to deliver minute details without any kind of blurs.
Samsung 4K UHD: Processor
As said earlier picture clarity isn't entirely about the display of a TV. Processor plays a prominent role to enhance the clarity of a television's display. And its role can be evidently seen while watching regular content. Even now, most of DTH providers are delivering content in Full HD resolution only. And it is the role of Samsung Crystal Processor 4K to transform ordinary content to extraordinary.
The 4K processor of the Samsung UHD television, is not only to improve picture clarity. It offers hassle free user experience while watching videos on platforms like YouTube, Netflix and Amazon Prime Video.
Audio
Though the market consists of several speakers. Role of TV's integrated speakers cannot be ignored. Because user will not be using external speakers always. So it is necessary for a smart TV to have good speakers.
Sound Output from the 20 Watt speakers of the Samsung 4K UHD TV is neither deafening nor mild and weak. It is optimal even for rooms which have a carpet area of over 1,000 square feet.
Vocals of the TV is clear and bass levels are surely satisfactory. The TV offers a perfect balance between bass and treble. Hence sound effects from horror and action movie can be scary and intimidating.
Other Features
Samsung 4K UHD TV comes with alexa built-in voice assistant. Which means you can access all kind of your TV's control through your voice alone.
This TV supports AirPlay 2, so user can share content from their Apple devices to Samsung 4K UHD TV in very convenient manner.
One Connect box is definitely one of the selling point of Samsung TV. It is placed behind the back of the TV. After connecting wires to the One Connect box, you will not be able to see the sight of entangled wires on the table. It is a solution to get rid of messy wires around yourself.
Installation
Don't attempt to install the television on your own, after purchase, authorized service engineer from the company will come to your place and install the TV.
Original price of Samsung 4K UHD TV is rupees 86,900. Whereas you can buy it for just Rs.63,890 from our website Poorvika.
Avail our safe and secure delivery service to get products instantly delivered to your doorstep.