10 Jun 2021
Beats Flex Wireless Earphones- Review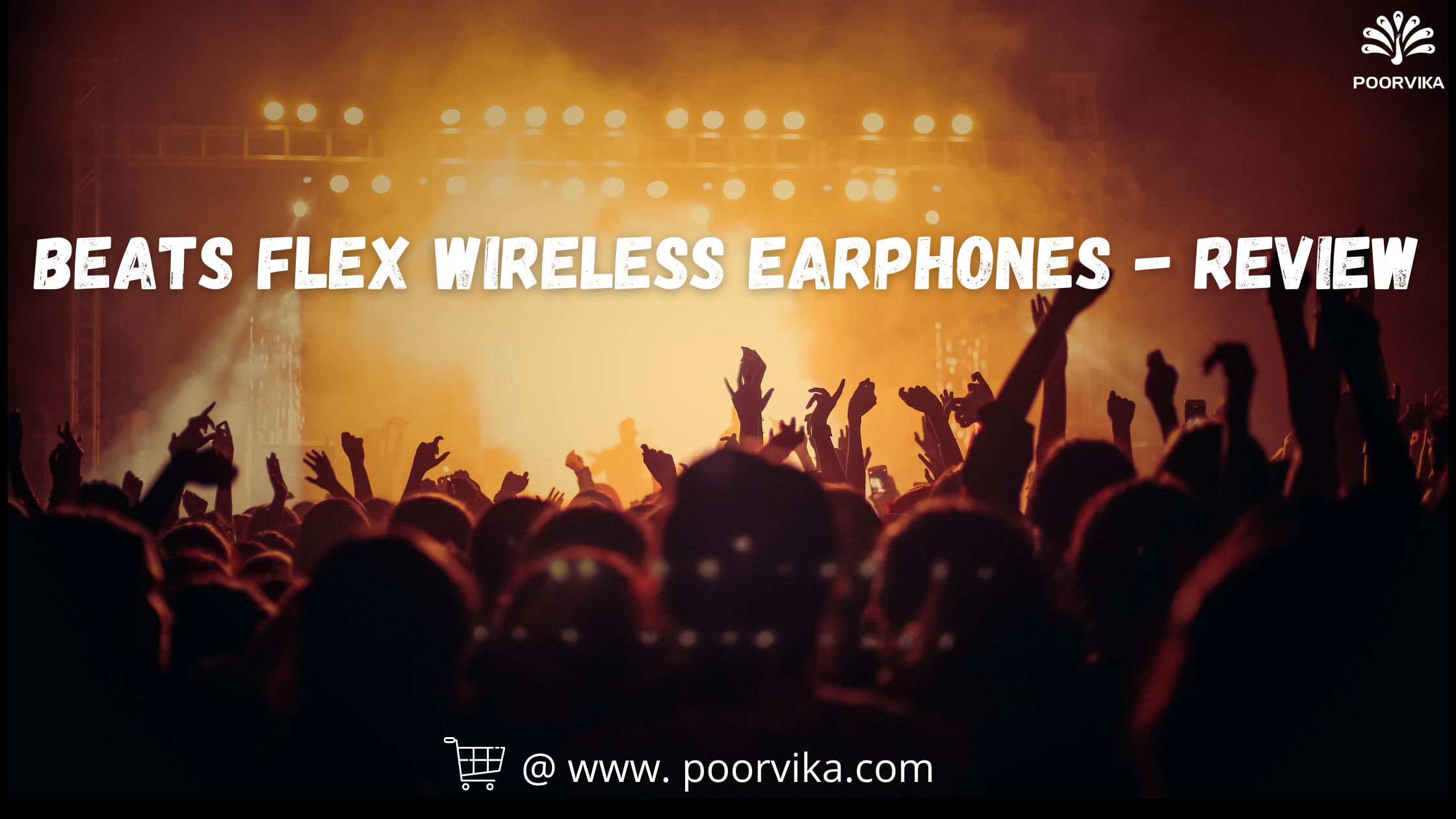 In the last few years, audio technology has progressed drastically, and headphone has become more innovative and offers more features than ever before.
Nowadays, to sustain and grow in the Indian market, companies are launching their headphones in various sizes, like On-hear, Over-hear or tiny TWS earbuds.
If you are searching for wireless headphone and don't want to go with bean-sized TWS earbuds or giant-sized Over-Ear headphones, the next best option for you to choose is the wireless neckband.
Yeah! Unlike these headphones, the neckband lay comfortably around your neck or in your shirt collar when you wear them. These are the trendy type of headphones as they are highly comfortable and have much more to offer than just wireless convenience. The neckband provides more stable battery life, Bluetooth connectivity, voice clarity and comfort.
Are you looking for a premium neckband to buy right now in India, and you don't have the patience to do your complete market research?
If yes, you've come to the right place.
Let us have a complete analysis of the Beats Flex Wireless Earphones that provides premium comfort for you!
Flexible day:
If it is in your ears or sleeping around your neck, the Beats Flex is as versatile as you. Whether you're listening to a song, taking calls, or scrolling your social media, your headphone will always be ready for your next task.
Beat it!
Beats Flex Wireless Earphones is engineered with a dual-chamber acoustic design. A proprietary layered driver to achieve excellent stereo bust-up with rich and well-defined bass.
Additionally, the Laser-cut micro-venting provides relief from the ear pressure. The optimized driver angle ensures a piece of clear, crisp music. The advanced digital processor fine-tunes your tune for an authentic and dynamic listening experience.
Lightweight headphone:
This lightweight headphone comes with Flex-Form cable, which is comfortable for all-day wearing, wherever you run, whatever you do. You can quickly put them in a bag or coil them up into your pocket or pouch. It fits in the ears comfortably as it offers four ear tip options for a personalized fit.

Magnet:
This neckband comes with Magnetic earbuds. Each earbud has a Magnet at the back, so they stick together and create no tangles.
Battery capacity:
Don't worry about the battery life, as a rechargeable lithium-ion battery powers this Beats Flex Wireless Earphones. It offers up to 12 hours of battery life. Your music can travel along with you all the time.
Suppose your neckband headphone runs low on power you can plug in for a 10-minutes. Fast Fuel charge that will give you up to 1.5 hours of playback. So, you will never run out of music.
Bluetooth 1:
Class 1 Bluetooth removes the need for wired connections and complex set-up sequences. Connect your enabled device to the headphone for a quick, seamless connection, then start playing your music collection.
Built-in microphone:
The built-in microphone is available to pick up your voice by reducing wind noise for high voice clarity and call performance.
You can quickly connect with your clients and colleagues or catch up with friends and family no matter where you live.
On-device controls allow you to adjust volume and manage music, take calls, or activate voice assistant in no time.
Easy to Play and Pause:
It makes your listening much more accessible by automatically playing music when they're in your ears and pausing when you pull out your earbuds.
Apple W1 chip:
We love Apple for its quality. Apple takes a lot of effort to provide the best quality products for every Apple user on the planet.
And guess what? You are lucky because even without getting an Apple earphone, you get to experience Apple, as Beats have embedded this headphone with the Apple chip!
Yes! The Apple W1 microprocessor drives these earphones. The W1 combines numerous powerful technologies into a single chip to deliver a whole new level of integration for quick performance and power efficiency.
The Apple W1 chip easily integrates Beats Flex neckband into your Apple ecosystem. Power on and hold near your Apple iPhone or iPad. From there, your Flex is ready to be used with any Apple device that is synced to Apple iCloud, so you can seamlessly switch between Apple gadgets, check battery status, or share your music with your friend via Audio Sharing.
Speaking about Audio Sharing, the option lets you share your audio wirelessly with another pair of Apple AirPods or Beats headphones. You can share your podcast, movie or favourite song.
Find your Beats Flex Wireless Earphones:
Need help finding your Beats Flex wireless neckband?
If you think it is near you or your Apple devices, you can use the Find My app to play a piece of music to locate them or use the map to locate them.
If your Flex is lost, the Find My app can still help you track them down using the vast and global Find My network as it comprises hundreds of millions of Apple gadgets.
Devices in the Find My network use secure Bluetooth technology to detect your Beats Flex Wireless Earphones nearby and report their approximate location back to you so that you can find them easily.
Visit Poorvika.com to know the full specifications, features and to know Beats Flex Wireless Earphone Price in India and don't forget to hit the "Buy Now" button. You will get this headphone straight to your Doorsteps without any delay.
We have also got loads of exciting offers, discounts, and amazing cashbacks.
Poorvika follows all Covid safety measures as prescribed by the government. Our Delivery team is well trained and keeps your safety in mind while delivering the sanitized products to your doorstep.
Keep Shopping and get it safely delivered at your doorsteps!
Stay Home!
Stay Safe!
Happy Shopping!!
Click here to check out my other blogs to stay on top of Upcoming Smartphones, Earphones, and many more gadgets. Get the latest Tech News and Updates, all in one go!