11 Jun 2021
Everything You Need to Know About the OnePlus U1S Series 4K LED Smart Android TV!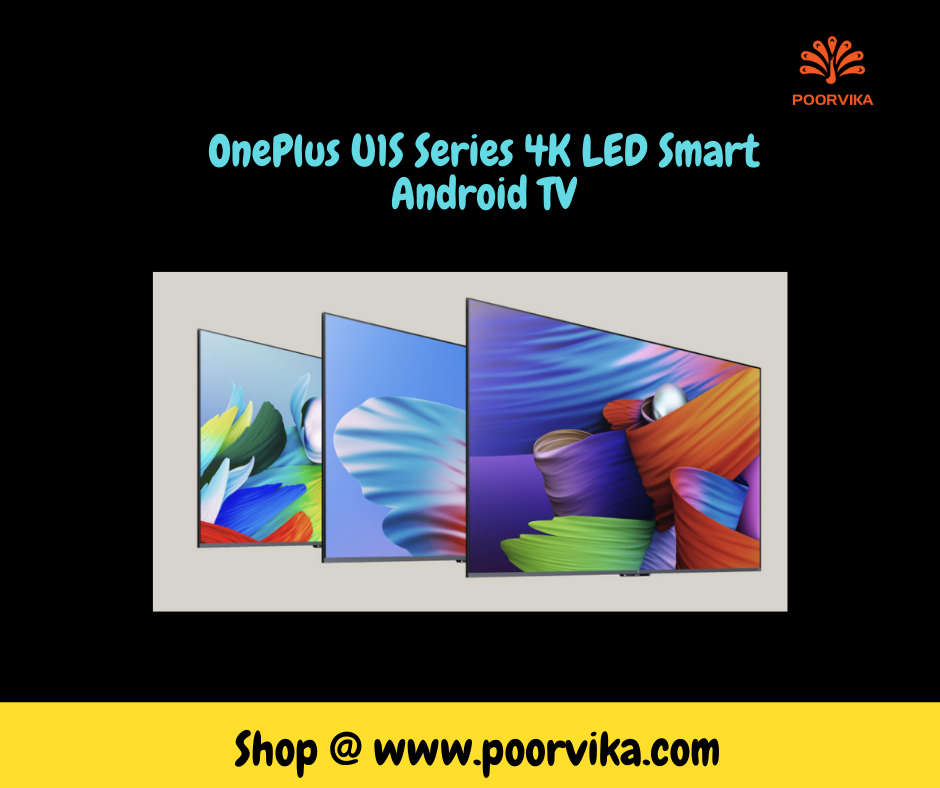 OnePlus has yet again redefined the true meaning behind their motto, 'Never Settle' with their newest OnePlus TV U Series lineup. Available in 3 size variants, the OnePlus Smart TV U Series take the entire Home Entertainment experience to a whole new level.
Designed by OnePlus, the U Series 126cm (50 inch) Ultra HD 4K LED Smart Android TV 50U1S, U Series 139 cm (55 inch) Ultra HD 4K LED Smart Android TV 55U1S, and the U Series 164 cm (65 inch) Ultra HD 4K LED Smart Android TV 65U1S Smart TVs stay true to the Sleek, Elegant Style Factor that we have come to associate OnePlus with. Let us now take a closer look at its Features, Specifications and Capabilities that make it stand far out from the rest when it comes to the world of Big Screen Entertainment Units.
Sleek. Stylish. Stunning.
That is the best way to describe the OnePlus TV U Series in 3 words. The OnePlus TV's bezel-less display with a screen-to-body ratio of up to 95.7% makes for an immersive viewing experience. The OnePlus TV comes with a timelessly elegant design with a durable metal stand that blends into the environment effortlessly.
The OnePlus TV U Series is visually stunning, even when it's turned off.
The OnePlus TV U Series is HDR10+ certified and has a 4K UHD display that can recreate 1 Billion Colors, making for a Smarter 4K Cinematic Experience right at home.
1 Billion Colors.
Elevate your viewing experience with the 4K UHD Display on the OnePlus TV U Series that packs a whopping 8.3 million pixels. Thanks to an HDR10+ certification along with HDR10 and HLG support, you get to see ultra-realistic image quality with extraordinary detail and dynamic contrast. The OnePlus TV Series U is probably the closest that you can get to a Premium Movie Theatre Experience, right from the comfort and safety of your home.
The OnePlus Smart TV U Series unlocks stunning picture quality every time you press play, with extreme lifelike color accuracy and a wider range of tones than ever before. The OnePlus TV can display over one billion brilliant colors thanks to the 10-bit color depth that it is certified for. The Wide Color Gamut or WCG covers 93% of the DCI-P3 color space, ensuring that your viewing experience is vivid and bursting with vibrance.
In addition, the power of Gamma Engine and over 50 specialized algorithms make for improved contrast that delivers deeper blacks and radiant highlights, transporting you into an immersive world of entertainment.
Made To Be Heard
The OnePlus TV Series U features 30W Dolby Audio stereo speakers that have been co-tuned with Dynaudio.
Thanks to the expertise of the Danish loudspeaker maker Dynaudio, the OnePlus TV delivers booming stereo, a well-balanced sound profile and an expansive sound field for a complete cinematic audio experience.
The OnePlus TV Series U packs two full-range box speakers and double tweeters in its sleek package, effectively pushing out a total 30 watts of pure audio excellence.
Be ready to experience a whole new vibe of watching action movies at home as Dolby Audio brings you jaw-dropping sound with crisp trebles, rich bass and perfectly balanced mid-range tones, turning your home into an audio powerhouse.
Smarter Than Ever
Your OnePlus TV Series U runs stock Android TV 10, which is backed by OnePlus Connect 2.0 and OxygenPlay 2.0, all of which work together to give you seamlessly smart and connected entertainment freedom.
Added on, you can now be the first to experience cutting edge Hands-free voice control integration with Speak Now™.
The new voice command feature seamlessly integrates with Google Assistant, allowing you to search, play and connect hands-free.
The OnePlus TV Series U goes a step further than the rest when you share your screen, allowing you to immerse yourself in mobile games and apps with the OnePlus TV. With Miracast, DLNA and Chromecast all integrated into one Smart cast, it lets you enjoy smartphone content on your big screen. Taking it a step further is MultiCast that lets you cast up to two smartphone screens at once for synergy-packed entertainment with your buddy.
OnePlus Connect 2.0 allows you to put your phone in control in ways like never before. You can now control your entertainment is a breeze, change app, transfer files and more with a quick tap on your smartphone. And yes, you can have your whole family sync up with your OnePlus TV Series U that lets you connect up to 5 devices with ease.
Smarter Integration, Easier Living.
Get ready to witness your OnePlus TV turn into the heart of your home as it comprehensively connects with all your favourite devices. From pairing your OnePlus Buds for a live music experience to adjusting the OnePlus TV volume with your OnePlus Watch. You can even scroll through the internet on your OnePlus TV with the help of Amazon Alexa. Getting the OnePlus TV Series U is the most effortless way to live a brilliant, networked life.
We are sure that you are more excited about owning a Smart TV than ever before, now that you have a first-hand idea of what the OnePlus TV Series U can provide you with. If you are looking to get the OnePlus TV Series U, look no further than the Poorvika Website or your nearest Poorvika Showroom. The price in India for the OnePlus U Series 138.8 Cm (55 Inch) Ultra HD 4K LED Smart Android TV 55U1 starts from just ₹52,999*. Make the most of our Ongoing Offers, EasyEMI Schemes and Poorvika's Ultimate Upgrade Offer to get your new OnePlus TV Series U. Order Online Now and Get Safe, Sanitized Home Delivery from the Safety and Comfort of your home.