12 Jun 2021
Best Smartwatches with Alexa Built-in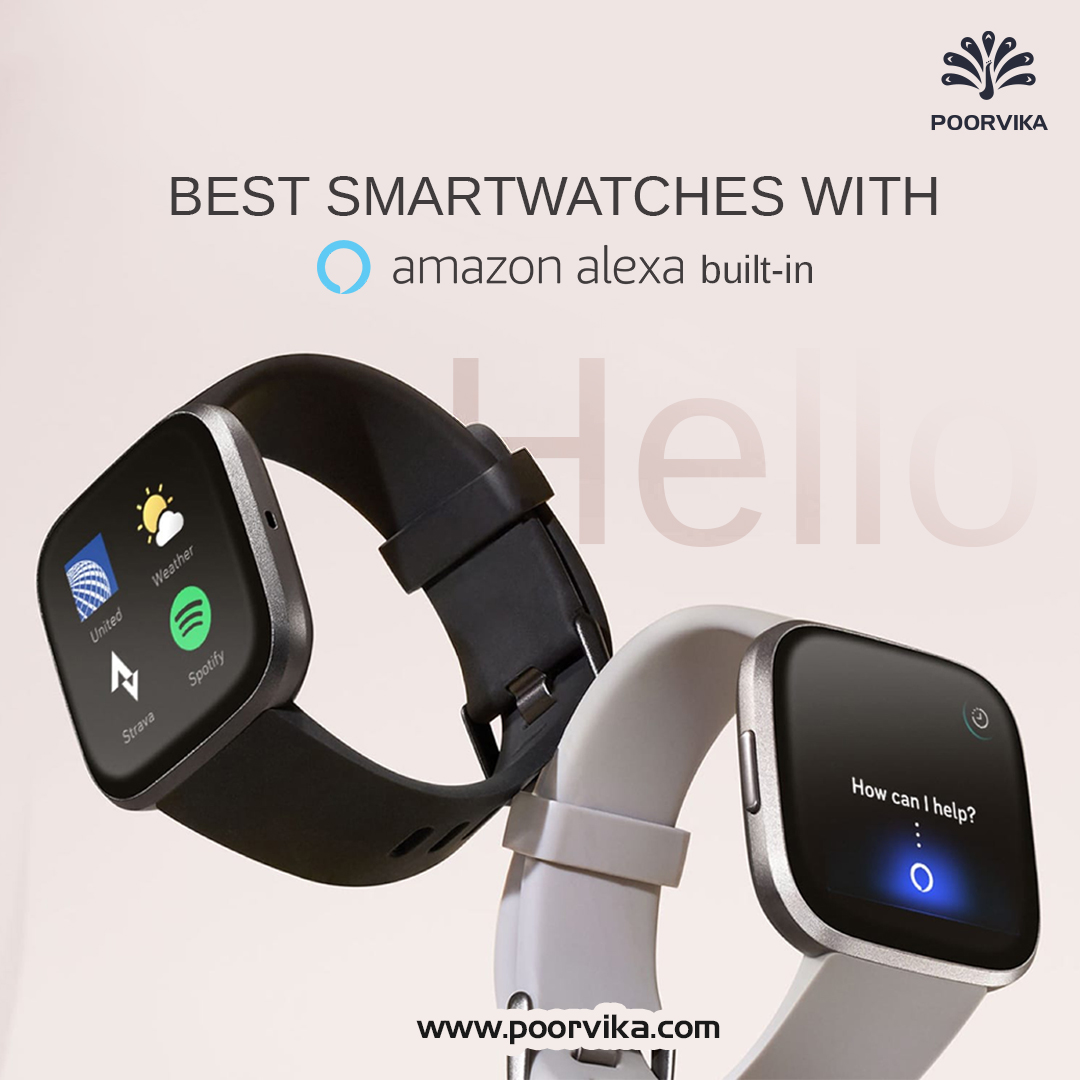 Smartwatches have already redefined the word 'Sophistication' with its minimal version of every feature we use in a smartphone. How about adding extra sophistication by ceasing the need of controlling your watch with your hands?!
YES! Smartwatches come with a Built-in Voice Assistant feature that eases our everyday tasks and let us multitask in a blink.
Siri, Google Assistant, and Amazon Alexa are the primary AI voice assistants we use in our smartphones and Laptops. Smartwatches with their built-in voice assistants simplify our needs and uber-cool to use as well. Let's deep dive and explore the amazing Smartwatches that features Alexa Voice Assistant, bridging the gap and fulfilling the needs.
Alexa Built-in Smartwatches:
1. Fitbit Versa 2 Smartwatch
2. Amazfit GTS 2 Mini Smartwatch
3. Amazfit Bip U Pro Smartwatch
Fitbit Versa 2 Smartwatch:
Are you a Fitness Enthusiast who respects the details of every step you take and a Micro-Manager who manages many things?! Then, Fitbit Versa 2 is a go-to option for you.
Fitbit Versa 2 Review:
With its sleeky Watch design built with Corning Gorilla Glass 3, ensuring Durability and Hi-Res Color Touchscreen with brightness upto 1000nits, Fitbit Versa 2 is worth the shot. The Always-On Display Mode gives you a chance never to touch your screen to wake it up or access any information.
As the name goes, the smartwatch is a Pro in Fitness Tracking. There are 20+ Goal-Based Exercise Modes, including Running, Biking, Swimming, Yoga and much more, with effective real-time tracking stats and goals set.
Get On-screen Workout plans and a personalized coach on your watch that lets you achieve your workout goals quickly. Fitbit Versa 2 enables you to achieve your basics like taking the stairs, walking in an incline, sedentary reminders, and much more.
Health Tracking with high technological sensors like Optical Heart Rate Monitor, Altimeter, SpO2 Monitor, and ambient light sensors helps provide accurate results. Health Tracking includes effective measurement of 24/7 Heart Rate Monitoring with Heart Rate Variability Tracker (HRV), Resting Heart Rate monitor, Breathing Rate when sleeping and suggests you with Guided Breathing sessions based on the Heart Rate.
It also extends the functionalities to SpO2 Monitoring, Sleep Tracking and Sleep insights, Menstrual Tracking and Skin Temperature variation tracking.
Accessibility is never an issue with the Fitbit Smartwatches. With Alexa Built-in, your multitasking issues are sorted.
Press, Hold and Speak – Accomplish your goals. Set the alarm, Add a Reminder, Check Weather, Control your Smart Home Devices and much more!
Other exemplary functions that Fitbit introduces are Connect Spotify and Play (With Phone nearby and Premium Subscriptions), Tap-to-Pay for Payments, Sleep Mode, DND mode, On-wrist stats, Wireless Headphones connect and Find My Phone App. With the Fitbit App, you can endlessly set goals, track the progress of every workout, and get a complete report of your Health and Fitness.
The 6+ days of Battery Life with just 2 Hours of charging, is given to juice up the fitness hero inside you! With the highly sophisticated Fitbit Versa 2 from Fitbit, you can stay pumped up and achieve your fitness goals in no time. The Fitbit Versa 2 price is just Rs.13,999.
Amazfit GTS 2 Mini Smartwatch:
Amazfit, the leading Tech Leader, offers various products to the world in the categories of Smartwatches & bands, Lifestyle and Health equipment, Earphones, Sports Gears and Accessories. Of which, the smartwatches have been the best-selling ones targeting every budget category of the audience. The Amazfit GTS 2 Mini is a medium-budget smartwatch that is absolutely worth the price offered with excellent specifications and features.
Amazfit GTS 2 Mini Review:
Amazfit GTS 2 Mini, featuring the sleeky, fashion-enabled design, captures the hearts of fashionistas out there!
Available in the unusual colour variants of Sage Green, Flamingo Pink and Midnight Black, no wonder it gels to your everyday outfits easily.
The 1.55″ Always-On Square AMOLED Display with 450nits brightness protected by the carefully curved 2.5 Glass enhances every pixel touching the fineness. Moreover, the 80+ Watch Face Themes and 60+ Always-on Display patterns let you collab with your profession and passion.
Amazfit provides all the essential Fitness and Health Tracking features needed for daily life. A whopping 70+ Built-in Sport Modes with Real-time Tracking and Analysis lets you select your favourite workout and start stretching.
Also, to enhance your performance of Workouts, the smartwatch sends you notifications about exercise stages and generate a Sport Data Report after the workout. The 5ATM Water Resistance in the smartwatch urges you to hit the water anytime.
Amazfit ensures it covers all the required Health Tracking features for a Healthy Lifestyle when it comes to the Health Tracking arena. It is an All-round Health Management system with its Blood-Oxygen Saturation (SpO2) Measurement, 24Hour Heart Rate Monitoring with Heart Rate Warnings, Sleep Quality Monitoring with Sleep Stages, Menstrual Cycle Tracking, Stress Level Monitoring and PAI Health Assessment System.
With the Alexa built-in, you ask and the genie does it for you! Ask questions, check the weather, set alarms and timers, get translations, create shopping lists, control your smart home devices and much more. It also extends the features to have a Pomodoro Clock, Bluetooth Camera and Breathing Exercise for relaxing.
A 220mAh battery can offer you a Battery Life of 7 days on Heavy Usage, 14 days on Typical Usage and 21 days on Basic Usage. The Amazfit GTS 2 Mini is a must-have gadget to lead a Healthy and Personalized Lifestyle. The Amazfit GTS 2 Mini price in India is just Rs.6,999.
Amazfit Bip U Pro:
Amazfit touches the budget-friendly category of Smartwatches as well, with its Amazfit Bip U Pro Smartwatch featuring the maximum functions. The Smartwatch offers similar functions compared to the GTS 2 Mini version but with compression.
Amazfit Bip U Pro Review:
This wearable tops the list with the same sleeky, light-weight design and a 1.43″ Large Full-Color Screen protected by 2.5D Curved Glass.
Black, Green and Pink are the vibrant colours available for you to gear up to any occasion. Bip U Pro lets you select a watch face from a pool of 50 watch faces, animated watch faces, and personalized images that suit your mood. And goes a step further to customize your Watch Face with the information you want to display, such as Time, Date, Weather, Heart Rate and much more.
Nearing the GTS 2 Mini's Sports modes, the Bip U Pro offers 60+ Sports Modes with built-in GPS Tracking to ensure precision results. You can track the steps walked, distance covered, heart rate changes, and calories burned. Start your swim from Day 1 as the 50m Water Resistance helps you achieve your Swimming goals.
As Health Tracking is concerned, Bip U Pro offers essential features similar to the GTS 2 Mini. Amazfit Bip U Pro amazingly comes with 24/7 Heart Rate Monitoring, Blood-Oxygen Level Measurement (SpO2), Sleep Quality Monitoring with sleep stages of Light, Deep, REM, Naps, and a PAI Health Assessment System to analyze your health and improve the same.
Effectively monitors your stress levels and suggests you take breathing training to foster sound mental health. And for ladies out there, Menstrual Cycle tracking is available to track the periods and plan accordingly. The Built-in Alexa gets your requests granted in seconds; be it Setting up a Timer, Checking Weather, Setting Alarm, Schedules for the day and much more!
Not limiting itself to the above features, also extending it to Camera Control, Stopwatch, Find My Phone, Weather Forecasts, Music Control, Pomodoro Clock, and other Smartphone notifications.
A fully charged Smartwatch can juice up to 9 days on Typical Usage and 5 days on Heavy Usage! The Amazfit Bip U Pro price in India is just Rs.4,999.
Buy Online:
Wondering where you can buy these smartwatches online?! Poorvika stocks up the latest Smartwatches for you to get upgraded in your lives.
Visit Poorvika Online right away and purchase your favourite smartwatches with exciting deals, offers and cashbacks. We ensure safe doorstep delivery! Happy Shopping!