14 Jun 2021
Apple: Magic Mouse vs Trackpad- Which should you buy?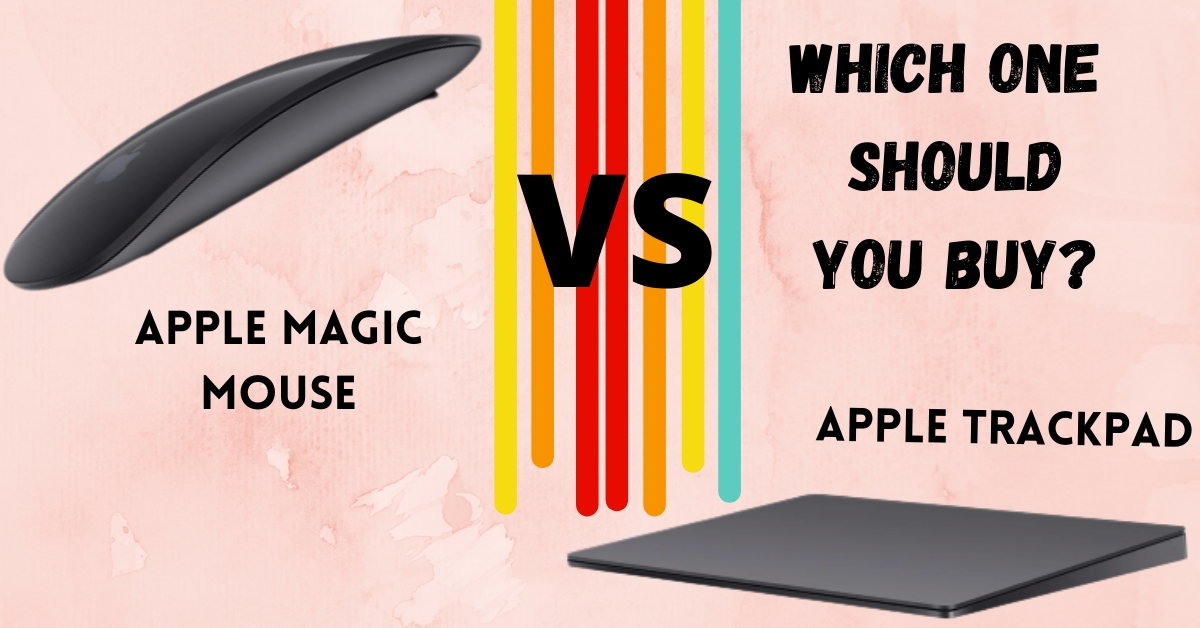 Apple is not just a company that offers mobiles and laptops, but it is an ecosystem, a fairy world with everything you need for electronics and accessories.
Building such a viable ecosystem is not an easy task as we should take even small matters into account. Apple is an expert that has a complete understanding of creating a healthy ecosystem.
Right from mobile phones, laptops and desktops to navigating devices, back covers and USB cables, everything is made available in Apple.
Name any product or accessory from Apple, and you get it. Not just products, you also get Apple Music, iTunes and everything you need to entertain yourself with. These small improvisations and inclusions in the Apple ecosystem attract people greatly that they have no option but to fall in love with the brand "APPLE."
Let us now understand the differences between two navigating devices that form an essential part of this ecosystem.
"Apple: Magic Mouse vs Magic Trackpad- Which should you buy?"
What is a navigation device?
A navigation device is anything that lets you navigate through your electronic device. Earlier, the mouse was the only navigating device available, and now, after the introduction of laptops, Trackpads are the most preferred navigating device as it has its list of advantages.
The difference between a mouse and a TrackPad:
Mouse:
When it comes to a mouse, you have to use your whole hand and move your arm to move the pointer up, down, left and right.
TrackPad:
In a TrackPad, it is just the fingers that move on the trackpad's surface through which you can navigate the pointer on the monitor.
Magic TrackPad vs Magic Mouse:
Gestures and Touch control:
Both the Magic Mouse and Magic TrackPad share similar functions like one-finger scrolling, multi-touch, swiping between pages, etc.
However, the Magic TrackPad has certain unique gestures like pinch-to-zoom, image rotating, Force touch etc.,
Though the Magic mouse fabulously does the essential functions, it doesn't come with many additional features that the Magic TrackPad possesses.
Simply put, we can say the Magic TrackPads are way advanced than the Magic Mouse.
Also Read: Apple Wireless Charging accessories
All about space:
The Magic TrackPad occupies a lot of space! If you have a room of about 6 inches wide and 4.5 inches deep near your desktop/Laptop, then you can house a magic TrackPad.
If not, it is better to go for a Magic Mouse.
The Magic Mouse is compact and fits comfortably anywhere. The Magic Mouse is very much portable that you can even carry it in your pant pocket. Whereas the TouchPad is big enough even to lift it with a single hand.
So, if you have space restriction, it is best to go for Apple Magic Mouse than the Magic TrackPad.
Can you work while charging these navigation devices?
Apple Magic Mouse possess a USB charging slot at the bottom of it. Hence, you cannot use the mouse while charging it. You will have to wait at least 15 minutes for the mouse to get charged so that you can finish off your current project.
On the other hand, you can use the Magic TrackPad just like your Laptop. You can use your TrackPad while it is still getting charged.
Unlike the Magic Mouse, you can use the Magic TrackPad 24X7, so you don't lose productivity in the middle of something very vital.
Price of Magic Mouse vs Magic Trackpad:
The Magic Mouse accompanies the Mac desktop if you are buying one. You need not pay any extra cost for the Apple Magic Mouse.
If you are getting the Magic Mouse and TrackPad separately, you are required to pay a sum of money.
The Apple Magic Mouse costs around 6600 INR for the Silver colour, and the Space Grey colour costs around 8499 INR.
The Apple Magic TrackPad costs around 10,700 for the Silver colour, and for the Space Grey colour, it costs 11,999 INR.
Apple Magic Mouse vs Apple Magic Keyboard Verdict:
Taking budget into consideration, you can go for Apple Magic Mouse. But, when you compare the features along with the price, the Apple Magic TrackPad seems to do justice for the price.
So, if budget is not the problem for you, we recommend you go for Apple Magic TrackPad.
Do check out the official website of Poorvika for ordering the Magic TrackPad or the Magic Mouse online.
We have various TVs, Laptops, Desktops, Mobiles and other electronic accessories at our online store.
Have a look at our device collection, and we are sure that you would be happy on knowing their prices!
We have also got loads of exciting offers, discounts, and amazing cashbacks that you will be surprised.
Poorvika follows all COVID safety measures as prescribed by the government and is keen on delivering sanitized products to your doorstep without any contact.
Our Delivery team is well trained and keeps your safety in mind while delivering the products.
Keep Shopping and get it safely delivered at your doorsteps!
Stay Home!
Stay Safe!
Happy shopping!!