14 Jun 2021
Is Apple iPhone 12 Pro Max water-resistant?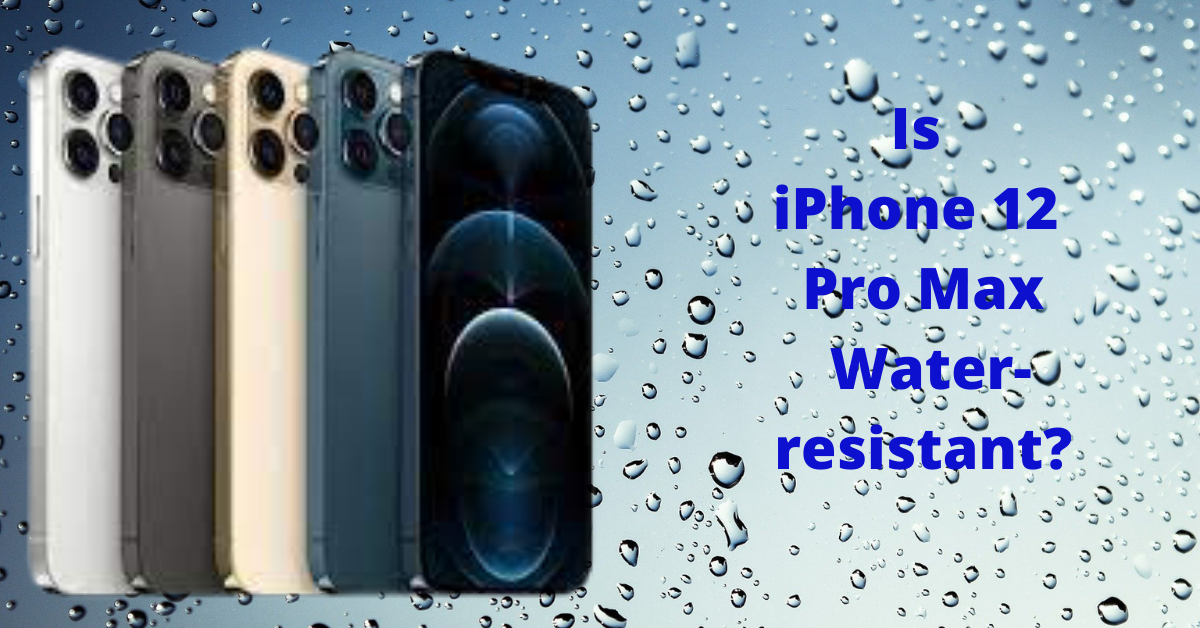 A survey says that around 39% of all smartphone damage is due to water.
Water spills, accidental drop into a swimming pool, damage due to coffee or other liquids top the list in how a Phone gets damaged.
And when your phone gets damaged due to liquids, it undoubtedly burns a hole in your pocket. You may even end up thinking it is much cheaper to buy a new phone than repairing the existing one!
Apple always expects the unexpected and hence is ruling the market this long!
Apple has made sure that its iPhones are safe from liquid damages and got them authorized by the IEC technical committee.
Yes! Apple understood the issues faced by its customers, and hence from iPhone 7 onwards, it is releasing only water-resistant iPhones.
iPhone 7 was the first-ever iPhone to get an IP67 rating which makes it safe to be underwater for 30 mins up to 1m deep.
If it can submerge underwater for this long, then there is no doubt that it can handle all the accidental liquid spills. This innovation was a giant leap for iPhones, and many people started buying an iPhone solely for its water resistance.
Water-Resistance in iPhone 12 Pro Max:
The latest set of iPhones released by Apple is the iPhone 12 series. It has four models in this series, namely: iPhone 12 Mini, iPhone 12, iPhone 12 Pro, iPhone 12 Pro Max.
Out of these four models, the iPhone 12 Pro Max is the most advanced phone with the latest features and functionalities.
It is rated IP68 under the IEC Standard 60529. So, even if you throw it in a waterbody that is 6 meter deep and even if it stays there for 30 minutes continuously, it will cause no harm to your Pro Max.
With every new release, Apple is making sure that it increases the water resistance, thereby protecting the device from external damage due to water or liquids in general.
Is the iPhone 12 Pro Max water-resistant or waterproof?
There is a difference between water-resistant and waterproof.
Yes! Though we use both the terms interchangeably, both of these words mean different things.
Water-resistant:
It means your device can withstand a limited amount of water exposure for a limited time. In the iPhone 12 Pro Max case, it can withstand water exposure to a depth of 6 meters for 30 minutes continuously. Anything more than that will damage your device.
WaterProof:
By WaterProof, we mean no water can penetrate the device. It is 100% waterproof that water can do no damage to the device.
None of the brands/companies in the mobile phone sector gives you this kind of guarantee. Apple pretty much gives you a disclaimer that water at high speeds would damage the phone and might even kill it.
Does the warranty period cover damage due to liquids?
Generally, mobile phones do not cover damage due to liquid and Apple phones are no exception to it.
Though some smartphones hold IP ratings from IEC, they do not guarantee you a replacement or free repair if your device suffers damage due to liquid.
Also Read: The best mobile for gaming and photography
So, what can you do if your iPhone gets wet?
If coffee, tea or any liquid other than water spills on your device, you get to rinse the affected area with clean water and wipe it off with a fresh, lint-free cloth.
Do not open your SIM case unless your phone is fully dry. Leave it in a dry area with a generous amount of airflow.
Don't dry your iPhone with external heat sources like the hairdryer or with a towel.
Do not charge your iPhone till it is completely dry.
Protecting your device from damage due to liquid is vital as it is not covered in most of the warranty and guarantee statements by Smartphone Manufacturers!
Follow the above tips if your phone ever gets drenched in liquids.
Also, not to forget, the iPhone 12 Pro Max comes with the best water resistance to date. If your priority is to keep the mobile safe from any damage threats, the iPhone 12 Pro Max is the one you need.
Get your most wanted laptops, TV and mobile phones from Poorvika.
We have tons of offers, discounts and cashback for all our categories.
Do make use of them and save your hard-earned money!
Order Online for a Safe & Secure Delivery!
Poorvika follows all the Covid-19 safety and security measures while delivering your ordered devices right at your doorsteps. Also, as per the government regulations, we deliver only till 12 pm throughout the lockdown period.