21 Jun 2021
What is the price of the HP Core i7 and an i5 laptops?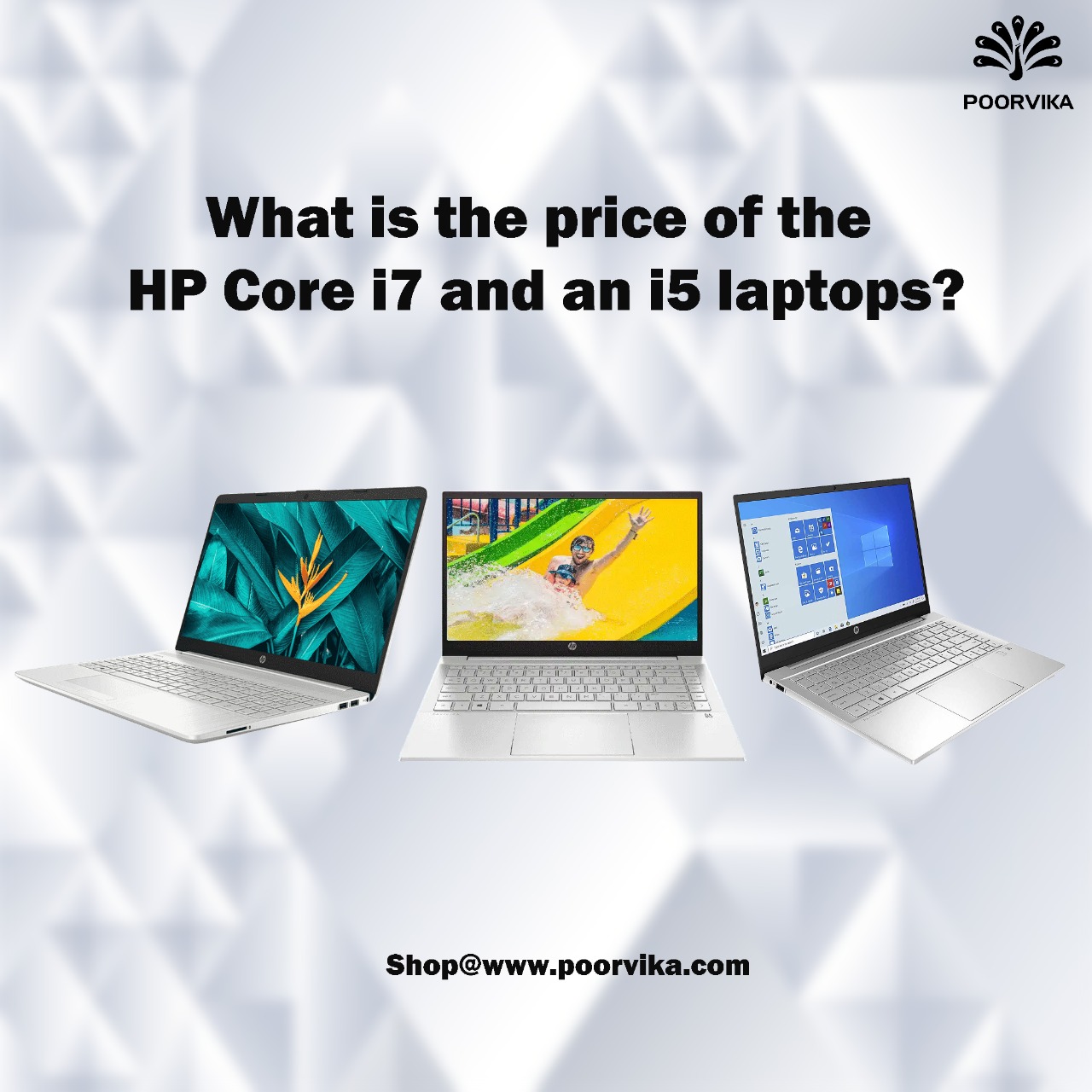 In this challenging scenario role of a laptop is very essential in all of our lives. Because other than laptops, we don't have any other gadgets to boost our productivity at office. Not just for official purpose, laptops play a prominent role in academics as well. Because currently students are able to learn everything at their convenience. Functionality of a laptop is very massive so it is right to affirm that laptop is one of the boon of this century. While speaking about laptops, we need to remember that chipset is the most important component of a laptop. Ever since our childhood, Intel is the most common word which all of us might have heard. This blog will be a comprehension about price and performance of HP Intel Core i7 and i5 laptops.
HP Pavilion Intel Core i7
Silver colour body of the laptop looks fantastic. And the ceramic glossy finish will surely draw the attention of everyone. Logo of the company is right at the centre of the laptop's lid. On the top, there is a 720p HD camera with Dual Array digital microphones. Keys on the Chiclet keyboard are spacious and responsive.
The HP Pavilion laptop has 14 inch Full HD Micro-edge, anti-glare IPS display comes with a supporting screen resolution 1920 x 1080 Pixels. So watching videos and images will be a breezy experience on this laptop. Even the colour reproduction is pretty accurate which makes HP Pavilion an ideal laptop for content creators and video editors.
Intel Core i7: Performance
Video editors, vloggers need a laptop which can sustain their workload. Because video editing is a very tedious task and only a laptop with robust CPU will allow user to edit videos. Editing videos on a laptop with feeble processor is close to impossible.
Intel Core processors are known for their incredible performance. The HP Pavilion laptop runs on Intel Core i7-1165G7 11th Generation chipset. i7 series chipsets are made to deliver great computing experience.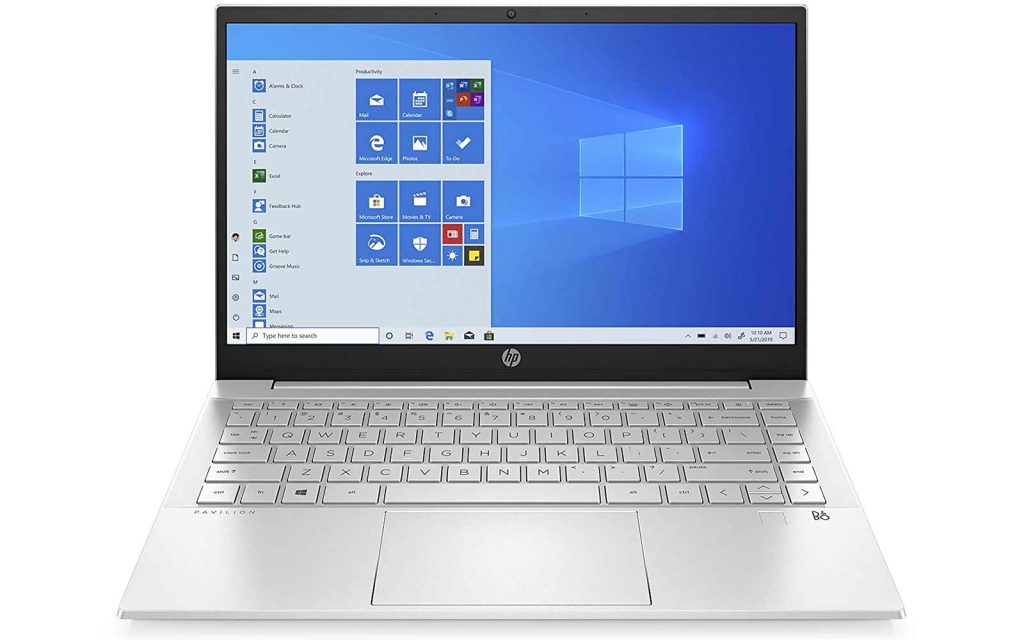 Each core of the Quad Core processor consists of two virtual threads. So each core of the laptop can handle more than one application without troubles. Its Single core performance is incredibly good, Intel is fighting against the law of physics to deliver this kind of performance.
The processor has a base frequency of 2.80GHz and by using the turbo boost technology of Intel, the chipset is able to achieve a maximum clock speed of 4.10GHz. 11th Gen Intel Core processors takes performance to another level. Because the performance gap can be explicitly seen while doing intensive works like running Android Emulator and designing building architecture on AutoCAD.
Benchmark
In the single core benchmark test of Cinebench R23, the Intel Core i7-1165G7 has a total score of 1504 points. Many server processors struggle to exceed over 1000 points. Because single core benchmark test uses only the raw processing power of a CPU.
On the other hand Multi Core benchmark test uses all cores and Hyperthreading support of the chipset. Though this chipset has only 4 cores, its multi core performance is similar to other Hexa Core processors.
This kind of processing power is sufficient enough to let user edit 4K videos on application like Adobe Premiere Pro.
Next big thing about 11th Gen Intel Core processors is gaming performance. The HP Pavilion doesn't have a discrete graphics card. But the Intel Iris Xe graphics has the potentiality to handle any kind of graphically intensive games like PES2021 and Resident Evil: Biohazard.
Memory
There is a 16GB DDR4 RAM to offer breezy experience while working on multiple applications simultaneously. HP Pavilion laptop has 1TB Solid State Drive for storage. Since SSD don't have any moving parts, they can work at unimaginable speeds.
Battery Life
The battery of HP Pavilion laptop has enough charge to power the laptop for 9 hours. Under the hood, the laptop has a 3 cell, 43 Watt Hour Lithium-ion battery.
You can buy HP Pavilion Intel Core i7 laptop for just rupees 79,999 from our website Poorvika.
HP 15S Intel Core
The sandblast finish of the HP 15S laptop is phenomenal. Because of the bigger display, form factor of the laptop is pretty large. Hinges of the laptop is strong and the sides are sealed well. And the overall build quality of the laptop is good.
It comes with a 15.6 inch Full HD LED Backlit Anti-glare display, has a supporting screen resolution of 1920 x 1080 Pixels. Content looks pretty sharp and clean on the display of HP 15S laptop. Colour reproduction of the display is very attractive.
Performance
Chipset of a laptop determines its performance. Because all kind of action is implemented by the chipset. The HP 15S is powered by Intel Core i5-1135G7 processor. This processor belongs to the family of 11th Generation. The 11th Gen Intel chipsets perform wondrously.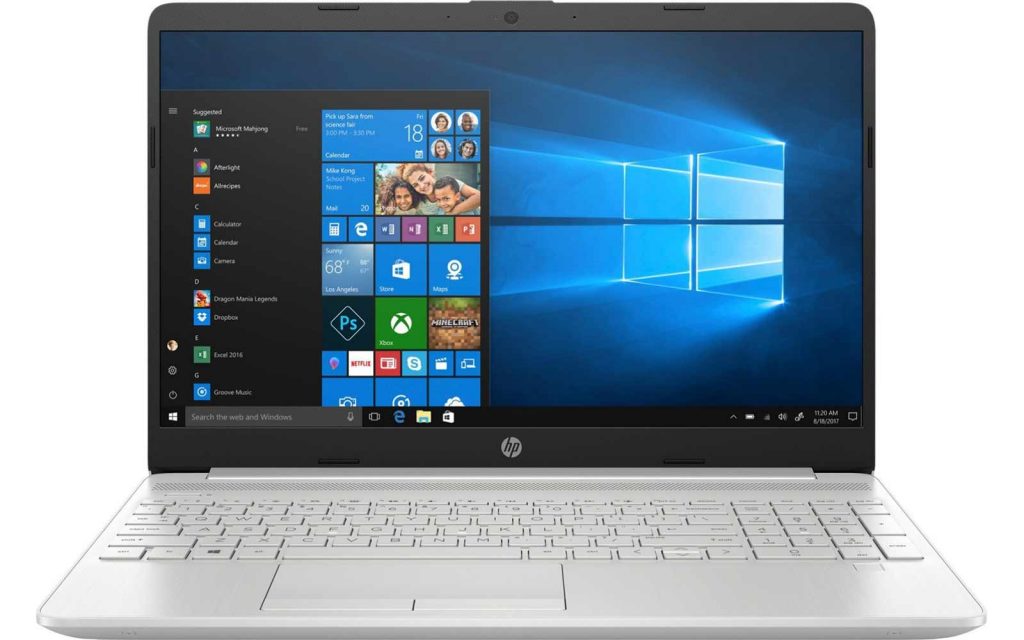 The chipset didn't even slouch at any point of time. Because it has the ability to carry the heaviest boulder without struggling.
11th Generation Intel Core chipsets are built using Tiger Lake microarchitecture. With the introduction of 11th Generation processor, Intel takes a giant leap forward in terms of performance. It has a base frequency of 2.40GHz and by using the turbo boost technology of Intel, the processor has the ability to reach 3.80GHz.
The i5 isn't is as powerful as its sibling i7. Yet the i5 is serious competitor on any given level. It has the ability to handle any kind of intensive and heavier tasks. It has enough muscle to let user develop mobile application on Android Studio.
Intel is also using smaller 10 nanometre lithography to manufacture their 11th Gen chipsets. Because of small nodes, power efficiency has improved to a great extent.
The HP 15S laptop also has a discrete 2GB DDR5 NVIDIA GeForce MX 350 Graphics Card. So be it editing photos or playing graphically intensive games will not be an issue at all.
Memory
8GB DDR4 RAM is the Non-volatile memory of the laptop. It ensures user doesn't face any lags or slowdown while toggling between many applications at the same time. It offers dual option of 1TB Hard Disk and a 256GB Solid State Drive for storage.
Battery Life
Under the shell the laptop has a 3 cell 41 Watt Hours Lithium-ion battery which will power the laptop for 12 hours.
Buy HP 15S laptop for just Rs.64,990 from our website Poorvika. Avail our safe and secure delivery service to get your products instantly delivered to your doorstep.