25 Jun 2021
Which is the best 43 inch smart television in India?

The 21st century has given so many amazing products to mankind. These products play a very significant role in simplifying arduous tasks of our life. Few years back, it was almost impossible to know about what's happening around us. But now technology has grown to an extent so that we can know about any given topic without much effort. Among the several products television have always connected entire family together. Be it watching soap operas or cricket matches, most of the family members will be at the same place while television is turned on. But over the years televisions have undergone a massive changes, which makes them relevant in the current society. Today in this blog we are going to unveil which is the best 43 inch television available in India. A best product must outshine competition in a very convenient manner.
Apart from entertainment, there are so many things which televisions are capable of offering. Presently televisions can bring the entire world to your living room. And this is also the reason why televisions are still relevant in the market.
Best 43 inch televison: LG 4K Ultra HD Smart LED TV
The South Korean manufacturer is a known name in the electronic industry. Their contribution to the industry is massive. In fact LG is the brand to launch World's first 4K OLED TV which supports HDR content. Performance of LG UHD Smart LED TV is definitely impressive. There are few things that makes LG the best 43 inch television in India. We will be describing about those factors in an elaborate manner.
Best 43 inch television: Design
LG 43UN7300PTC TV follows a very simple and plain design. First thing that you will immediately notice while looking at this TV is slim bezels. Screen of this TV has a matte texture to protect our eyes while watching television for a long time. Because of the plastic chassis and body, weight of the TV is less.
Best 43 inch television: Visual Experience
Most important aspect of a television is obviously none other than the visual experience. LG 43UN7300PTC is undeniably the best 43 inch television available in India because it offers stunning picture clarity and exceptionally great visual experience.
The 43 inch screen of the LG TV comes with a supporting screen resolution of 3840 x 2160 Pixels. Because of more number of closely held pixels, content looks clean and sharp on the television.
Hence watching any sort of content on LG 43UN7300PTC will be a visual treat to our eyes. Companies brought 4K technology to eliminate all the limitations of Full HD resolution. Digital Noise Filter of the TV chucks away the noise formed while transmitting signal in digital format.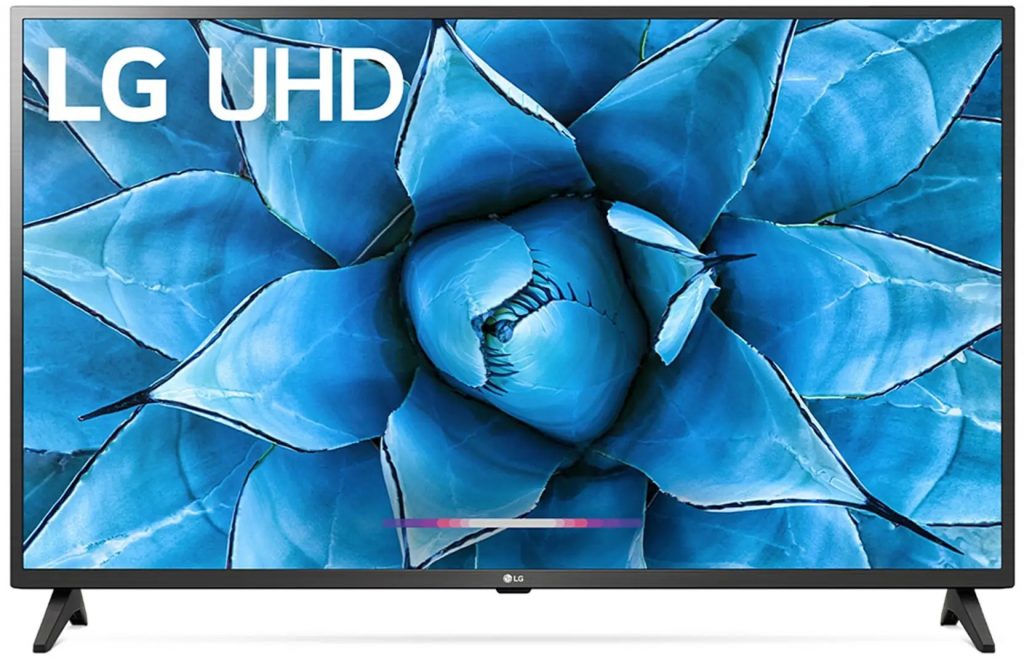 There are other specific modes such as Vivid, Standard, Eco, Film maker mode, Cinema, Sports, Game, HDR effect which adjusts colour and contrast level of content to deliver pleasing visual experience.
LG is offering these modes because each kind of content will have a different cinematography, colours, lighting and filters. By optimizing all these elements user will enjoy while watching videos on the LG 43UN7300PTC television.
For example green will be the most predominant colour which we can see in a cricket match. And objects moving at great pace will be displayed clearly. By selecting Sports mode, the TV automatically stabilizes objects which are in motion and delivers bright and eye catchy colours.
Wide Colour Gamut
Television with great display cannot produce impressive visuals, if it doesn't have proper amount of colour gamut. Because a screen with poor colour gamut will be able to deliver only faded and dull colours.
But since the LG 43UN7300PTC has the ability to produce colour gamut of 99.8 percentage. Colours displayed on this television are mind boggling. And 178 degree wide angle ensures person who sitting at corner gets to watch the content without any kind of slight compromise.
Processor
It is the responsibility of the Quad Core 4K processor to upscale regular content into 4K. Because at the moment many DTH providers are delivering content in Full HD only. Companies use processor as a tool to utilize the actual potentiality of their product.
Role of the television's processor is essential even while using voice assistants like Google Assistant, Amazon Alexa built-in, LG ThinQ AI. The processor ensures user doesn't experience lag or stutter while searching for a query by using their voice. Quality of audio can be improved as well with the help of TV's processor.
Audio
At present the market has several discrete speakers yet the integrated speaker of a television is very important. Because user will not be using discrete speakers always. And it also seems like LG is aware of this fact, that is why the LG 43UN7300PTC has 20 Watts down firing speakers.
Sound output from the speakers are audible enough to fill a large room. Generally at higher volumes, integrated speakers cry for mercy. But the speakers of LG 43UN7300PTC didn't flinch a bit even after testing its complete potentiality.
The TV has got specific modes for audio as well. And the list includes Standard, Cinema, Clear Voice III, Cricket, Music, Game. Each of these modes optimize sound accordingly before delivering it.
Other Features
Televisions these days have got the ability to perform the role of smartphones to an extent. The LG 43UN7300PTC has some features which makes it best 43 inch television in India. User can control the television with the help of voice assistant applications like Google Assistant, Alexa. To avail these AI services user just have to utter the phrase "Hey Google" and the television will complete the action assigned to it.
You can also watch your favourite movies, web series on online platforms like Disney+, Apple TV and Netflix.
Installation
We suggest customers must not try to install TV by themselves. Authorized technician will contact and come to your place and install TV. For wall mounting customers, will have to pay separately.
LG is also offering 1 year comprehensive warranty which is applicable only for manufacturing defects.
Verdict
LG 43UN7300PTC does an amazing job in all scenarios. If you're looking to buy the best 43 inch television, then this TV is the best option out there. Buy LG 4K UHD TV for just rupees 42,990 from our website Poorvika.
Avail our safe and secure delivery service to get products instantly delivered to your doorstep.