26 Jun 2021
Beats Best Hearing devices: Earphones and Wireless Headphones Review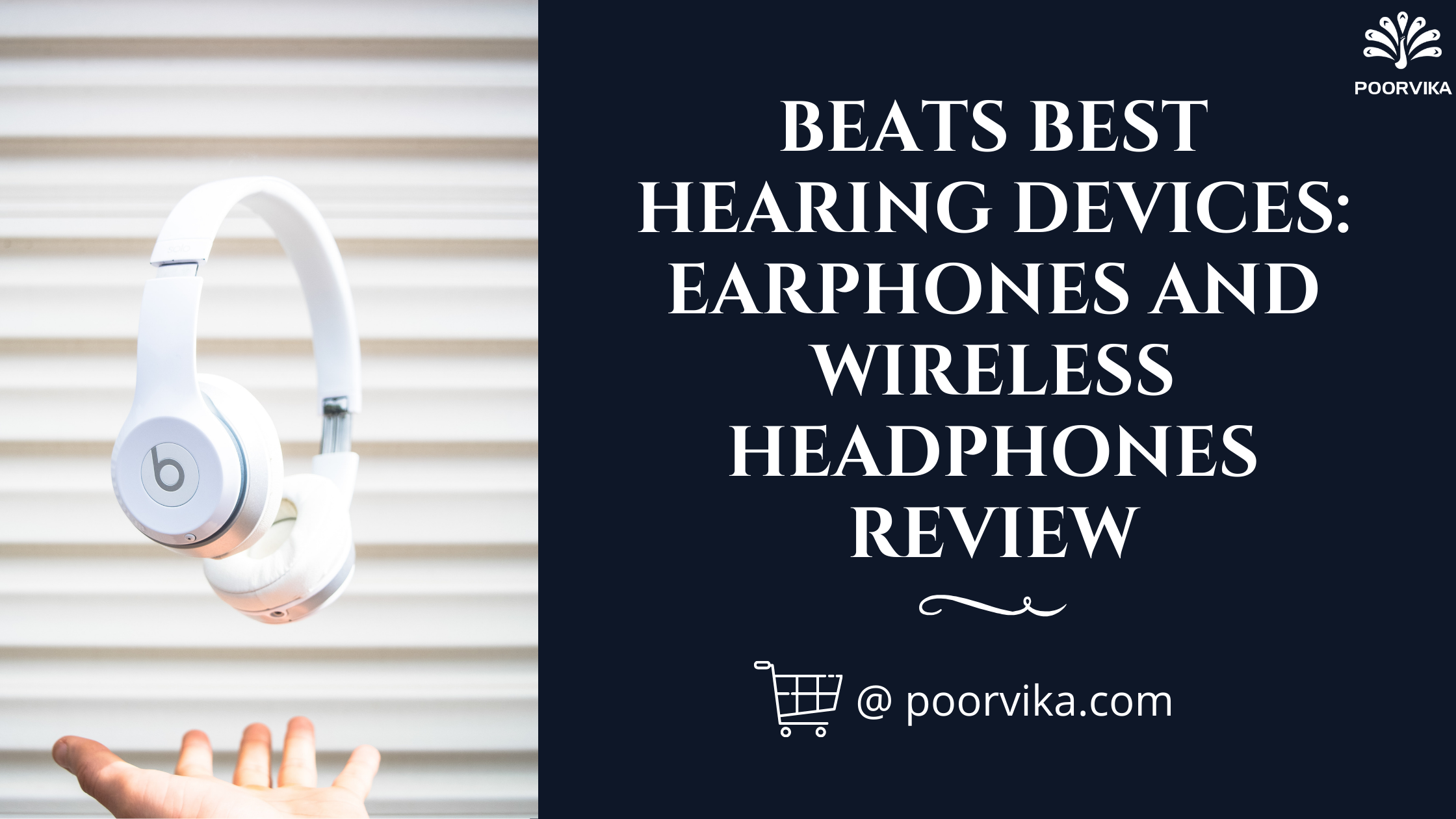 There are loads of headphones out there in the market today, and choosing the best one under a premium segment is challenging as they need to be fashionable, durable, and functional, and they should also be worth the price you pay.
But with so many choices to pick from, how would you know which Earphones and Wireless Headphones are the best for you?
We know you have been consistently worried about it, and that's why we are here with suggestions tailored for you!
Have you tried headphones from Beats yet?
If not, you're missing out huge!
We have a list of Beats headphones curated for you right here, and you can buy everything at Poorvika in a fraction of seconds.
Beats Flex Wireless Earphones:
The style of the Beats Flex Wireless Earphones neckband is unique and extraordinary. It makes you feel powerful, and you can tuck your headphone in the shirt collar as well. The Flex Neckband transforms your life into a lively one by offering a seamless music experience.
The Beats Flex Wireless Earphones employs a dual-chamber acoustic design and a proprietary layered driver to achieve outstanding stereo separation for rich and precise bass. Laser-cut micro-venting provides ear pressure relief, and the optimized driver angle ensures a clear, crisp sound. The advanced digital processor fine-tunes your audio for an authentic and passionate listening experience.
The Flex Wireless Earphones delivers 12 hours of wireless playtime with its quick-charge ability, and it is built for listening to your favourite podcasts and music on the go.
To learn more about the Beats Flex Wireless Earphones, head on to the Poorvika website and get to know more about the price in India and discounts. Also, don't forget to hit the "Buy Now" button.
Beats Solo Pro Wireless Noise Cancelling Headphones:
Music enthusiasts choose on-ear headphones as they deliver excellent audio quality. Whether you're standing in a noisy bus stand or racing through a canteen to get your favourite snacks, all you need is the best Wireless Noise Cancelling Headphone to drown out the unwanted cracky external noise.
Beats perfectly understood the inconveniences caused by these noises and introduced the Beats to make our lives a little bearable. It delivers the most incredible audio quality while also incorporating a Noise Cancellation feature. You can also use the Transparency mode to stay aware of your surroundings.
The battery life of the Beats Solo Pro is excellent as it has a total listening time of 22 hours. You can take the tune wherever you go. The Solo Pro is powered by Apple's H1 headphone chip, ensuring a faster and more stable wireless connection. The headphone has a Voice Assistant feature that allows the user to access information quickly.
Head over to the Official Poorvika Website to find out Beats Solo Pro price in India. Our Poorvika's delivery experts make sure that all deliveries are Well Sanitized & Safe.
Beats EP On Ear Headphones:
Perfectly fine-tuned acoustics power the Beats EP On-ear headphone to deliver incredible clarity, breadth and balance. It's the ideal headphone from Beats for any music enthusiast.
The Beats EP headphone is sturdy, lightweight and comfortable. The durable frame comes with stainless steel, and adjustable vertical sliders, allowing you to personalize your headphone for everyday use. You can take the headphone anywhere you go as the headphone comes with a hassle-free fixed cable, offers unlimited playback and allows you to focus on the music.
Visit the official Poorvika website to find out the Beats EP On ear Headphones Price in India. Place your orders online and choose from various delivery choices to get your headphone delivered faster to your door. We also ensure that we deliver all the products safely after proper sanitation.
Beats Solo 3 Over Ear Wireless Headphones:
The Beats Solo3 Over Ear Wireless Headphones is super sturdy, streamlined, and comes in a foldable design, which means they are durable and portable enough to stay on the move with you.
It's the perfect everyday headphone as the battery life of this headphone comes up to 40 hours, and you can use its Fast Fuel Charging for 5-minutes to get 3 hours of playback, even when the battery is low. This headphone comes with On-ear controls with dual beam-forming mics that allow you to take calls, play music, adjust volume, and activate voice assistants.
An Apple W1 chip powers the Beats Solo3; you don't have to think about processing speeds; its high-performance cores provide a fantastic experience.
Visit the official Poorvika website to find out the Beats Solo3 Wireless Price in India. Place your orders online and choose from various delivery choices to get your headphone delivered faster to your door.
Beats Studio 3 Wireless Over‑Ear Headphones:
A magical, productive and comfortable music experience is here. Yeah!
The Beats Studio3 Wireless headphones come with Pure Active Noise Cancelling (Pure ANC) to deliver an Ultrapure listening experience.
The headphone offers up to 22 hours of battery life, and Fast Fuel technology delivers up to 3 hours of play with a 10-minute charge. It is designed for long-term comfort to match its impressive battery life. The soft over-ear cushions have advanced venting and signature ergonomic pivoting for a custom, flexible fit for any head shape. It is lightweight, durable and comfortable so that you can get lost in your music.
The Beats Studio3 Wireless Over‑Ear Headphones is built with a new Apple W1. A sturdy rechargeable lithium-ion battery fuels the Beats Studio3 Wireless headphones, so your headphone doesn't run out of juice while you're on the go.
Head over to the Official Poorvika Website to find out Beats Studio 3 price in India. Place your orders online and will be delivered straight to your Doorsteps without any delay. Our delivery experts make sure that all orders are Safe and Sanitized.
Now you are armed with the knowledge about the Beats headphones; we hope you can determine what kind of headphones you need. If you want to buy these headphones, just head on to our Poorvika website and place your orders right away. Get your devices delivered to your doorsteps without any delay, Safe & sanitized.
Do check out all the exciting cashback offers, discounts and easy EMI options available for your favourite Earphones and Wireless Headphones. Hit the link to know more.
Stay safe at Home & Shop Smart!
Happy Shopping!
Click here to check out my other blogs to stay on top of Upcoming Smartphones, Earphones, and many more gadgets. Get the latest Tech News and Updates, all in one go!