26 Jun 2021
Which is the Best Laptop under 50,000 INR in 2021?

In this global era, most of our lives are dependent on the technology. So we need a product which simplifies tedious tasks on our behalf. When it comes to keeping your productivity no other product can match the efficiency of a laptop. We do agree that latest generation smartphones have got the ability to lift even a boulder. But still laptop maintains the lead by a wide margin. Laptop was invented to allow people, to do whatever they want on the go. Here we will be mentioning which is the best laptop under 50,000 INR in 2021. Most of the people consider this price category seriously, before buying a laptop. As they need a laptop which can handle all kind of heavy workload in a comfortable manner.
There are many models from various companies are available under this price range. So finding the best laptop is going to be a very challenging task. But we have taken up this task in our shoulder so that you need not worry.
ASUS VivoBook 14
The Taiwanese manufacturer has one of the most loyal fan base in the industry. Because their action has never been contrary to the expectation of their fans. This is why ASUS have become one of the indomitable force in computing industry. And over the years it is very surprising to see the growth rate which they have attained.
VivoBook series are budget friendly laptops from ASUS. Though it belongs to budget segment, ASUS hasn't done any kind of compromise because VivoBook series laptops performs exceptionally well. Right from build quality to overall performance every aspect of this product is totally amazing. This laptop is 6.8 percent slimmer than previous generation VivoBook series laptops. It is available in Transparent Silver colour which looks absolutely phenomenal.
Design & Build Quality
The ASUS VivoBook 14 laptop has a traditional clamshell design. And the only difference, user will be able to notice between this laptop and older models is slim bezels on all three sides. Except this, there is no radical changes in terms of aesthetics of the laptop. Because laptop manufacturers don't have much space to change the design entirely.
Lid of the VivoBook 14 laptop has a brush metal matte texture finish which adds a premium feel to the laptop. It also prevents fingerprints and smudges on the laptop. So you don't have to frequently use microfiber cloth to wipe the laptop.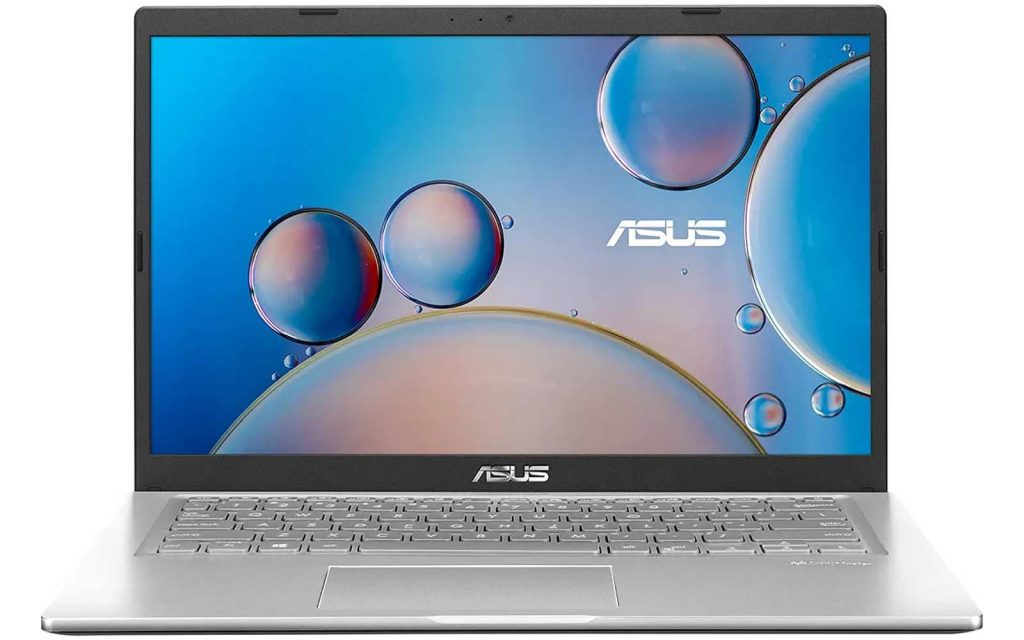 Plastic case on the sides of the display ensures keys don't leave a mark on the screen while the laptop is in closed position.
The body and chassis isn't made out of metal. Yet the build quality is top notch. Hinges didn't creak even after deliberately opening and closing the lid. Because of the plastic build, the laptop weighs just 1.60 Kilograms. So you can effortlessly carry it wherever you want. Combination of great build quality and impressive design makes VivoBook best laptop under 50,000 INR.
Display & Keyboard
After manufacturing 15.6 inch laptops for several years companies decided to make portability even more easier. Then came 14 inch laptops. The ASUS VivoBook 14 laptop comes with a 14 inch Full HD Anti-glare display with a supporting screen resolution of 1920 x 1080 Pixels.
Matte layer outside the screen, filters harmful light and protects our eyes. Because of the closely held pixels, the display is able to produce clean and flawless images and videos. Colour reproduction is very accurate as well. So watching movie or web series will be a very pleasant experience to your eyes. Slim bezels help user to watch the entire content on the display without moving their head slightly.
Chipset
Most impressive thing about this laptop is definitely the chipset. The laptop runs on latest Intel Core i5-1035G1 processor. It has the ability to allow user all kind of intensive workload easily. Intel has done so many amazing things for this processor to deliver incredible performance. With the introduction of the 10th Generation, Intel's position in the semiconductor industry became more dominant.
Most of the buyers will be very conscious about the chipset of a laptop. Because it takes care of the laptop's entire functionality. And only if the chipset is powerful user will be able to complete their task without trouble.
The Intel Core i5-1035G1 chipset has a basse frequency of 1.00GHz and using the turbo boost technology of Intel. It can reach up to maximum clock speed of 3.20GHz. Improvement in performance of this chipset over previous generation chipset can be explicitly seen while designing circuit diagram on heavy application like Proteus.
Not just designing circuit diagram, you can do much more work through this laptop. Because it has got a very robust chipset that is made to turn heads.
Generally only a laptop with a potential chipset will be able to let developers run emulator. As it requires lot of processing power.
Because of the Hyperthreading support, each core of the Intel Core i5-1035G1 chipset can handle more than one task at the same time. Sunny Cove Cores inside the chipset has 18 percent higher instruction per clock. That is why, it is able to perform in an incredible manner at lower clock speed.
Intel is also using 10 nanometre lithography to manufacture this chipset. Through this, Intel is able to include more number of power efficient transistors.
In the single core benchmark test of Cinebench R23, Intel Core i5-1035G1 processor has a total score of 1078 points.
GPU
ASUS VivoBook 14 doesn't have a discrete Graphics Card. But the Integrated UHD graphics has got the potentiality to compensate the performance of some entry level graphics card. Among the 64 computing units, 32 of them can work between the clock speed 300 – 1050 MHz.
Overall performance of other laptops in this price category is not as good as VivoBook 14. So it is easy to say the best laptop under 50,000 INR.
Memory
Non-volatile and Volatile memory helps VivoBook 14 to become the best laptop under 50,000 INR. It has 8GB DDDR4 RAM to deliver breezy multitasking experience.
512GB Solid State Drive is the storage component of the VivoBook 14 laptop. Unlike Hard Disk, SSD don't have any physical parts hence it is able to work at the speed of light. Since the storage capacity is pretty huge, user need not worry about running out of storage.
Battery
Under the hood, it has a 37 Watt Hours 2S1P, 2-cell Lithium-ion battery. And the battery has enough charge to allow user to continuously work for 6 hours before shutting down.
Buy ASUS VivoBook 14 which is the best laptop under 50,000 INR from our website for just rupees 48,990. Avail of our safe and secure delivery service to get products delivered instantly to your doorstep.