28 Jun 2021
Everything you need to know about the Apple MacBook Pro Core i7 9th Gen Mac OS Catalina MVVL2HN/A Laptop.

After hearing the word Apple, most of us can instantly correlate with the trillion dollar company not the Apple which keeps doctor away. This is the amount of impact Apple has made in the computing world. No other company has a loyal fan base like apple. And they haven't done anything to let their fans feel low. Apple has always delivered more than our expectation. Be it design or performance Apple has always been the pioneer. Their way of naming itself differs from other companies. For instance they call laptops as MacBook. Because they believe in delivering best technology ever possible to their customers. This blog will be discussing about specification and real life performance of Apple MacBook Pro.
Apple MacBook Pro: Design & Build Quality
Apple doesn't follow design of other brands. Because they don't create product, they create an ecosystem which is almost light years ahead than other companies. This is also the main reason why Apple always manages to maintain their lead over their competitors.
Since Apple MacBook Pro follows the similar form factor of other laptops, Apple doesn't have much room to revamp the entire design of the laptop. The Apple MacBook Pro has a very slim profile with slim bezels on three sides. And the entire aluminium body of the laptop has a ceramic finish which can lure any kind of fish in the ocean. On scale it weighs around 2 kilograms so portability isn't very ideal for students.
Build Quality of the MacBook Pro is exceptionally good. Strong hinges keeps the lid of the MacBook without even wobbling a bit.
Apple MacBook Pro: Display & Keyboard
The MacBook Pro has a massive 16 inch Quad HD LED backlit IPS retina display. 16 inch screen is pretty big for a laptop. Because currently screen size of most of the laptops is between 13 to 15 inches only. In that way, the MacBook looks stunning. Because of higher number of pixels, all kind of content looks clean and super sharp on the MacBook Pro.
It is also capable of producing eye catchy and vibrant colours. The display was able to produce 485 nits of brightness, which means you can work on this MacBook in all lighting conditions.
Colour reproduction of its display is good as well. It has the ability to deliver eye catchy and vibrant colours in a stunning manner. However the larger display will not very noticeable for people who are using laptops which has 15.6 inch display.
After facing several issues because of keyboard, Apple is now using Magic Keyboard. The Magic Keyboard is built on traditional scissor mechanism. Each keys are large and spacious with very less amount of key travel. It also has very little actuation force so you need not apply pressure at all while typing on the keyboard.
And for the very first time, Apple has included a discrete escape key. Though it may not sound like a big deal, but in real life its role is essential. On average a person with mediocre typing skills must be able to type at least 45 words per minute. Because of the light key travel, use can comfortable type using the MacBook Pro for a longer duration too.
Apple MacBook Pro: Performance
This is where Apple assassinates other laptops available in the market mercilessly. Apple has been and is the leader of the Industry. Before a decade Intel Core 2 Duo chipsets inside the MacBook had smaller die than other Core 2 Duo chipsets in the industry. Smaller die made Apple to reduce the thickness of a MacBook.
It runs on 9th Generation Intel Core i7-9750H processor. This Hexa Core has the ability to shatter granite using its bare fists alone. Because of this processor, the MacBook Pro 2.1 times faster than its predecessors.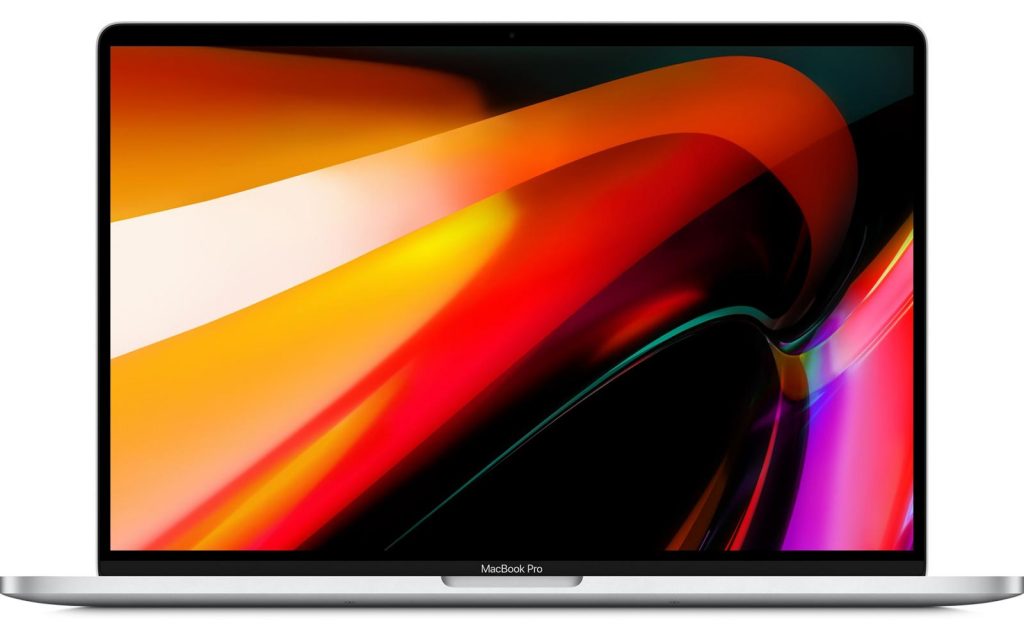 The base frequency of the processor is 2.60GHz which is more than enough to run all kind of intensive applications like Video editing on Final Cut Pro and rendering three dimensional images on Lumion 3D. But using the turbo boost technology of Intel, the processor has the ability to reach up to 3.20GHz.
In the Multicore benchmark test of Cinebench R23, the Intel Core i7-9750H has a total score of 6912 points. The role of L3 Cache memory plays a very crucial role in determining laptop's swiftness while using multiple applications simultaneously. The processor is built using the Coffee Lake Refresh which delivers faster clock speed than its predecessors.
There is a massive improvement in Graphics as well. The AMD Radeon Pro 5000M series renders 3.5X times quicker than its predecessor.
Audio
Sound output from the top firing speakers is clear and loud. Even at higher volumes there was no kind of distortion. Sound level is loud enough to fill large room so you need not require a Bluetooth speaker while watching movies outdoor.
Memory
The MacBook Pro has a 16GB LPDDR4 RAM which can handle a plethora of heavy applications simultaneously without any trouble. Its role can be explicitly seen during intensive tasks. For storage it has a 512GB Solid State Drive. The SSD has the ability to read 2,060 megabytes per second and write 2,315 megabytes per second. So sharing a massive amount of data will not even bother the MacBook Pro at any cost.
Battery Life
The MacBook does an exceptionally great job in terms of battery life. It has one of the biggest battery that is ever available on a laptop. It has a 100 Watt Hours Lithium Polymer battery which can keep the laptop to remain on its feet for 11 hours. This kind of battery life for a productivity is definitely phenomenal. After it runs out of steam, the 96 Watt USB Type C charger will revive the MacBook Pro in no time.
Ports
Having minimal number of ports on a Flagship laptop is bit annoying. But you will get used to it without any issues. It has only two thunderbolt ports for media and connectivity.
Verdict
This MacBook is still relevant and has the ability to defeat latest laptop easily. It is ideal for people who are very much concerned about their productivity. Buy Apple MacBook Pro for just Rs.199,900 from our website Poorvika.
Avail our safe and secure delivery service to get products instantly delivered to your doorstep.