29 Jun 2021
Best features of the Apple MacBook Pro Core i9 9th Gen Mac OS Catalina MVVM2HN/A Laptop.

Apple is a very dominant force in computing industry. They are known for implementing, industry leading innovative technology in their products. In the recent years Apple has grown like never before. Because people are in need of top notch product to meet their requirements. This blog will be explaining about the best features of Apple MacBook Pro.
Mac series product from Apple has made everyone turn their heads. The performance, design and build quality of MacBook is incomparable.
The MacBook performs in a very aggressive manner which makes it ideal for people who are very much concerned about their productivity.
With the latest Apple MacBook Pro, things have become better than ever. Apple has eliminated the flaws of their previous generation MacBook in order to deliver the best product to consumers.
Apple MacBook Pro: Design & Build Quality
An English proverb says 'Appearances are deceptive' but appearance of Apple products are not deceitful. Because no other company focuses on the build quality of a product like Apple. These two factors have made several people to buy MacBook. As an individual need not bother about their product getting damaged easily.
Space Grey colour of the Apple MacBook Pro looks lovely. Its ceramic metallic finish lid and the body is eye candy of the crowd.
Entire body and chassis of the MacBook Pro is made of aluminium. Its hinges are sturdy and robust. The sides of MacBook Pro are sealed well. And the overall build quality is phenomenal.
Apple MacBook Pro: Display & Keyboard
The 16 inch retina display of MacBook Pro supports P3 wide colour gamut. Thus colours look very attractive on MacBook Pro. Densely held pixels inside the screen allows the MacBook to produce clean and sharp visuals.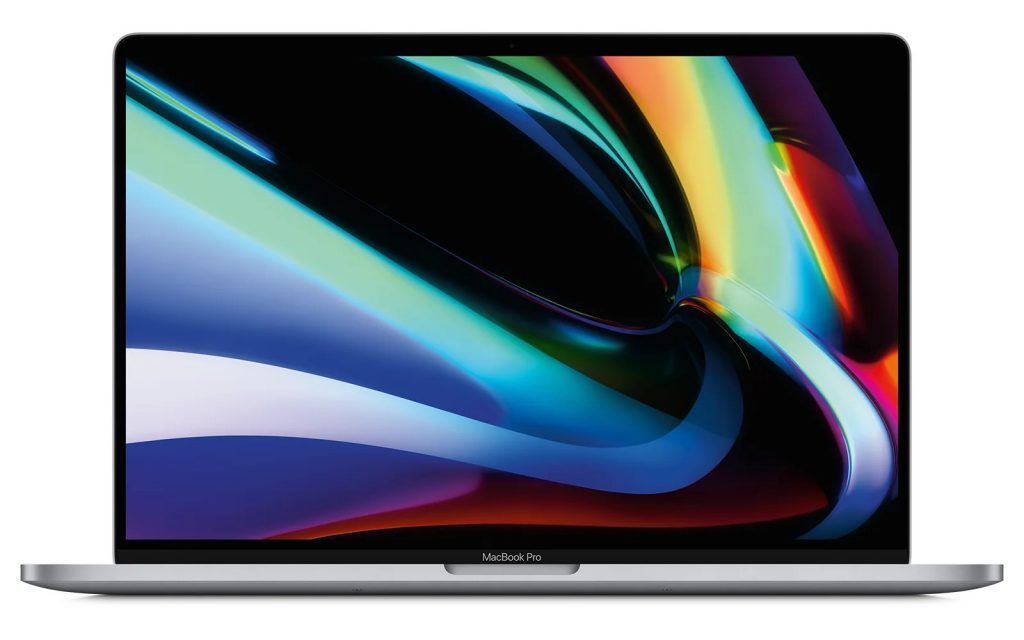 It can deliver maximum 500 nits of brightness which makes Apple MacBook Pro comfortable even in bright lighting conditions.
Keys on the Magic keyboard has just 1 millimetre of key travel with good amount of response. Backlit feature of the keyboard is accurate and helpful while working in dark environment.
Using physical escape key of the MacBook makes overall user experience absolutely satisfactory. Touch ID feature of the MacBook Pro is definitely worth mentioning. As it eliminates the need to type password in order to login.
Apple MacBook Pro: Audio
Sound output from the High-fidelity six speaker system is loud enough to fill even a large room. The vocals were crisp and highs were very impressive. There was no kind of distortion at higher volumes too. Volume level from the speakers is similar to mid-range Bluetooth speakers.
Apple MacBook Pro: Chipset
Here comes the most important component of a laptop. As entire functionality of the laptop is controlled by this small component on the motherboard. The Apple MacBook Pro runs on Intel Core i9-9800H chipset.
It performs exceptionally well in both benchmark tests and real life usage too. The MacBook Pro was able to handle all kind of intensive tasks without flinching a bit.
The Octa Core processor can knock out the toughest contender effortlessly. It is because of Intel Core i9-9800H chipset, the MacBook Pro is able to perform 2.1 times faster than previous generation Pro variant of MacBook. Because of sheer power all kind of complex tasks like running emulator or designing circuit diagram on Proteus will be a pleasant experience.
Base frequency of Intel Core i9-9800H processor is 2.30GHz and by using the Hyperthreading support and turbo boost technology, the processor was able to reach maximum clock speed of 3.40GHz.
It is built using the Coffee Lake H microarchitecture of Intel. This architecture follows similar design of Kaby Lake. But the only major difference is, additional number of cores. Because of extra cores, this processor is able to handle demanding tasks in a comfortable manner.
And the performance is 33 percent better than processors which consists of lesser number of cores. As per the claim of Intel, maximum TDP of this processor is 45 Watts. Hence only a laptop with amazing cooling system can utilize the actual potentiality of this processor.
Airflow is 28 percent higher than older MacBook and the heat sink is 35 percent larger. Combination of these two factors keeps the Apple MacBook Pro cool, even during intensive workload.
In the Multi core benchmark test of Cinebench R23, the Intel Core i9-9800H processor has a total score of 8311 points. This score itself is a proof to validate the raw processing power of this chipset.
Graphics Card
AMD Radeon Pro 5000M series is the most powerful Graphics Card ever used in a MacBook. Its ability can be explicitly seen while editing photos on Adobe Photoshop and designing graphics, logo on Adobe Illustrator. Despite working on heavy projects, there was no kind of lags and stutters.
Editing 4K videos on DaVinci Resolve was butter smooth. The MacBook Pro exported a 1.5 minute 4K video in just 51 seconds.
Storage
Two components that fall under this category are RAM and ROM. Both components has got a separate role to do. And they help chipset to enhance the performance of the laptop. The Apple MacBook Pro has a 16GB DDR4 RAM to deliver breezy experience while working on many applications at the same time.
For storage, it has a massive 1TB Solid State Drive. Since SSD don't have any kind of needles or moving parts inside, it can work at blazing speeds. Write speed of MacBook Pro's SSD is 2,085 MBps and the read speed is 2,540 MBps. Role of SSD also plays a vital role in boosting the performance of Apple MacBook Pro.
Battery
The 16 inch MacBook Pro has the largest ever battery in a laptop. It has standby time of 30 days which is definitely mind boggling. 100 Watt Hours Lithium Polymer battery of the MacBook has sufficient charge to allow user to continuously use the laptop for 11 hours without interruption.
Ports
It has very minimal number of ports for media and connectivity which is slightly disappointing. There are only 4 thunderbolt ports. To have a wider access, you need to use separate Adapter Dongle.
Verdict
At the moment, other than MacBook Pro there is no other better option available in the market. It scores a centum in all areas. And it is also safe to affirm that this product is flawless. Buy Apple MacBook Pro for rupees 219,999 from our website Poorvika. Avail our safe and secure delivery service to get products instantly to your doorstep.