02 Jul 2021
Everything You Need to Know About the Dell Inspiron 7415 Ryzen R5 Windows 10 D560470WIN9P Home 2 in 1 Laptop

Laptops are a real boon to humanity. A device that makes portable computing genuinely possible. Over the years, laptops have grown lighter and smaller. The computing power of these devices has, however, increased. Nowadays, more and more laptops are turning into 2-in-1 devices where you can use a laptop not just in a conventional way but also as a tablet.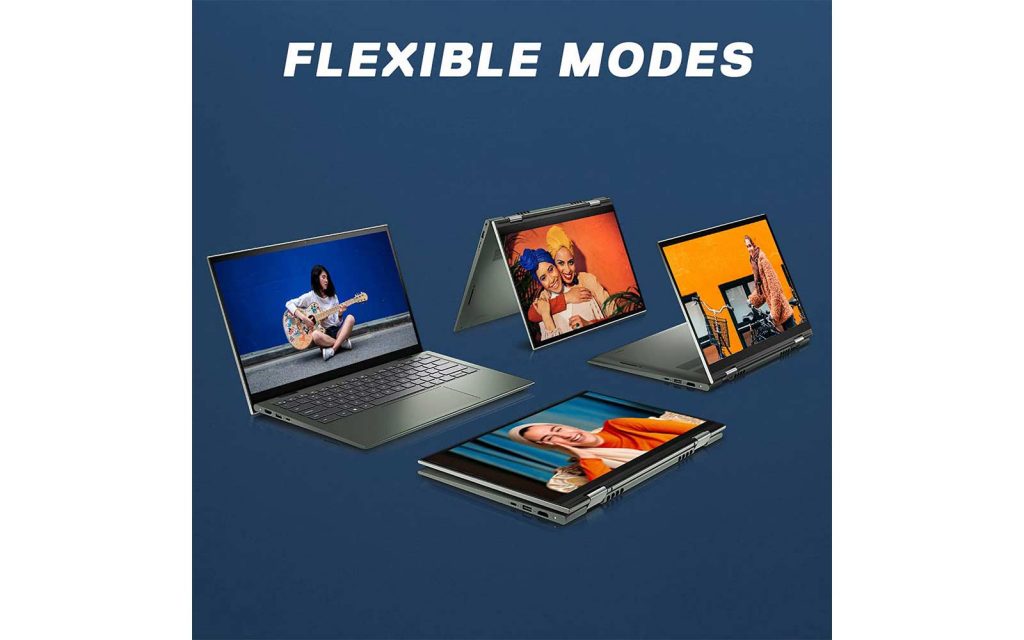 This blog takes a look at one such device. The Dell Inspiron 7415 Ryzen R5 D560470WIN9P 2 in 1 Laptop.
The Inspiron 14s convertible lineup is growing ever so quickly with the new AMD-powered 7415 models. These are the latest 2-in-1 laptop from Dell to feature the new AMD Ryzen 5000U range of processors.
The device is sleek and has an excellent build with rounded edges, giving it a perfect hand feel when holding it or carrying it around. The laptop is light overall and has pretty slim bezels.
The laptop is just 0.64-inch thick and weighs a mere 1.56 Kg owing to its aluminium and plastic body. The thin bezels and extensive screen-to-body ratio minimize distractions for a better viewing experience.
The highlight of this laptop is its ergonomically positioned lift hinge that gives the user a comfortable typing experience. The hinges feel incredibly sturdy and don't wobble even while opening, closing or fully opening up the laptop to access Tablet mode multiple times.
These Hinges also allows the Dell Inspiron 7415 to do what it's best known for; open up as a laptop or fold into a tablet. You can view all your content on this laptop in any way. It even has a "Tent" position, which allows you to prop the device up and view all your contents.
The display is a 14.0-inch FHD Truelife Touch Narrow Border WVA Display featuring a screen resolution of 1920 x 1080 pixels. The display can turn a full 360 degrees allowing you to access Tablet Mode, hence the name 2-in-1.
The Full HD screen produces vivid visuals with detailed clarity, so you don't miss out on anything. The vibrancy on the screen is unmatched, bringing out the authentic life colours. The Touch display is extremely responsive and sensitive, making navigating the entire system nothing short of bliss.
The device runs on an AMD Ryzen 5 5500U Mobile Processor with integrated Radeon Graphics. The AMD Ryzen 5 5500U is based on the Lucienne generation of processors specially designed for lightweight laptops.
The processor has six cores and is based on the Zen 2 microarchitecture. They can reach clocking speeds ranging from 2.1GHz up to 4GHz and support Ryzens Simultaneous Hyper-Threading technology. The chip is a 7 nm process.
In addition to the processor, the AMD Accelerated Processing Unit, previously known as Fusion, also integrates a Radeon RX Vega 7 integrated graphics card up to 1800MHz.
The device has 8GB of DDR4 RAM split into 4GB and 4GB with 3200MHz allowing for faster data transfer speeds. Storage space will not cause concern as 512GB M.2 PCIe NVMe Solid State Drive.
However, unlike the standard SSDs or HDDs, you cannot connect M.2 drives to the motherboard via cables. They are plugged directly into the motherboard through a dedicated M.2 slot.
Solid State Drives are the best as they have no moving parts. Hence they don't function like traditional hard drives that, in most cases, are slow compared to SSD's. The lack of moving parts help in faster bootup speeds and lightning-quick read and write speeds.
The laptops come with tonal colour-blocked palm rests and have a Pebble Green finish from waterborne paints. This paint makes sure the hues and colours turn out brighter while needing fewer clear coats. Additionally, the paint used is exceptionally environmentally friendly due to the lower percentage of solvents in the paint.
Drawing or writing on the touchscreen is even easier now with the smooth precision and accuracy of the Dell Active Pen. The stylus can pick up the slightest moves of your hand, considering it has up to 2,048 levels of pressure sensitivity, making it feel more like using a natural pen.
It allows you to create strokes with varying levels of darkness and lightness with extreme precision. Additionally, the palm rejection technology lets you rest your palm comfortably on the screen without accidentally interacting with the screen or causing an error.
The keyboard is pretty extensive, with keys that are 9% bigger than the previous generation. The larger surface area of the keys allows for a better typing experience.
The ergonomically designed Touchpad is also pretty responsive and is made of a new material that has a smooth, glass-like feel.
The backlit keyboard gives you the freedom to work in dark or dimly lit places.
The HD Webcam makes sure all your zoom calls and family meetings crystal clear. Mechanical Privacy Camera shutter gives you the option to cover the camera, ensuring your privacy while using your laptop. The laptop is powered by an integrated 54WHr 4-Cell Battery and supports Express Charge. The laptop ships with a 65 Watt Type-C EPEAT Adapter
The device has multiple connectivity options, including a Micro SD Reader 2 USB 3.2 Gen1 Type-A slots, an Audio Jack, an HDMI 1.4b port 5. USB 3.2 Gen1 Type-A, a USB 3.2 Gen 1 Type-C™ that functions as a Power Delivery and a DisplayPort, Wi-Fi 6, Bluetooth 5.0 connectivity, and a fingerprint reader integrated into the power button.
The Dell Inspiron 7415 Ryzen R5 Windows 10 D560470WIN9P Home 2 in 1 Laptop Price in India is Rs.67,999. You can get it right here on the official Poorvika website or head over to one of our flagship stores to experience it first hand. We have loads of offers, cashback and easy EMI's curated just for you.
Avail of our fast and Safe delivery options to have your order delivered right to your doorstep. Our delivery experts take precautions to ensure all your deliveries are Safe and Sanitized.