06 Jul 2021
Which gaming laptop should I buy in India?

At present scenario, Games are becoming very popular. Because other than game no other entertainment medium like movie, web series has the ability to offer the level of adrenaline rush, excitement. Be it PC or Gaming Consoles nothing can match the charm and versatility of a Gaming laptop. As Gaming Laptops come with top notch components, it can be used for productivity purposes too. And, since the market consists of several laptops, it is always bit challenging for users to buy the best Gaming Laptop. So we have decided to simplify this arduous task. And now you can stay calm before buying a laptop. This blog is going to reveal Which Gaming Laptop you should buy in India.
At the moment ASUS is the only company which has a separate fleet of products only for Gaming. In fact their status in the computing world became more dominant only through Gaming Laptops.
Since ASUS has a plethora of options for Gaming, so most of the Gamers prefer ASUS laptops for gaming purpose. In India, the Taiwanese manufacturer has a total market share of around 13.7 percent.
Design & Build Quality
The ASUS ROG Zephyrus G14 laptop follows a very minimalistic clamshell design. Except slim bezels on sides, design of the laptop looks very traditional. Despite the conventional design, no one can ignore the lid of the laptop just like that.
As it is drilled using CNC milling process to create dot matrix design. Though user will not see it very often, it simply lures the eyes of the beholder. This feature isn't just for aesthetics, user can display customized content through the AniME Matrix feature on lid of the laptop.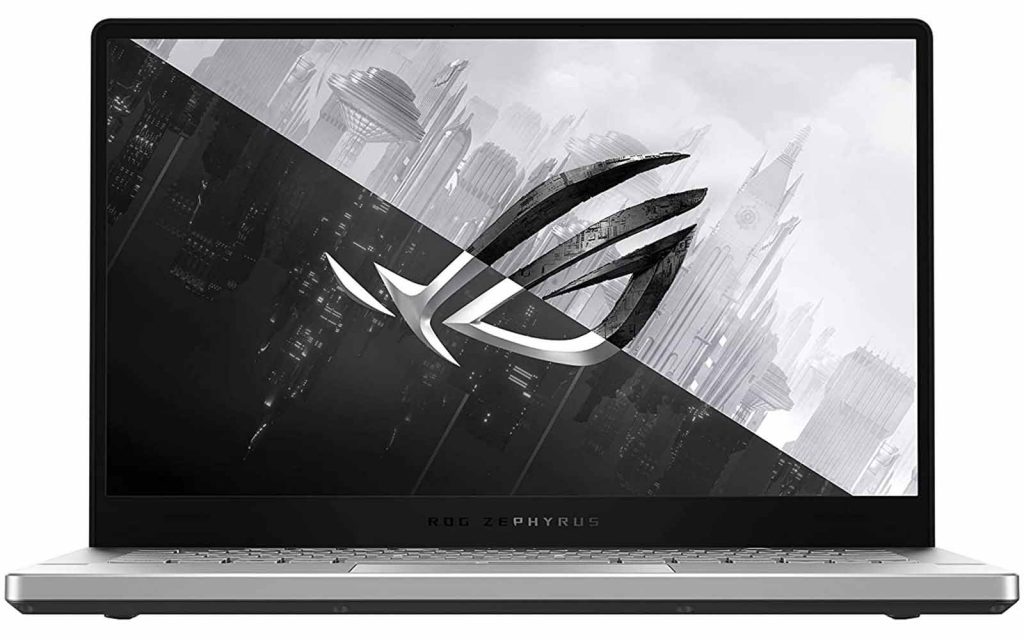 In order to keep the weight less ASUS uses alloy, which is made of Aluminium and Magnesium, to construct the entire body and chassis of the ROG Zephyrus G14 laptop. Matte finish throughout the laptop keeps the laptop clean from smudge marks and other kind of stains. Sleek body and Moonlight White colour body enhances the premium look and feel of the laptop to a great extent.
Build Quality of the laptop is completely flawless. Edges are neat and sealed in a proper manner. And there was no creaky sound even after deliberately opening and closing the lid multiple times. Also ASUS deserves appreciation for manufacturing a robust lightweight Gaming Laptop. Because most of the laptops weight much so carrying it to different places is a tedious task.
Display & Keyboard
A Gaming Laptop cannot afford to have a mediocre display and keyboard. The role of both these components plays a vital role in improving user experience. Only a laptop with good display will be able to draw the attention of user.
Pixels are held in a very close manner inside the 14 inch Quad HD Anti-glare display. So the laptop delivers super sharp visuals and clean pictures. It supports a screen resolution of 2560 x 1440 Pixels.
Hence watching movies or other sports on this laptop will be a visual treat to our eyes. Because of the 100 percent certification SRGB, colour reproduction of the display is also great. And the overall visual experience is impressive.
Keys on the keyboard of ROG Zephyrus G14 is light and accurate. Thus a person with average typing skills can easily type more than 30 words per minute. Deep key travel of the keyboard will surely draw the attention of everyone in the crowd.
Performance
Chipset plays a vital role in determining the laptop's performance. Since all kind of action gets executed by the chipset of a laptop. And Gaming Laptop consists of two major components which are namely CPU and GPU. GPU is also known as Graphic Card, it helps laptop to run all kind of heavy games effortlessly. Both these components which is soldered on the motherboard works together to deliver seamless performance.
ASUS ROG Zephyrus G14 laptop runs on AMD Ryzen R7 4800HS chipset. After introducing Ryzen series AMD began to question Intel's intention of becoming monopoly. Ryzen series chipset didn't become popular just like that. It came into limelight with the help of Zen microarchitecture. Zen microarchitecture made AMD to increase the L3 Cache memory and reduce the lithography of the chipset.
Smaller lithography allows AMD to include more number of power efficient transistors. More number of transistors means, chipset can perform all kind of complex calculations without straining a bit.
The AMD Ryzen 4800HS chipset is an Octa Core processor. And each physical core of the processor has two virtual threads. Hence user need not worry about working on numerous applications simultaneously. In Cinebench R20 Multi Core benchmark test, AMD Ryzen 4800HS is 46 percent faster than Intel Core i7-9750H.
It has a base frequency of 2.90GHz and with the help of Hyperthreading and turbo boost, it is able to reach a maximum clock speed of 3.80GHz. This kind of clock speed is sufficient to let user edit videos on Adobe Premiere Pro. It has a total score of 10590 points in the Multi Core benchmark test of Cinebench R20.
Because of the 7 nanometre, the processor Ryzen 4800HS doesn't consume much power even during heavy workload.
Graphics Card
Role of Graphics Card is essential while playing games. Because it is the role of Graphics Card to render and process graphics of games. Not just games, laptop with powerful GPU can edit videos on DaVinci Resolve.
ASUS ROG Zephyrus G14 laptop has a discrete 6GB NVIDIA GeForce GTX 1650 Ti Graphics Card. It is built using the Turing Shaders architecture of NVIDIA which works exceptionally well in all kind of scenarios.
With this laptop user need not worry about playing graphically heavier games like Counter Strike and Grand Theft Auto.
Memory
16GB DDR4 RAM of the G14 laptop works vigorously so that user doesn't experience any discomfort while multitasking. For storage it has a 512GB Solid State Drive which can work at unthinkable speed. So be it transferring data or downloading files user doesn't have to wait for a long time.
Battery Life
Unlike other gaming laptops, the ASUS ROG Zephyrus G14 doesn't run out of steam quickly. There is a 76 Watt Hours 4 cell Lithium-ion battery which can deliver 8 hours of battery life.
Buy ASUS ROG Zephyrus G14 laptop for rupees 105,990 from our website Poorvika. Avail our safe and secure delivery service to get products instantly delivered to your doorstep.