07 Jul 2021
What are some good lightweight laptops for everyday use

After the advent of computers all kind of strenuous tasks became easier and simple. This is why computers are considered as the greatest invention of the 21st century. Since computers cannot accompany an individual, laptops were introduced. Laptops were introduced for people who wish to work on the go. Few years back most of the laptops had a bulky design and the weight of those laptops were pretty high. At present scenario most of the laptop come with 14 inch screen and weight of the laptops hardly go beyond 1.6 kilograms. Today this blog will be presenting about what are some good lightweight laptops for everyday use.
At this point of time, it is also quite hard to find a laptop with 15 inch display. Because companies are focussing more on portability and compact factor. By manufacturing a 14 inch laptop, companies need not increase the size and weight of the laptop. And it is considerably convenient and comfortable to carry a laptop which weighs below 1.6 kilograms. Both students and working professionals will love a laptop which weighs lesser than traditional laptops. Here we are going to unveil about the good lightweight laptops for everyday use.
Lightweight laptops: Lenovo Yoga Slim Carbon
An English proverb says Appearances are deceptive. This saying is true in this scenario because most of us think lightweight laptops are not meant for productivity and heavy purposes.
But lightweight laptops come with robust processors which can literally knock out anything put on its way. The Lenovo Yoga Slim Carbon is one such example. Its performance is absolutely phenomenal and aggressive.
Lightweight Laptops: Performance
Lenovo Yoga Slim Carbon Laptop runs on Intel Core i7-1165G7 11th Generation processor. Performance of 11th Generation Intel Core processor is surprising. Most of the users are actually wondering how Intel took this kind of giant leap in performance within a short time. Intel has done so many amazing things hence 11th Generation Core series processors are able to effortlessly outshine competition.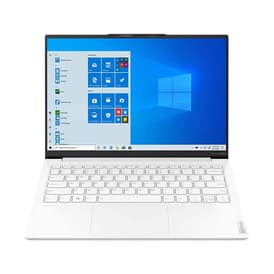 The Intel Core i7 processor does an extremely impressive job in both benchmark tests and real life too. While running an emulator the laptop was behaving like a darling, it didn't lag and there was no stutters at any point of time.
Though Lenovo Yoga Slim Carbon laptop is a lightweight laptop, it has the ability to compete with big boys like gaming and productivity laptops too. Processor and memory components of this laptop makes it to handle heavy tasks like Video Editing and Application development easily. It was also able to export a 10 minute 4K video in under 8 minutes.
Be it photo editing on Adobe Photoshop and creating graphics on Adobe Illustrator all kind of intensive workload is definitely not a big deal for this laptop. The Lenovo Yoga Slim Carbon works in accordance with the saying Float like a butterfly even during intense workload session.
Each Core of this Quad Core processor consists of two virtual threads, so totally the processor has 8 threads. And it has a base frequency of 2.80GHz and it achieves a maximum clock speed of 4.10GHz through the turbo boost technology of Intel. The processor also supports Hyperthreading so user need not worry while working on many applications simultaneously.
Lightweight Laptops: Memory
16GB DDR4 RAM of the laptop ensures user doesn't experience any kind of discomfort while multitasking. For storage, there is a 1TB M.2 PCIe NVMe Solid State Drive. So read and write speeds of this laptop will be surprisingly quick.
Display & Keyboard
13.3 inch Quad HD display of Yoga Slim Carbon laptop delivers stunning picture clarity and incredible colour reproduction. Since the display holds numerous number of pixels, image looks clean without distortion and makes overall visual experience satisfactory.
Keys on the moon white keyboard of the laptop looks lovely. It has the optimal amount of key travel, so all kind of laptop will like the keyboard of Lenovo Yoga Slim Carbon laptop.
Battery Life
Though the laptop weighs 966 grams, Lenovo manages to keep the Yoga Slim Carbon laptop on its feet for 13 hours straight. This is something which many bulky and heavier laptops fail to offer.
Combination of all these factors make Lenovo Yoga Slim Carbon, a good lightweight laptop for all kind of usage.
Buy Lenovo Yoga Slim Carbon laptop for rupees 121,089 from our website Poorvika. We have so many amazing cashback and easy EMI options exclusively for you.
Dell New Inspiron 5406
Inspiron laptops from Dell is known for impressive performance and sleek design which can make anyone fall for it. The laptop consists of several amazing which makes it a good lightweight laptop for everyday use.
While looking at the specification sheet itself, anyone will agree that Dell Inspiron is a definitely good choice for academic and official purposes.
Performance
This convertible laptop is ideal for all tasks except Gaming and Intensive Video Editing. It uses the 11th Gen Intel Core i5-1135G7 processor. This processor is capable of handling tasks like photo editing and graphic designing.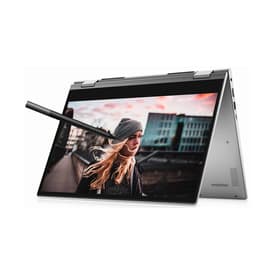 There are two virtual threads inside each core of this Quad Core processor. And the 2.40GHz base frequency is sufficient to offer superfast user experience. But Intel goes a step further to make the processor reach a clock speed of 3.80GHz.
Its Single Core performance is intimidating. In the Cinebench R23 benchmark test, the Intel Core i5-1135G7 processor scored 1343 points. In addition to performance there is a massive improvement, in power efficiency as well. Because Intel is manufacturing this processor using smaller 10 nanometre lithography. Through this Intel is able to add more number of transistors which don't consume much power.
Display & Keyboard
14 inch display of the laptop comes with a supporting screen resolution of 1920 x 1080 pixels. So watching high quality content on the laptop is going to be a spectacular experience.
Keys of the keyboard offer deep key travel so people who love the sound while typing will like the laptop. And anyone with average typing skill can comfortably type more than 30 words per minute easily.
Memory
8GB DDR4 RAM is the non-volatile memory of this laptop. It delivers a breezy experience even if user is toggling between multiple applications. For storage, the laptop has a 512GB SSD which can work at the speed of light. So from now on, user need not wait for a long time to transfer huge files.
Battery Life
3 Cell 40 Watt Hours has sufficient charge to keep the laptop running for 7 hours. However battery life depends varies upon your usage. If screen brightness is kept low, the laptop may last for some more time.
Buy Dell New Inspiron 5406 laptop for Rs. 68,990 from our website Poorvika. Avail of our safe and secure delivery service to get products delivered instantly to your doorstep.