22 Jul 2021
Intel or AMD Ryzen: Which is best?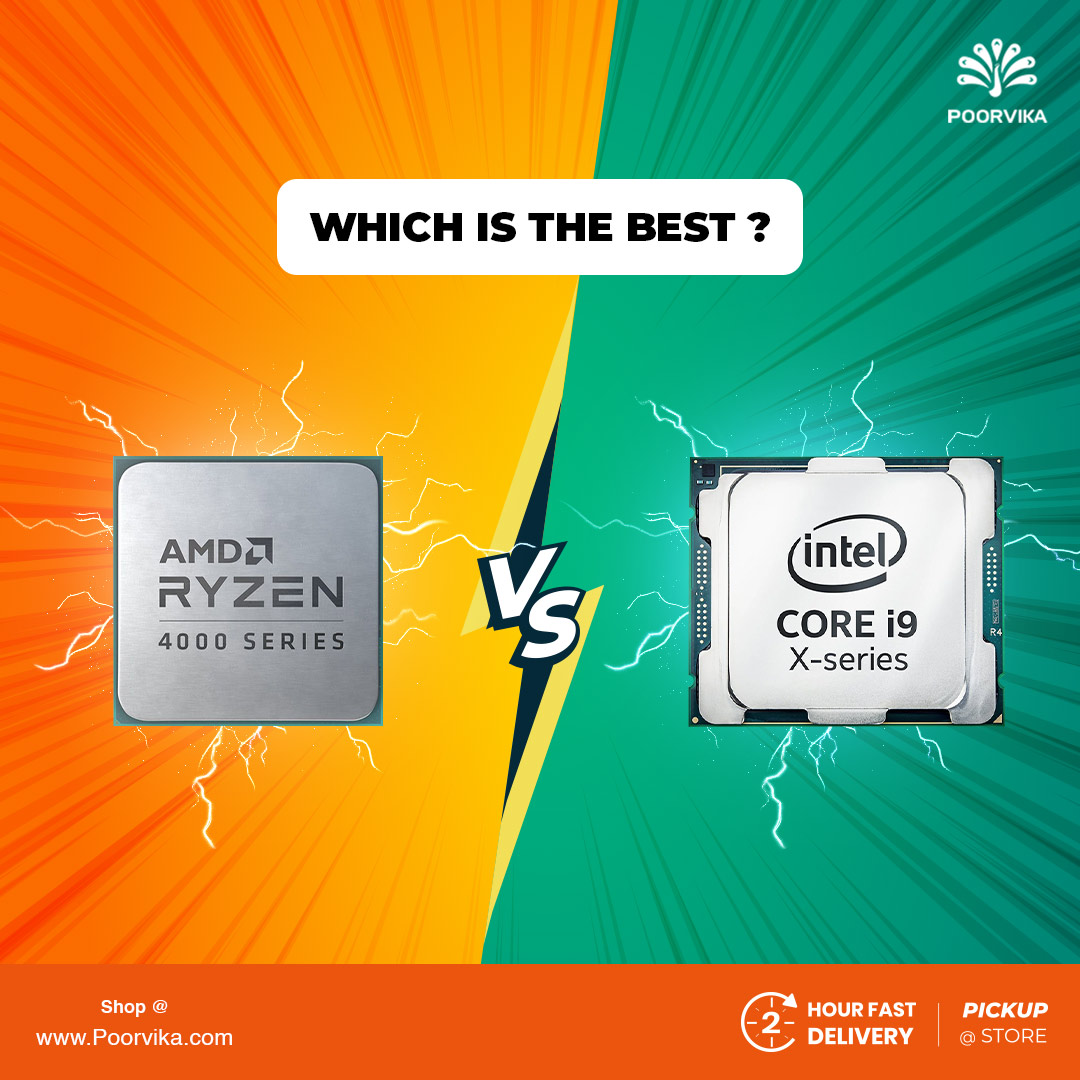 History of Intel
When it comes to computer and laptop chipsets. Intel is the most commonly heard name. At present scenario, 80 percent of the World's computers run on Intel chipsets. Not just our opinion, even statistics are in favour of Intel. In the year 1971, Intel was the first company to introduce microprocessor which led to the development of silicon chipset. From then a lot of things have entirely changed. But the method to develop a powerful and power efficient chipset hasn't changed. All modern chipsets are built using the method given by Gordon Moore, who is also the co-founder of Intel. This is also the reason why Intel is known as the Godfather of modern computers. On the other hand AMD has a long history in the semi-conductor industry too. They were the first to develop X86-64 bit chipset. Today all silicon chipset are using the 64 bit Instruction set architecture. In computing world Intel or AMD Ryzen: Which is best? is a never ending debate.
Intel Core
Intel Core chipsets have combination of alphabet 'I' and the numbers 3,5, 7 and 9 respectively. Just by looking the alphanumeric combination, we can have an idea about the chipset's performance and its capability. And with each generation of these chipsets, Intel brings several ground breaking innovations in order to boost the performance.
Their 11th Generation Core series chipsets are outshining their predecessors in all possible ways. Even at lower clock speed, the 11th Gen Core 'I' series chipsets are able to deliver superior performance than its predecessors.
Single Core performance is the crown jewel of Intel, despite toiling for years AMD is unable to close the gap in performance. While speaking about Single Core, there is one thing which we need to remember: most of our daily tasks require single core only.
Currently Intel is using 10 nanometre lithography to manufacture their 11th Generation chipsets. Since Intel uses smaller nodes to produce the transistors, the performance is on par with the 7 nanometre Ryzen chipsets.
AMD Ryzen
AMD doesn't directly follow the categorization of Intel. In fact AMD is more explicit when it comes to categorization. Because they use numbers along with the name Ryzen. Categorization of AMD are Ryzen 3, 5, 7 and 9. Ryzen 9 power flagship laptops which are ideal for heavy tasks like Gaming and Video Editing. In some cases Ryzen 9 can be also used for CPU mining.
AMD Ryzen has an edge in multicore. Hence Ryzen is preferably the most popular choice for demanding tasks like Gaming, Data Mining and Video editing. After introducing the Zen microarchitecture, AMD began to torment the market leader Intel in a very aggressive manner. At present Intel is receiving a very serious test by the Research and Development team of AMD.
And AMD Threadripper is the only chipset to offer 64 cores and each core comprises of two virtual threads. So in total the AMD Threadripper has 128 threads. This chipset smokes competition in Multicore performance.
Verdict
Both Intel and AMD offers great products. So it is impossible to affirm one answer to the question Intel or AMD Ryzen. But at present scenario, laptops which run on AMD Ryzen chipsets costs less so considering the value for money. We will say AMD Ryzen is a better choice for people looking to buy laptops at affordable price. If you are willing to spend the extra buck, we recommend you to buy laptops powered by Intel Core chipsets.
Don't forget to avail our safe and secure delivery service to get products instantly delivered to your doorstep.