27 Jul 2021
What is the best gaming laptop under 85000 rupees?

Except Games other kind of entertainment medium cannot adapt to different circumstances. This is why Games are making headlines everywhere. At present Games are not just for curing lockdown boredom, it also helps to refine our cognitive thinking and make us a better survivors in this planet. While speaking about Games, most of them tend to forget only a laptop with impressive hardware and specification can quench their Gaming thirst. Laptops always manage to maintain the lead over Desktop and Gaming Consoles. Because laptops are for people who wish to Game on the Go! In this blog we are going to unveil What is the best gaming laptop under 85000 rupees.
Best Gaming laptop: HP Pavilion Gaming
HP is known for their stunning design and ground breaking innovations. They don't simply manufacture products, they prioritize customer satisfaction over anything. Despite the dominance of Taiwanese manufacturer ASUS. As of now HP has the best product in this price category.
Best Gaming laptop: Chipset
Chipset comprises of two major components namely CPU and GPU. Both these components take care of the entire functionality of a laptop. A Gaming laptop doesn't need a strong CPU because GPU renders and processes the graphics of Games. So manufacturers primarily focus on GPU while manufacturing a Gaming laptop.
A Gaming laptop with a combination of robust CPU and GPU will perform in a better manner than laptop which has weaker CPU. The HP Pavilion Gaming runs on AMD Ryzen 5 series Hexa Core processor. It does an incredibly exceptional job in both benchmark tests and real life. It has a total score of 8934 points in the multi core benchmark test of Cinebench R23.
GPU
Here comes the most important component of a laptop. The HP Pavilion Gaming laptop comes with a 4GB GDDR6 NVIDIA GeForce Graphics Card. It operates at twice the pace of its predecessors, so playing all kind of Graphically demanding games without any trouble.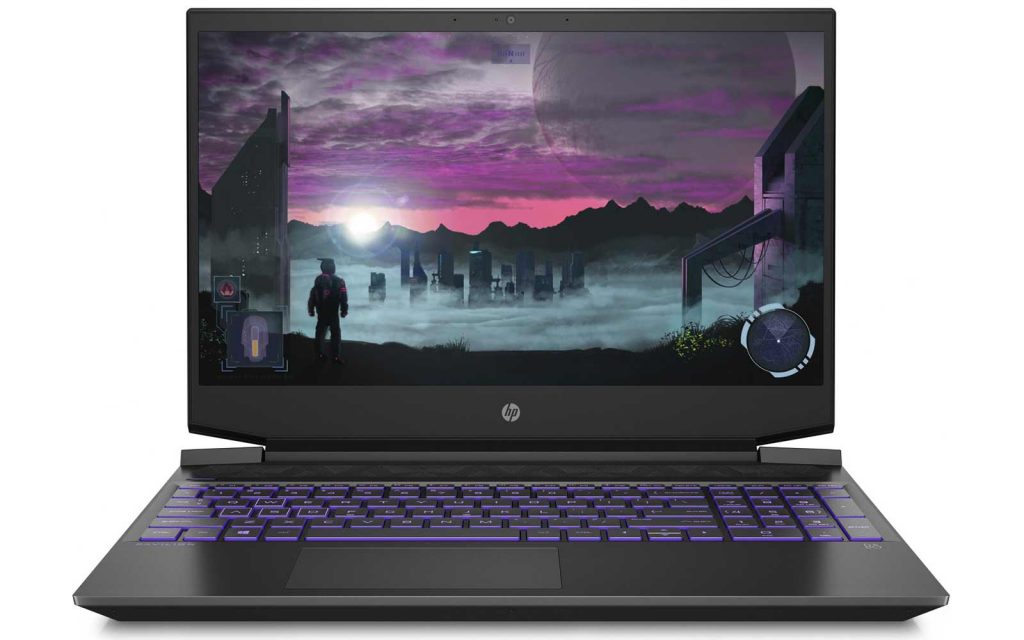 While playing Games like Counter Strike: Global Offensive, there was no frame drops and stutters. On average the laptop was able to deliver more than 50 per frames second. The laptop was able to handle other heavy games like The Witcher 3: Wild Hunt and Grand Theft Auto without any kind of issues. The ability to let user play any kind of games in a convenient manner makes HP Pavilion Gaming best laptop under rupees 85,000.
In order to avoid heating issues, the HP Pavilion laptop has a huge massive air intake and Dual Fans which works together to deliver seamless performance.
Display & Keyboard
In addition to powerful CPU and GPU, a Gaming laptop must have amazing display and keyboard to deliver top notch user experience. The HP Pavilion Gaming has a 15.6 inch 144Hz Full HD anti-glare micro edge WLED backlit display. The display supports a screen resolution of 1920 x 1080 pixels.
Since the pixels are in a very dense manner, images look super sharp and clean on the HP Pavilion laptop. 144 hertz refresh rate plays a significant role in stabilizing fast moving objects. As a result user experience is smooth and fluid.
Keys on the purple colour backlit keyboard of HP Pavilion Gaming laptop are light and responsive. It also has a very optimal amount of key travel. So you will not hear any sort of odd noise at any cost.
Battery
The 3 cell 52 Watt Hours Lithium-ion battery of the HP Pavilion laptop has a very impressive standby time of 9 hours. However it lasts for only 4.5 hours if you are playing games continuously.
Since the HP Pavilion Gaming laptop excels in all categories, it is undeniably the best gaming laptop under rupees 85,000.
You can buy HP Pavilion Gaming laptop for just rupees 75,990 from our website Poorvika. Avail our safe and secure delivery service to get products instantly delivered to your doorstep.