10 Aug 2021
Everything you need to know about the Alcatel 3T 10 Tablet

A tablet is a kind of gadget that sweeps away the limitation of a smartphone. Some people use it as an alternative to their smartphones and laptops. Since the weight of a tablet is much less than a laptop, users can easily carry it around anywhere they want with ease. Tablets also don't consume much space, making them an ideal choice for frequent travellers. This blog is going to be a comprehension review about the hardware, features and performance of Alcatel 3T 10-inch tablet.
The name Alcatel is not very familiar in our country, but most of us are definitely familiar with the parental company of Alcatel, Nokia. Yes, Nokia is the owner of Alcatel and its license is held by the Chinese Television Manufacturer TCL. Before the advent of Android, Nokia was the dominant ruler in the mobile market. Their products are known for top-notch quality, and we can expect the same from the Alcatel 3T 10.
Alcatel 3T 10
Alcatel holds a significant share in the global smartphone market. Their all new Alcatel 3T 10 inch Tablet offers great value for money, especially since it is the best and most affordable 10 inch tablet you can buy. Despite being budget-friendly, the tablet can do all sorts of intensive tasks without flinching. Despite the dominance of other competitors, Alcatel is trying all possible ways to plant its foot and it is making its mark in India, slowly but steadily.
The Alcatel 3T is a perfect choice for students and consumers who are concerned about budget. At this price point, the features and hardware can make anyone on this planet envious. It shares a similar screen size as that of the iPad.
Display
Alcatel 3T tablet has a 10. 1 inch High Definition IPS Display with a screen resolution of 1280 x 800 pixels. Because of the In-plane Switching Technology, the Alcatel 3T Tablet is able to deliver awe-inspiring picture clarity and impeccable colour reproduction. Though the working principle of IPS is similar to LCD. It is able to produce better visuals than other types of LCD panels because IPS displays used LED lights behind the backlit panel of the screen. As LED lights can produce brighter and more vibrant colours than liquid crystals.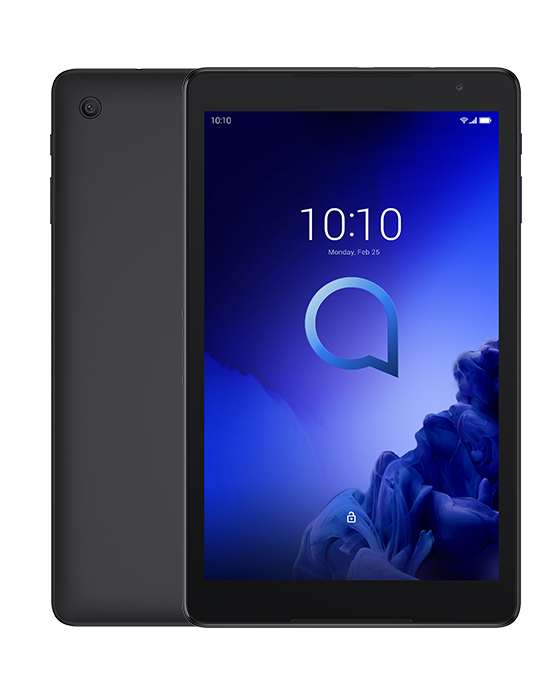 The IPS display is able to produce better images than most other types of LCD displays. You can be sure that watching content from online entertainment platforms like Netflix, Amazon Prime Video and Disney+ will be a blissful experience with the Alcatel 3T Tablet.
Since the display size is pretty big, users need not strain much while using the tablet for longer duration. The display's touch response is good as well, and users will be able to feel the responsiveness of the display while working on more than one application. The tablet responds to every action instantaneously.
Camera
In the current scenario, the camera on a smartphone and tablet is essential and often becomes the deal-breaker for many users. Because most of the users use their mobile phones to capture their memorable moments, it is of utmost importance that the camera on their device is of impeccable quality.
The Alcatel 3T tablet comes with a 5 Mega Pixel rear camera that can capture brilliant pictures, preserving them for a lifetime. Another essential factor is the front camera, which is even more so important since we live in the time of the selfie. This is why the 5 Mega Pixel Front Camera on the Alcatel 3T is of outstanding quality. This also makes for crystal clear video calls, adding a bit of fun to those office zoom meetings.
Performance
There are three components that determine the performance of any device, and they are the Processor, RAM and ROM. Though ROM doesn't directly contribute to enhancing the performance, its role is essential while transferring files. But to deliver seamless performance, the RAM and Processor must work together efficiently. Only then will the user will not suffer from lags and hanging issues. The Alcatel 3T is powered by the MediaTek 8765 processor, which has sufficient processing power to comfortably handle day-to-day tasks. The 3GB RAM on the Alcatel 3T makes multitasking quite breezy.
There is 32GB of inbuilt storage, which allows users to store files, documents and pictures. Since the storage capacity is quite large, the chances of running out of storage is something you won't have to worry about.
Bonus Features
Google Assistant support is the most impressive feature of the Alcatel 3T Tablet. You can ask it to do tasks on your behalf. The tablet also has far-field microphones, so you need not worry about the tablet not recognizing your voice while you are away from the device.
The next impressive feature of the Alcatel 3T is its Facial Recognition. It has 106 High Precision Facial Key Points that prevents intruders from bypassing your device.
The Alcatel 3T Tablet also comes with a Dedicated Kids Mode. Turn it on, and you can have parental control over what your kids do with the tablet.
If you plan to get the Alcatel 3T Tablet for yourself or as a gift for a loved one, look no further than the Poorvika Website. Order Online Now and make the most of our Safe, Sanitized Home Delivery Today!