11 Aug 2021
Samsung Galaxy Unpacked 2021 Event: What to expect?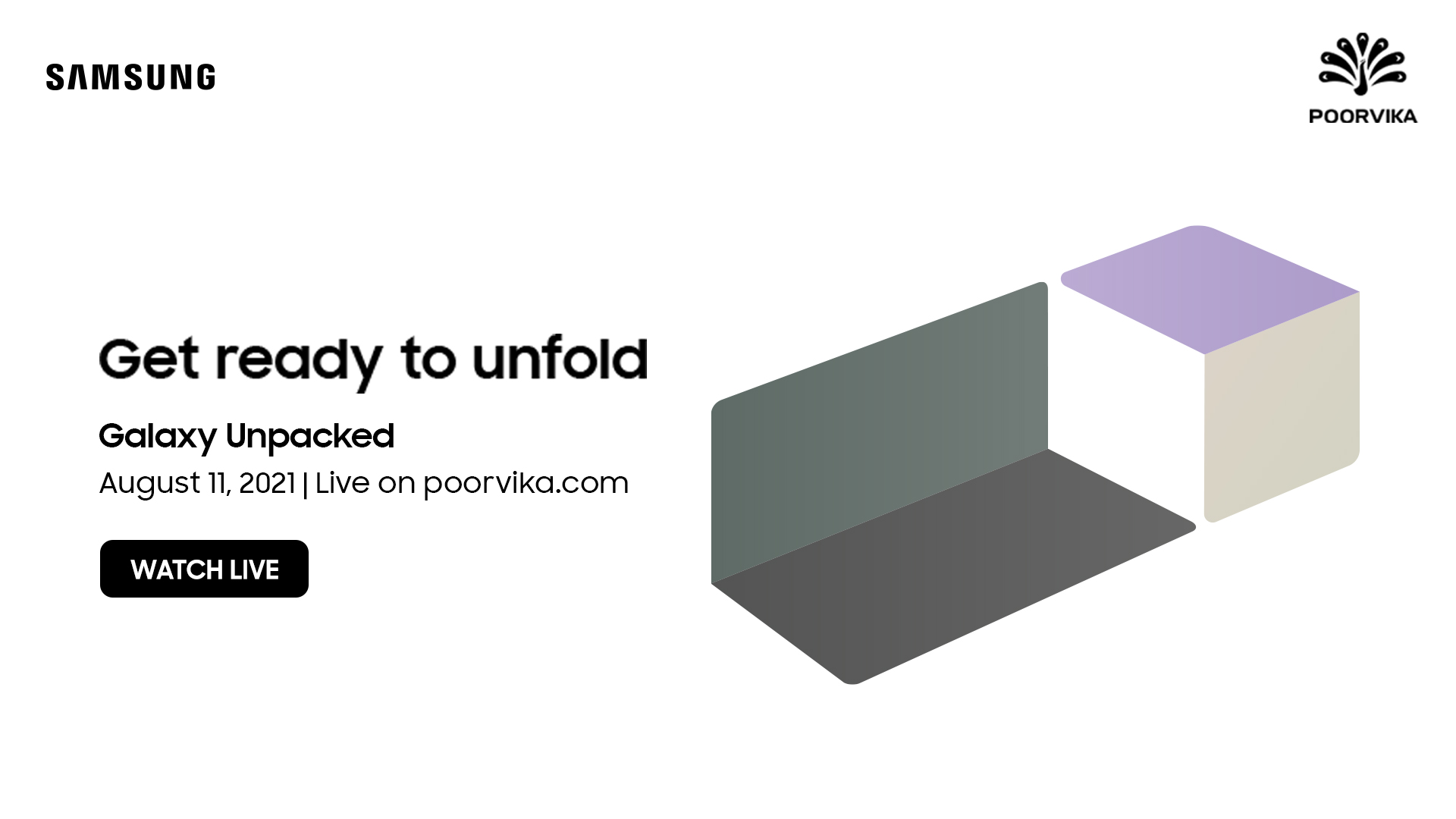 Unless you experience something different, you may never know
what you've been missing. When you get satisfied with your experience, you may never go back, right! So, Grab a new adventure in Samsung Galaxy Unpacked Event and get ready to unfold the New Galaxy Z Fold 3 and Samsung Galaxy Z Flip 3 with your BTS members.
The rumours are already buzzing with the spec sheet about the Samsung galaxy Z Fold 3 5G and the Samsung Z Flip 3 Smartphone, but you will have two questions in your mind!
1. What do these new phones have?
2. Why people are hustling to get these products?
Scroll down the blog to know the answer to these questions in real-time.
The Samsung Galaxy Z Fold 3 in just a few hours
Samsung has not only set a date for its next Samsung Galaxy Unpacked event but it's also confirmed that the foldable model phones are going to be the next breakthrough for the tech world. According to the internet leak, the Samsung Galaxy Z Fold 3 features an S Pen support, and it must hold the fastest processor in the market. Samsung could even drop the price of the Fold 3 from the high price compared to its predecessors.
Leaks said that the phone would have a durable design that will resist both dust and water. We also hear that this could be the first phone with an under-display camera.
According to leaks, the display will have 7.56-inches with a screen resolution of 2208 x 1768 pixels. The external display may have a 6.23-inch size, with a resolution of 2268 x 832 pixels, and both displays may have a 120Hz refresh rate.
Samsung Galaxy Z Flip 3: The next chapter of the blog
The Samsung Galaxy Z Flip 3 is another Smartphone that is ready to be launched in September. The Flip3 features a classic clamshell design with a foldable screen. It will feature Android 11 running the One UI 3.1 on the roof.
We're expecting a Galaxy Z Flip 3 will be a more productivity-focused Smartphone. Leaks said that it supports fast charging and wireless charging. Samsung Galaxy Z Flip 3 runs based on Android, and for connectivity options, the phone may have Wi-Fi and GPS. Additionally, it may have an in-display fingerprint sensor as well. As far as the cameras are concerned, the Samsung Flip 3 may pack with a triple camera setup featuring a 12MP primary camera.
When fully opened, the device measures 166 x 72.2 x 6.9mm to reveal the inner screen and weighs 183 grams.
The Z Flip 3 phone may have an internal screen measuring 6.7″ with a 25:9 aspect ratio, and you may get a larger external display measuring 1.9″. The internal display is said to come with a more durable Ultra-Thin Glass (UTG).
The Galaxy Z Flip 3 comes with a side-mounted fingerprint sensor, an IPx8 rating for water resistance. This smartphone doesn't have a dust resistance rating, and it may have dual-SIM support.
The Smartphone may run on One UI 3.5 and is based on Android 11. The phone is expected to come with Ultra 256GB of inbuilt storage, sufficient for all your files and apps.
Like BTS, unfold with a 'Side Step Right Left to my Beat' through the Galaxy Unfold Event. Whether you unfold it crazy like Joonie or fold it soft like Jungkook, we'll watch it together on August 11. Stay tuned to the Poorvika YouTube channel to watch the live Samsung event 2021 and don't forget to register your interest in the Poorvika website to pre-book your brand-new flagship Samsung Galaxy Z Fold 3 5G and Smartphone on Galaxy Z Flip 3.
Samsung Galaxy Foldable Smartphones: