23 Aug 2021
Samsung Galaxy Z Flip3 5G – Pre-book at best price in Poorvika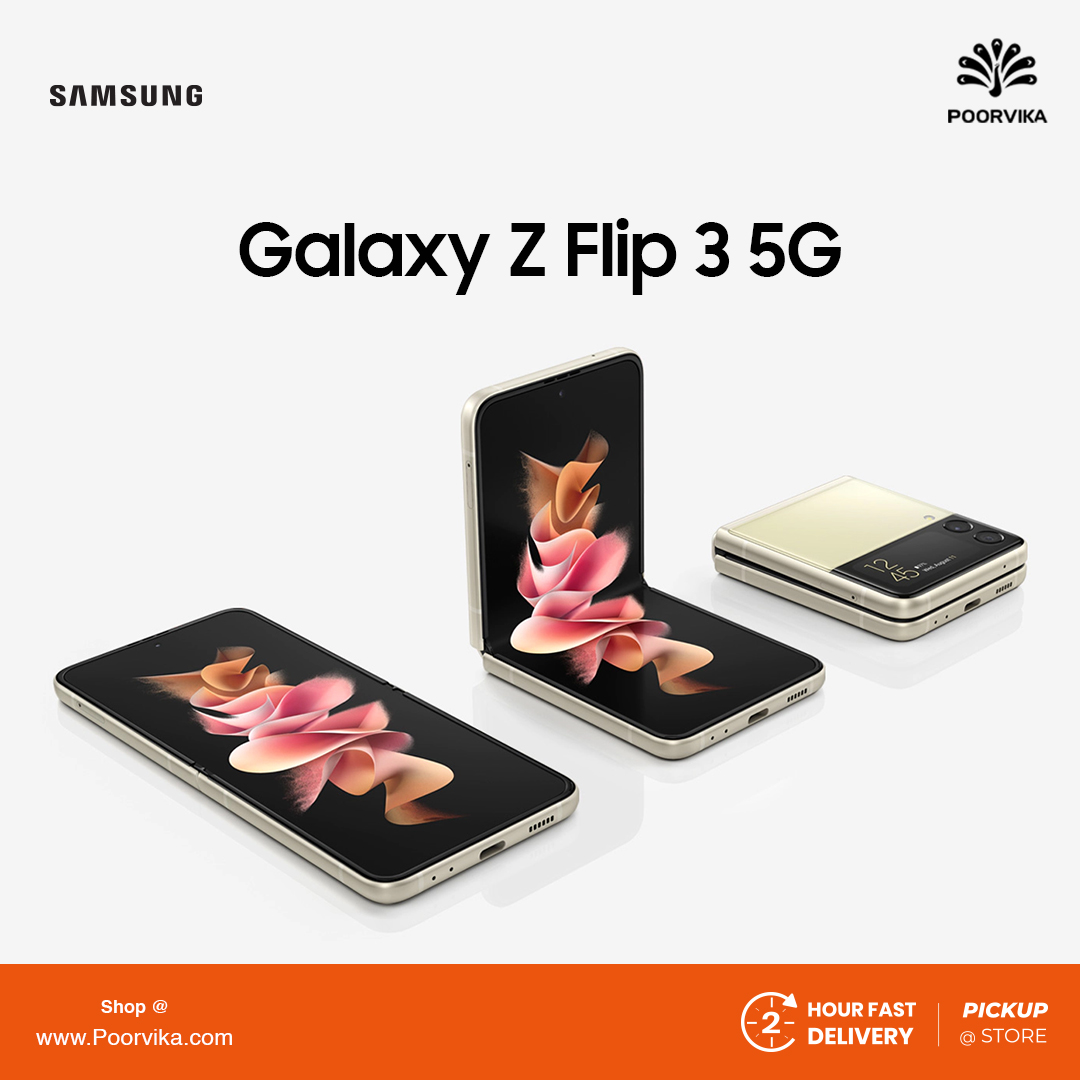 With the introduction of their Samsung Galaxy Z Flip3 5G, Samsung redefined the Smartphone experience. The Samsung Galaxy Z Flip3 5G has expanded how a Smartphone can be used, thus transforming users' daily lives who loves to fold and unfold. So get ready to show your authentic self-expression.
Big things happen, even on the small screen:
Check notifications, capture photos, play music, and so much more without opening your Smartphone as it comes with the 48.2mm Cover Screen display. You can select your favourite display options for easy access; to add spice to it, you can have your style by adding different styles and colours to this Smartphone.
Big things in Small display and Watch:
When you change your Cover Screen in the flip, you can add the same wallpaper in the Samsung Galaxy Watch4 watch face for the same-same vibe.
That's refreshing:
The Dynamic AMOLED 2X display on the Galaxy Z series received certification from VDE Germany for 100% Mobile Color Volume in the DCI-P3 colour range, which means your picture will not be wiped out in unwanted brightness, and you can see the vivid colours at every level of brightness. The Silky smooth 120Hz on the Infinity Flex Display delivers Silky smooth swiping, making you feel soft and pleasant when scrolling your newsfeed. It also optimizes the refresh rate according to the content you're watching on.
The display can reach a peak brightness of up to 1200 nits, enhancing the contrast between light and dark aspects of digital content for higher picture quality. A 2,000,000:1 contrast ratio push your mobile experience to the ultra-level. You know what! The Samsung Galaxy Z Flip 3 5G has the most bright, beautiful, and smoothest display in the Galaxy Z series.
Cover Screen Selfies:

Rushing to take a selfie? Seize Selfies with the Dual Rear Camera, and you can see the preview on the Cover Screen. Just hit the volume button to trigger the shutter.
Angles just got easier:
Samsung Galaxy Z Flip3 5G has a unique camera arrangement consisting of three total cameras. You will have a 12MP Ultra Wide Camera and a 12MP Wide-angle Camera on the Back Cover. The Main front Screen has a 10MP Front Camera for you to take stunning photographs. You don't want to keep your hand on the speaker while listening as it owns Dolby Atmos and stereo speakers.
Capture every single moment with galaxy z flip 3. Now you can take photos and videos more instantly than you ever could before with Flex mode. You have to do is adjust the angle and pose for hands-free selfies.
Make shaky videos with style. Place Z Flip3 5G down on a flat surface, and Flex mode acts as a tripod, maintaining the angle to stabilize the camera to take the shot on the first take. Let your chums check their pose with Dual Preview on the Cover Screen, so everyone can show off their style on the first shot.
No more arm:
Now you don't want to use your arm or exchange your phone between your hands to attend your calls or Google Duo catch-ups as the Samsung Z Flip 3 5G sits on its own, so there's nothing to catch and nothing to hold you back.
Split your screen in two and multitask like a pro with the Split-screen feature; just catch up on your YouTube playlist, text your friend, take stunning selfies, and roll on.
Grab the world's first water-resistant Samsung foldable Smartphone at the best price at Poorvika. This first water-resistant foldable Smartphone comes with an IPX8 rating. It can sustain upto 1.5 meters of water for up to 30 minutes.
Strenght and Stunning:
Galaxy Z Flip3 5G is furnished with durable technology, so you can put it in your bag or pocket with less worry. The Main Screen is coated with Samsung Ultra-Thin Glass; with the addition of a panel layer and protective film, it's 80% more robust than before and withstands up to 2,00,000 folds.
Samsung Galaxy Z Flip 3 5G's created with the strongest aluminium frame yet, protecting the joint for you to unfold and focus on essential things, like sketching your ideas and much more. Strength never looked so Stunning.
Finest expectations:
Scratches and damage can do nothing with this Smartphone. The exterior front cover and back cover on Flip3 5G are made of the finest Gorilla Glass yet on Galaxy Z.
The 3300mAh battery offers ever-lasting battery life. It adjusts the power usage according to your screen habits, then holds you all day long.
Buy space for your digital life with up to 256GB of storage and store your photo and video masterpiece. You can safely back up your gallery with OneDrive on your Samsung Galaxy Smartphones for easy access on any connected device.
On the inside, the Galaxy Z is powered by a 5nm Processor with an upgraded GPU, CPU and NPU. The 8GB RAM to stay with you to deliver a perfect game to meet your need for speed.
Unlock:

A single tap holds the Main Screen, and the fingerprint scanner helps you unlock your Smartphone right at your fingertip.
Take your pick with connectivity. Galaxy Z Flip3 5G's got a slot for a physical SIM card for you can go the digital life.
Samsung Knox is constructed with superior hardware and software of your phone, protecting with a layer of security to keep your private data private.
Samsung Galaxy Z Flip3 5G enables users to express themselves with bold colour options, a silky design, and premium features. You can get this Smartphone in four trendy colours: Lavender, Cream, Green, and Phantom Black and new stylish ring grips and strap cases makes it easier to hold and fold the Smartphone.
Register now at Poorvika and click to know Samsung Galaxy Z Flip3 5G price in India We have tonnes of offers, discounts and cashbacks curated just for you. Avail of our 2 hours fast delivery service to have your products delivered right to your doorstep. Our delivery experts make sure all your deliveries are safe and sanitized.
Samsung Galaxy Foldable Smartphones: