23 Aug 2021
Samsung Galaxy Z Fold3 5G Pre-Book at best price in Poorvika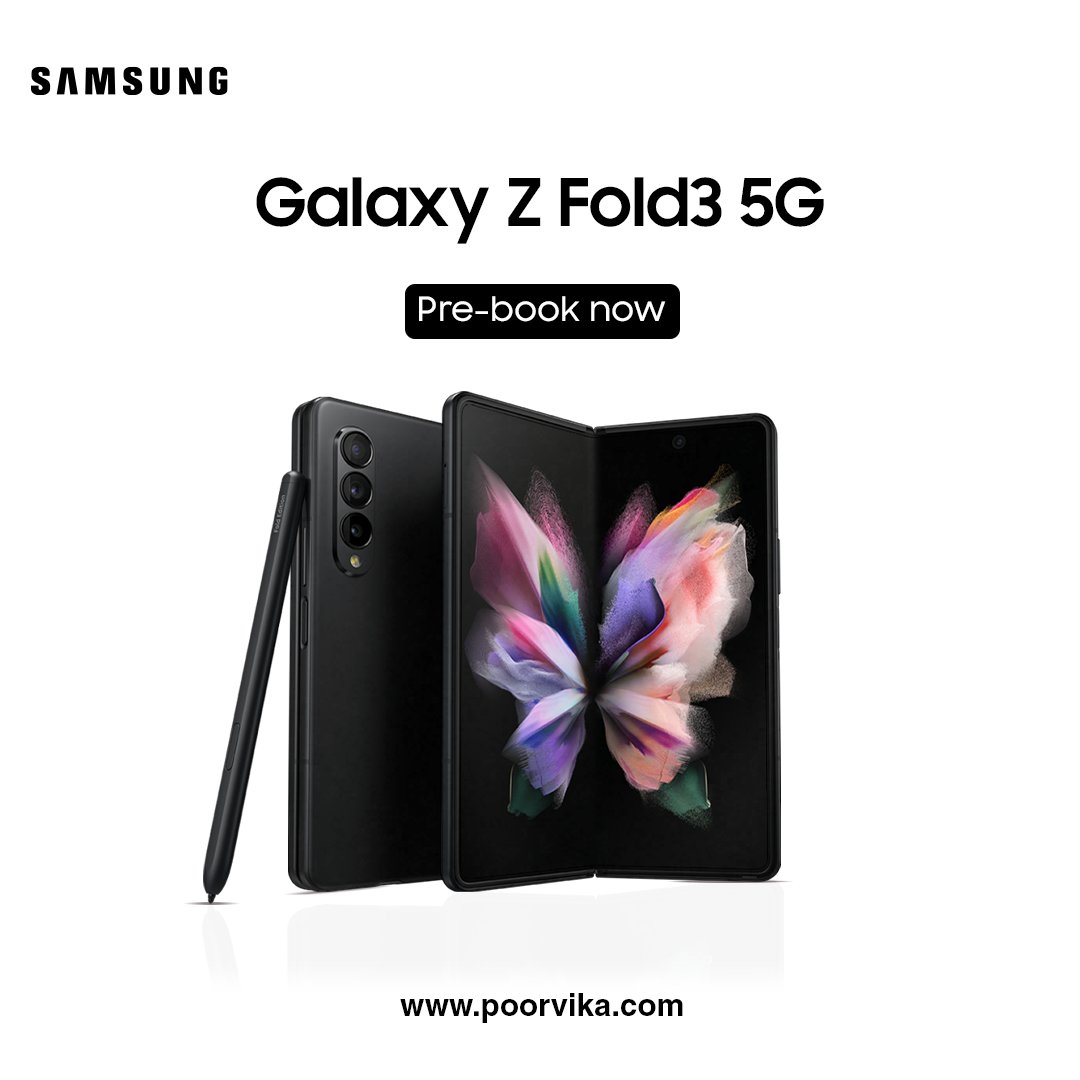 Today, Samsung opened the next chapter in Premium foldable technology with the Samsung Galaxy Z Fold3 5G. This Premium foldable Smartphone is built with craftsmanship, so the Samsung users will get everything they need. This third-generation smart device incorporates all key improvements that Samsung foldable users have asked for. You will get more durable with extra optimized foldable experiences than ever before; from iconic design to stunning entertainment, Fold3 delivers unique new experience ways to watch, work, and play.
The beauty you've been waiting for:
The Samsung Galaxy Z fold3 5G is designed to help you watch, work and play using the power of 191.9mm Infinity Flex Display. The 191.9mm Infinity Flex Display offers stunning graphics. The 22.5:18 AMOLED Infinity Flex Display holds an Under Display Camera. You can have a truly unforgettable experience and you can get the tablet-like viewing experience in real-time.
The display has a 120Hz refresh rate that delivers a smooth viewing experience on both the Main and Cover screens. It keeps motion clear and responsive even in the action-packed moments to give you a big-game start, so fold-to-fold.
The Main Screen is made of Samsung Ultra-Thin Glass and is the most significant jump in foldable display line technology. With the addition of a panel layer and protective film, it's 80% more durable than its predecessors.
Shield:
Do you know the best part of the Smartphone? This is crafted with durable materials so you can worry less as you fold, tap, write and text. The backbone is the Strength of this Smartphone, and the spine of this incredible Smartphone has a super-strong yet lightweight Armor Aluminum frame which is 10% extra durable to shield the interior display of the hinge-like suit of armour. For additional protection, the Smartphone is covered with the most rigid glass on Galaxy Z yet. Yep! Galaxy Z series's exterior back cover and cover screen can take success as it's equipped with Corning Gorilla Glass Victus. You can drop upto 2M, and it has 4X better scratch resistance than competitive aluminium Smartphones.
No other Samsung Galaxy series takes photos and videos in this way. Just change how you capture and make video calls with five separate cameras in three different spots.
It comes with a triple camera system consisting of a 12MP Telephoto Camera, a 12MP Wide-angle Camera and a 12MP Ultra Wide Camera. It captures brilliant pictures, preserving them for a lifetime. Another essential part is the Front Camera, which is even more significant as we live in the selfie age, and that's why the 4MP Under Display Camera and 10MP Cover Camera comes with the perfect quality. It will be beneficial when you make crystal clear video calls, and you can entire the zoom meetings even when you are travelling around the world.
A secret camera:
Do you want to see a full screen with fewer distractions? If yes, the new Under Display Camera technology on the Galaxy Z Fold3 5G offers an unbroken view with a front-facing camera lens that's hardly visible under the screen. At the same time, you can take pictures to see the images Preview and review in one feature. How cool is that?
Preview and review in one:
Inspect the photo you just took without travelling to the Gallery app. Fold for Flex mode or turn on Capture View Mode to shift the layout, so you can keep on taking selfies with your notorious gang.
Battery for your day and night:
The battery in the Samsung galaxy Z Fold 3 5G gives you the perfect tablet-like phone experience. The built-in rechargeable massive 4400mAh lithium‑ion battery lets you download loads of apps on the App Store, check your social media, edit an image, sketch your opinion, shoot it out with roommates and more on a charge. And if you run out of power, Chill! You can boost with 25W Fast Charging, or if you want to be free, you can use Fast Wireless Charging and be wireless in no one.
Keep your precious photos and video right on your Smartphone as you have storage up to 512GB; thanks to Samsung for allocating plenty of space in this Samsung Galaxy Fold. You also get an extra 5GB of free cloud storage or upgrade to a new subscription for more storage, so you can enjoy everything on the go.
The velvet rope:
Samsung Knox is developed into the hardware and software of your Smartphone, protecting with layers of security to keep your private data private. So no one even dares to steal your personal property- the personal data.
5nm Processor:
The fast 5nm Processor is powered by upgraded GPU, CPU and NPU. With 12GB of RAM, this device ramps up the performance to fill your need for speed. One UI in the tab-like phone can optimize apps with your preferred aspect ratio to deliver the perfect cinematic image, even when loaded with multitasking.
When your phone is unfolded, unlock it easily from the Main Screen and the Under Display Camera that recognizes your face even with a mask on, perfectly secure your data.
Easily open apps in a split-screen layout with the Taskbar and drag and drop apps into place according to your need. This feature is a supporter of multitasking heads.
Galaxy Z Fold3 5G comes with USB Type-C data, ejection pin charging cable, and Quick Start Guide.
Transform your day:
Transform your day and get even more done by buying Galaxy Z Fold3 5G Pre Book now at Poorvika and click to know Samsung Galaxy Z Fold3 5G price in India. We have tonnes of offers, discounts and cashbacks curated just for you. Avail of our 2 hours fast delivery service to have your products delivered right to your doorstep. Our delivery experts make sure all your deliveries are safe and sanitized.
Samsung Galaxy Foldable Smartphones: