26 Aug 2021
Pre-Order Samsung Galaxy Z Fold3 5G at best Price in India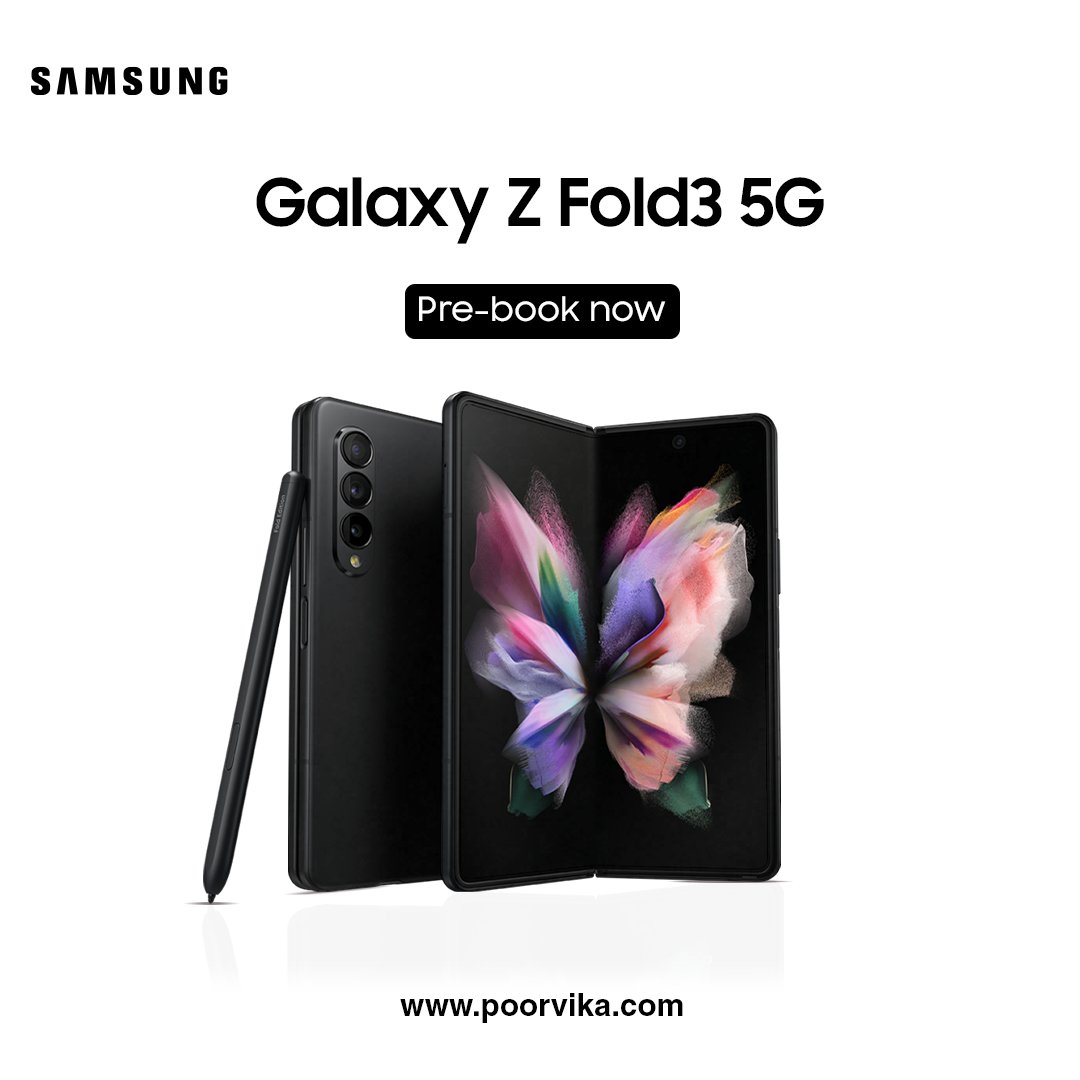 Just unfold your world with your Samsung Galaxy Z Fold 3 5G. Yep! Samsung Galaxy Z Fold3 5G is available to transform your productivity and get even more done in one fold! So what are you waiting for? Just scroll down and know more
5G Smartphone:
5G is much more than the advanced generation of wireless networks; the 5G connectivity fabric weaves everything and everyone together in one world, the wireless world. 5G wireless technology is here to deliver higher multi-Gbps peak data speeds, more reliability, ultra-low latency, increased availability, massive network capacity, and a more uniform user experience for you. Feel happy that this Smartphone supports a 5G connectivity to offer an advanced uniform experience for you.
Galaxy Fold3 Display:
The 19.19cm (7.6″) AMOLED Infinity Flex Display offers you a much more unique experience. This 120Hz Infinity Flex Samsung Z Fold3 5G Display delivers complete gaming and a smooth scrolling experience on both the Cover Screen and Main Screen. The Main Screen is constructed with Samsung Ultra-Thin Glass, and it is 80% more durable than before.
Samsung Z Fold 3 Camera:
The Rear 12MPTelephoto Camera, 12MPWide-angle Camera, 12MPUltra Wide Camera brings your moment on the screen. 10MP Cover Camera and 4MP Under Display Camera makes your selfies ready to post on Instagram.
Foldable Smartphone:
The backbone of this Smartphone is built with a strong yet lightweight Armor Aluminum frame which is 10% more durable to protect the interior parts of the Smartphone. So just fold and unfold your Smartphone all the time.
Galaxy Fold 3 Specifications:
Curious to know the Galaxy fold 3 Specifications? Just scroll down!
The Samsung Galaxy Z fold3 is packed with a 5nm Processor with an upgraded CPU, GPU, and NPU and with 12GB RAM, this Smartphone has everything to meet your need for speed.
Samsung Knox is available on your Smartphone to your data safe, and the layer upon layer of security is here to keep your private data private.
Speaking about security, you can unlock your Samsung Z fold 3 5G with the fingerprint scanner or use a face recognition feature that unlocks the mobile even with a mask on.
Change the classic way of capturing photos and videos using the Flex mode in the Samsung Galaxy Smartphone and enjoy the hands-free freedom.
One UI in the Samsung Z fold 3 5G can optimize apps according to your foldable screen; choose your aspect ratio to get a perfect cinematic view.
Samsung Galaxy Z Fold3 5g Price in India:
Want to know the Samsung galaxy Z fold3 5g price in India? Just hit the like and look at the Samsung Galaxy Z Fold3 5G Smartphone in Poorvika and check on our great range of Smartphones. We also have real cashback offers, discounts, and easy EMI's curated just for you. Step into your nearest Poorvika Showroom, or Order Online at the Poorvika website and make the most of our Safe, Sanitized Home Delivery Today! Also, do not forget to use use our 2-hour Delivery.
Samsung Galaxy Foldable Smartphones: