26 Aug 2021
Samsung Galaxy Z Fold3 vs Galaxy Z Flip3: Which is the best?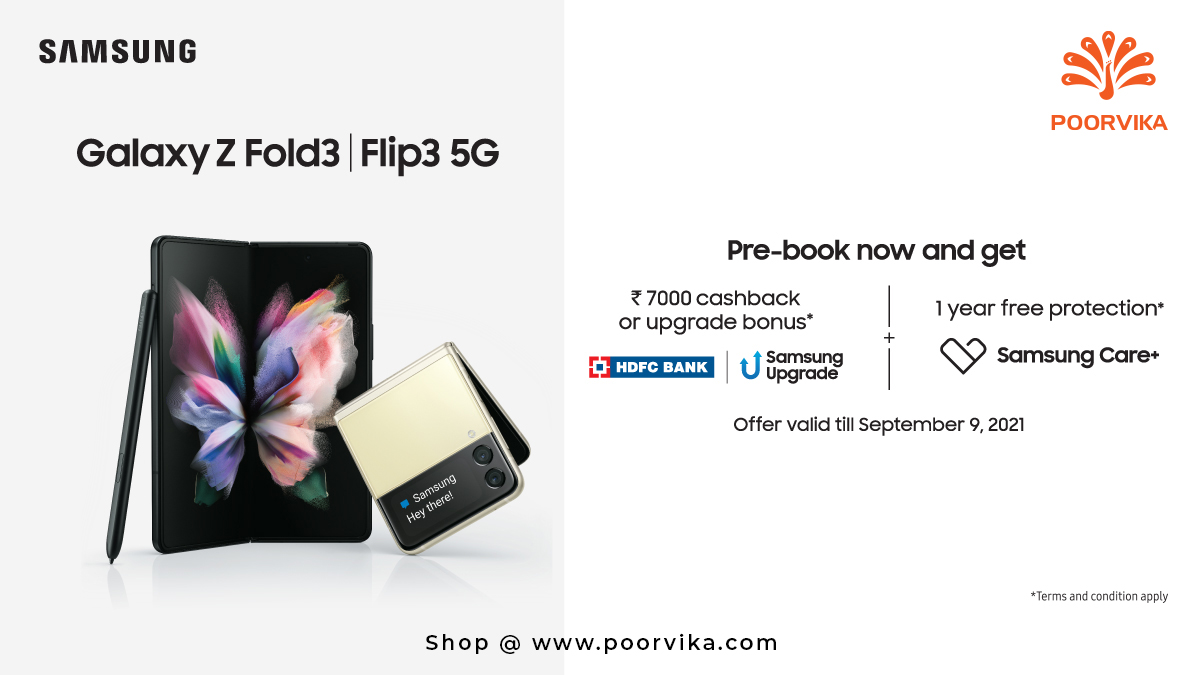 Samsung uncovered the next chapter in foldable innovation with two brand-new Smartphones, the Samsung Galaxy Z Fold3 5G and Samsung Galaxy Z Flip3 5G. These two devices are premium foldable Smartphones built with craftsmanship innovations. Alright! Are you in a dilemma in choosing your next premium Smartphone? or literally confused between Samsung Galaxy Z Fold3 5G and Samsung Galaxy Z Flip3 5G models? Don't worry! Just keep your finger on the screen and scroll upwards… You will understand your need.
IPX84 water resistance:
For the first time in history on a foldable smartphone, Samsung Z Fold3 and Flip3 are equipped with IPX84 water resistance; it's protected against splashing water and shields your Smartphone if you get caught in the cloudburst on the run. Both devices are built with the brand-new Armor Aluminum. It is the most robust aluminium ever used on a Samsung Galaxy Smartphones, and the strongest Corning Gorilla Glass Victus protects the devices against any scratches and accidental slips.
120Hz adaptive refresh rate:
You can also experience more fluid scrolling and quick device interaction with the Super Smooth 120Hz adaptive refresh rate on the Cover and Main Screens on the Samsung Galaxy Z Fold3 5G. The Samsung Galaxy Z Flip3 also comes with a 120Hz adaptive refresh rate.
Flex mode:
Productivity lovers enjoy the Samsung Z Fold3 and Samsung Z Flip3's enhanced Flex mode. Flex mode lets you do more at once, such as conducting a video conference on the device's top screen while checking notes on the bottom. Updated Multi-Active Window makes your life even more accessible. For instance, You can make dinner plans over text on the bottom screen while checking your calendar on the top of the screen.
The Flex mode is available on the Galaxy Z flip3 5G Smartphone as well. You can take a selfie on the top screen and view the selfie on the bottom of the screen.
Galaxy Z Fold3 5G: Ultimate Entertainment
Unfold Samsung Galaxy Z Fold 3 5G to immerse yourself in theatre-like viewing experiences and stay engaged in your favourite content on the unending 7.6-inch Infinity Flex Display.
Fold3 display features an expanded viewable area, so you get an unbroken canvas for your favourite apps. The new Eco display technology is applied to the screen, and it produces 29% brighter while consuming less energy.
For the first time on the Samsung Galaxy Z series, Samsung brings its beloved Note series technology to Samsung Galaxy Z Fold3. Do you want to know what it is? Chill! They sketched S Pen functionality for an artist like you. Users can take advantage of optimized S Pen features on the foldable screen, perfect for on-the-go multitaskers.
On the device's massive Main Screen, it's more comfortable than ever for you to jot down notes during your online classes or check off a to-do list while reading emails, and you can also improve creativity and productivity with your favourite S Pen. The Samsung Z Fold3 is compatible with S Pen Fold Edition and S Pen Pro. Both S Pen features a unique engineered retractable Pro tip with force limit technology to protect Z Fold3's Main Screen while using the S Pen. So enjoy the best notetaking intuitive experience in your life.
Samsung Fold3 5G is sleeker, thinner and lighter than any other foldable Smartphone in the market, including the Galaxy Z Fold2. Samsung galaxy Z Fold 3 5G comes with a choice of three timeless colours: Phantom Green, Phantom Black, and Phantom Silver.
Galaxy Z Flip3 5G: The Ideal Balance of Style, Function, and Nonstop Fun
The Cover Screen is much larger than its previous models and makes it more comfortable viewing notifications and messages without opening the Samsung Z Flip3 main screen.
You can also keep up with your schedule, monitor the weather, and observe your daily step count with new Cover Screen widgets.
With Samsung Cover Screen, it's never been easier to check out all your notifications and messages.
Samsung Z Flip3 is crafted to give you the best way for capturing and sharing memories as it is packed with the latest camera features for you to take even more stunning selfies hands-free.
Or you can keep the device folded and capture a quick photo or video right from the Cover Screen using enhanced Quick Shot; just double press your power key to grab your moment.
Samsung Z Flip3 is fabulous for relaxing and viewing a video on YouTube or a TV show hands-free. The upgraded Stereo Speakers with Dolby Atmos give an immersive sound with incredible depth, clarity, and spatial effects, no matter what you're watching or where you're watching. You can enjoy every screen experience in your life.
Samsung Z Flip3 allows you to reveal yourself with bold colour options, smooth design, and premium features. Speaking about colour options, You can choose four trendy colours: Cream, Green, Lavender, and Phantom Black. Additionally, new stylish ring grips and strap cases make it easier to hold and fold the Z Flip phone.
Alright! Which is for you?
If you are a 24/7 YouTube fan, please try the Samsung Z Fold3 5G as it has a very massive display, and you can easily carry it anywhere. If you are a selfie freak and don't want to buy a tripod, you can go for Samsung Galaxy Z Flip3 5G.
Galaxy Z Series Price in India:
Samsung is here to deliver a more unique foldable experience. That's why Samsung is offering both Samsung Galaxy Z devices at the best prices. If you want to know the Samsung Galaxy Z Fold3 5G Price in India, Just kick the gear to the poorvika website and buy the Samsung Galaxy Z Fold3 5G for you. However, if you want your selfie freak to be with you, then check the Samsung Galaxy Z Flip3 5G Price in India, you can hit the poorvika website. We also have substantial cashback offers, discounts, and easy EMI's curated just for you. Also, do not forget to use use our 2-hour Delivery.
Happy Shopping!
Samsung Galaxy Foldable Smartphones: