27 Aug 2021
Samsung creates Pre-Booking records with Galaxy Z Fold3, Flip3 in India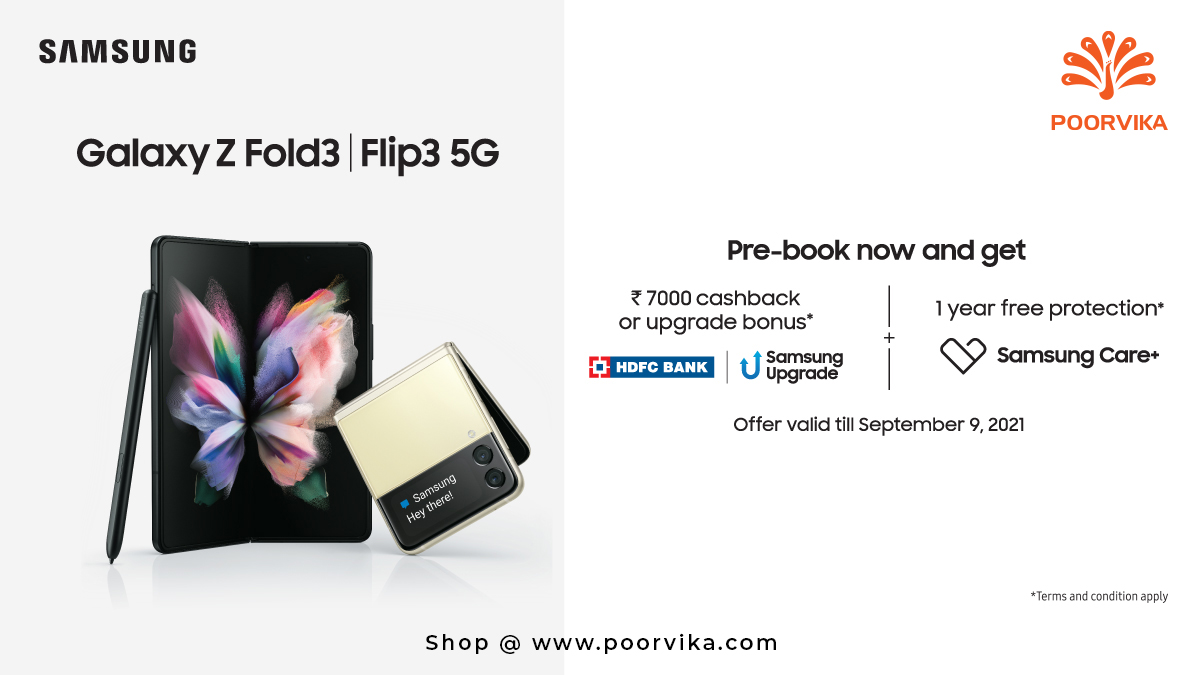 Samsung hosts India's first live pre-book event for its newly-launched Samsung Galaxy Z Fold3 5G and Flip3 5G Smartphones on August 23. These premium foldable devices set new benchmarks by having the highest pre-bookings than the Samsung Galaxy Note20 Series that launched last year. Young shoppers in India seek this Smartphone more than any other generation group, and Poorvika is the coolest and most budget-friendly destination for young shoppers like you. Just scroll down to know more about the Samsung Galaxy Z Fold3 5G and Samsung Galaxy Z Flip3 5G to buy these Smartphones at Poorvika.
Fold Display:
The third-generation Fold Smartphone is here to reimagine the Smartphone experience by offering the 19.19cm (7.6″) AMOLED Infinity Flex Display with 22.5:18 screen resolution, so you can have a fantastic immersive experience.
120Hz display is available on the Cover Screen, and Main Screen delivers stable gaming and a smooth viewing experience. It keeps your screen responsive even in the most severe multitasking moments. So, fold and enjoy your life.
Flip3 Display:
The next era of Samsung galaxy z flip 3 5G Smartphone measures 17.03cm (6.7″) Dynamic AMOLED 2X, fit small-sized pockets. The 4.82cm (1.9″) Cover Screen displays all your notifications, and you can pick your favourite display options to line up with your style.
With 120Hz on the 17.03cm (6.7″) Infinity Flex Display, you can enjoy the Silky smooth scrolling experience even by scrolling, swiping, dragging and dropping. It also optimizes the refresh rate based on your content. With Dynamic AMOLED 2X, you can enjoy the most vivid, brightest and smoothest display in the world.
Fold3 Camera:
No other Samsung Galaxy Smartphone takes photos and videos like Samsung Galaxy Z Fold 3 5G. It boasts a 12MP Wide-angle Camera, 12MP Ultra Wide Camera and 12MPTelephoto Camera and 10MP Front Cover (HID) and 4MP Front Main (UDC). It helps you to express yourself in a new way.
Flip3 Camera:
No time to unfold? Take selfies with the Dual 12MP Ultra Wide Rear Camera, and the Cover Screen gives you a preview in real-time. This content shop offers 10MP Front Main to record your moments.
Fold3 Battery:
The ultra-efficient Samsung Z Fold3 5G Smartphone comes with a massive 4400mAh battery capacity. To keep your mobile alive for a more extended period.
Flip3 Battery:
The 3300mAh massive battery within Samsung galaxy z flip 3 5G provides around-the-clock battery life. So flip your Smartphone all the time.
Victus in Fold3:
Samsung Galaxy z fold 3 5G's exterior cover screen and back cover can handle every single situation as it's equipped with Corning Gorilla Glass Victus, which can withstand drops up to 2M and has 4X scratch resistance than competitive Smartphone.
Victus in Flip3:
Scratches are no match for the Samsung Z Flip 3. The exterior front cover and back cover on Z Flip3 5G are covered with robust Corning Gorilla Glass Victus. So you can flip up and down your Smartphone for many new experiences.
Fold3 IPX8 Rating:
Play in the rain with the world's first water-resistant foldable Smartphone as it comes with an IPX8 rating; you can hang out in your Swimming Pool for up to 30 minutes without leaving the BTS live stream.
Flip3 IPX8 Rating:
Play in the swimming pool with the world's first IPX8 rated water-resistant foldable Smartphone. So, flip your body and your friend's mood to take a stunning selfie at the pool party.
Samsung's most powerful and premium foldable devices allow consumers to unfold a newer experience. So if you want to unfold your experience, just hit the Poorvika and to know the Samsung Galaxy Z Fold3 5G price in India and Samsung Galaxy Z Flip3 5G and don't forget to hit the button to buy the Smartphones and enjoy unique new ways to watch, work and play. We also have substantial cashback offers, discounts, and easy EMI's curated just for you. Also, do not forget to use use our 2-hour Delivery.
Happy Shopping!
Samsung Galaxy Foldable Smartphones: