03 Sep 2021
What are the features Realme Smart HD LED TV?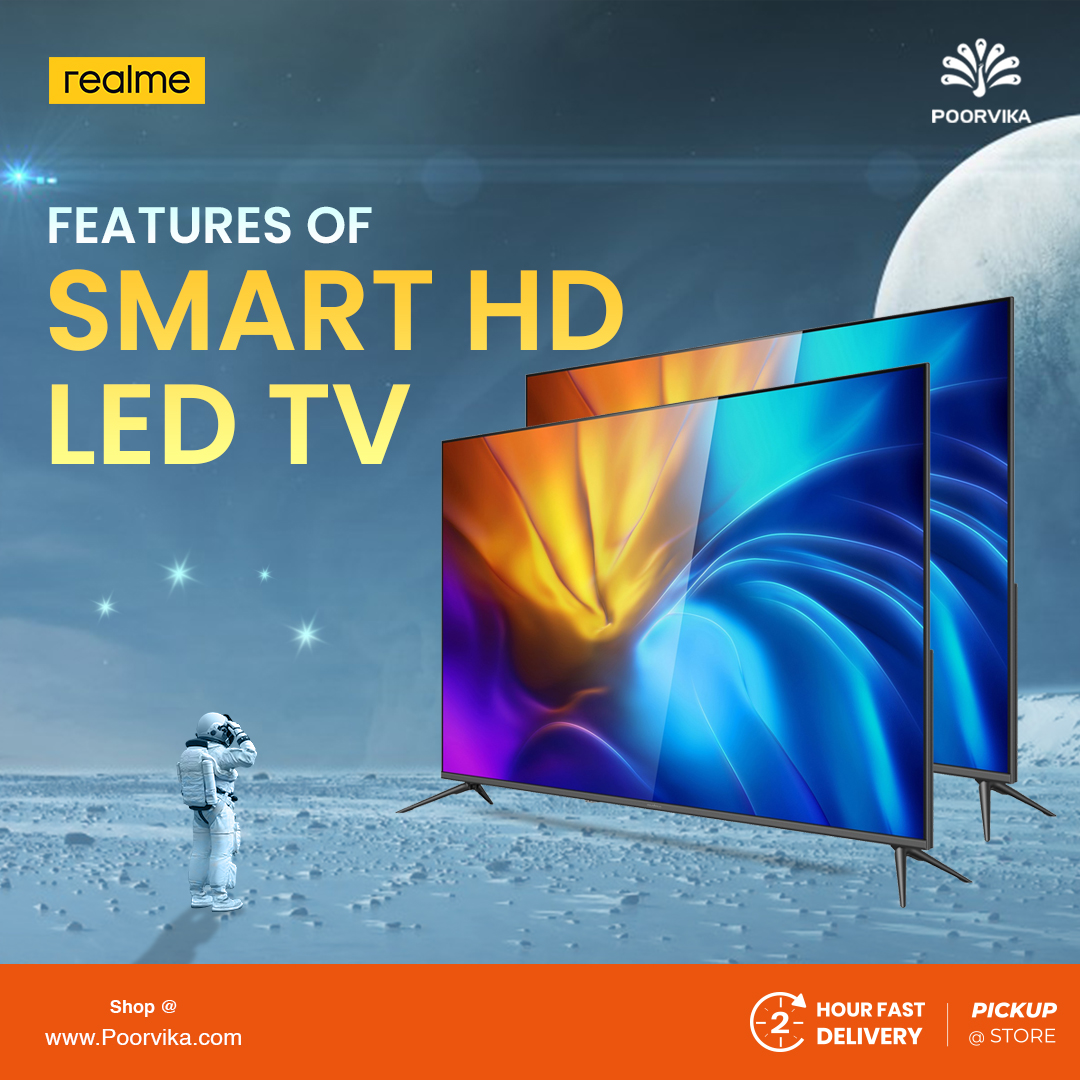 Televisions are not just mere black boxes, but they are now known as Smart televisions. In the present scenario, televisions got the ability to bring the entire world to our home itself. A few years back, the prices of smart TVs were pretty high. So most people couldn't afford it, but after the advent of Chinese manufacturers like realme, the prices of smart television gradually went down. In this blow, we will be discussing about "What are the features of the Realme Smart HD LED TV?"
Realme
The Chinese brands are known for delivering top-notch products at a very affordable price. It is also the main reason behind their overwhelming success in the television industry. While speaking about the price, we also need to mention the quality of realme television.
Despite offering products at an affordable price, Realme ensures its products meet world-class quality standards. They have also contributed so much to the television industry. In fact, their cutting edge technology has helped to innovate the Smart TV industry to a great extent.
Picture Quality
It stands as the most important aspect of smart television. If a TV fails to offer a top-notch visual experience, users will not be interested in buying it at any cost. When it comes to picture quality, LED displays beats the competition in all aspects.
Be it colour reproduction, viewing angle or sharpness level. LED displays are simply better than other types of screens available in the market. In the current scenario, most of the realme televisions are built using LED panels.
The realme smart LED TV has very slim bezels on all three sides. So users need not have to tilt their heads to view the entire content on the television display.
Since the TV uses LED panels, it can display various shades of colour. LED lights can illuminate on their own. Unlike LCD, they are dependent on any sort of backlit to display content. LED television's self-illuminating capability gives companies more control over colours and depth to a great extent.
Other Features
Top-notch hardware cannot isolatedly produce an impressive visual experience. A TV must also come with really good software to optimize certain aspects like aspect ratio, lighting and colours. The realme smart TV comes with features like a Chroma boost picture engine. It is basically a kind of software that optimizes factors like lighting, brightness, colour, contrast and clarity to improve the visual experience to a great extent.
The TV also has support for several over the top service providers like Netflix, Amazon Prime Video, and YouTube. Hence users can watch movies, web series across different platforms at higher quality.
Audio Output
User needs to pay close attention to the audio while buying a smart TV. The Realme Smart HD LED TV comes with a 24 Watt Quad stereo speaker. Its volume level is clearly audible, and there was no blare at higher volume levels. And the balance between bass and treble was optimal.
Given the price, we will say the Realme Smart HD LED TV is totally worth buying. It can meet every demand placed from your side.
You can buy a Realme smart LED TV with the starting price of rupees 18,999 from our website Poorvika. Get your products with a safe and secure delivery service which instantly delivered to your doorstep.