07 Sep 2021
Samsung 2021 TV Lineup: Best Pick for you

Samsung holds a market share of about 32.9 per cent, and they have been the leader of the industry for more than 15 years. By launching QLED television, their position in the market has become more commendable than ever. Except for Samsung, no other company has dominated the TV industry in this manner. This blog is going to be a review of the Samsung 2021 TV line-up.
LED
LED is the acronym for Light-emitting diode. After the advent of this technology, LCDs began to lose their relevance in the market. Because this technology delivers a much better visual experience than LCD, LED lights can illuminate independently without receiving any support from external sources.
Samsung T5500 Smart Full HD
The 43-inch screen Samsung T5500 TV has a supporting screen resolution of 1920×1080 pixels. This number is twice when compared to the resolution of regular High Definition displays. Since the T5500 TV has more pixels, it can crisply produce content without much loss in detail.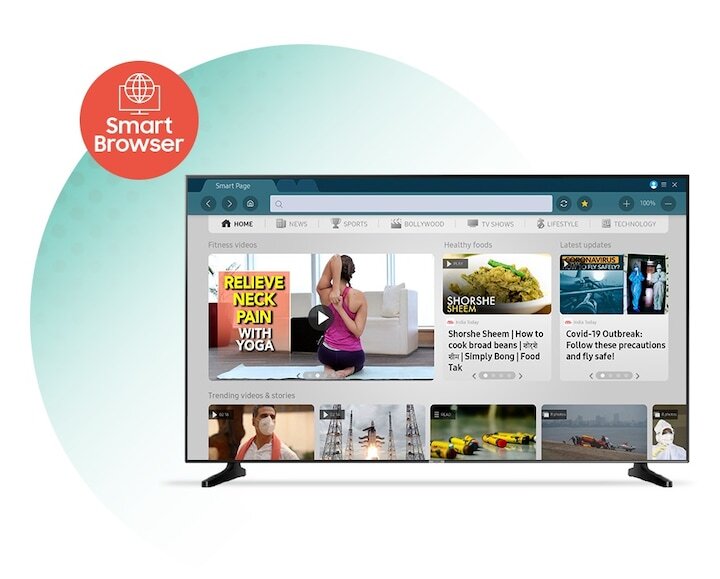 In addition to crisp images, the TV also reproduces colours in a very accurate and punchy manner. So while watching videos on the Samsung T5500 television, users will be able to live the moment. T5500 smart tv comes with PurColor mode.
This mode optimizes the colour, temperature of the content to deliver the best visuals to the user. Ultra Clean view of the TV ensures the range is grain and noise-free. By reducing the noise level of the TV, the details and sharpness of the content on the TV can be significantly improved. Another feature is known as a Contrast enhancer. It enhances the vibrance of the images and videos displayed on the Samsung T5500 smart television. You can buy Samsung T5500 smart TV for just rupees 36,990 from our website Poorvika.
Samsung TU800 Smart TV
Samsung TU800 smart TV is undeniably the best option for people looking to buy a UHD or 4K television. It comes in different screen variants among the various sizes, such as 50 inches and 55 inches, which are trendy among customers.
It is a noted fact that Hardware cannot absolutely improve the visual experience of smart television, as the role of software is essential to boost the colour, saturation and hue levels. Samsung TU800 UHD smart television comes with a 4K LED panel that can illuminate or turn off on its own without relying on other sources.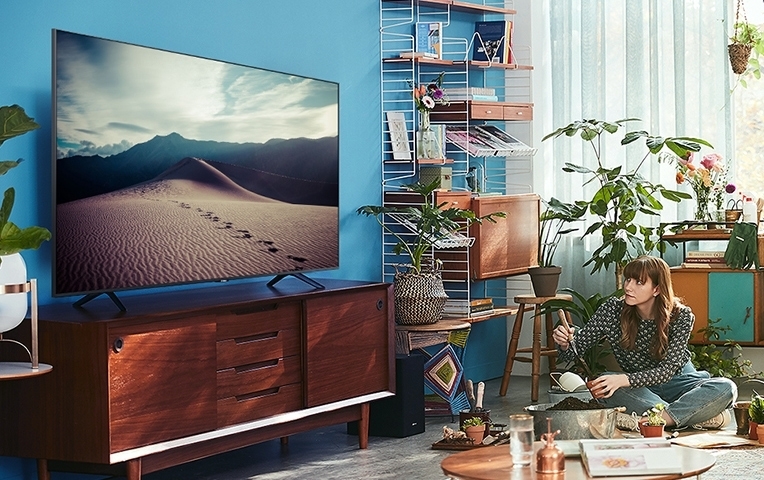 Because of the high pixel density, the TU800 smart TV can comfortably deliver stunningly clear and high-quality content. At present, only OTT platforms like Netflix and Amazon Prime video delivers content in 4K resolution. At the same time, most of the DTH providers can deliver content in Full HD resolution.
But Samsung has got a solution to this problem. Want to know what is it? It is Samsung Crystal Processor 4K, which can upscale regular content into 4K. So users can enjoy a more dramatic visual experience even while watching regular soaps on the TU800 smart TV. The Samsung TU800 is priced rupees 64,900.
Purchase your favourite products through our safe and secure delivery service to get products instantly delivered to your doorstep.