09 Sep 2021
Samsung Galaxy Z Flip 3 – Buy Online at Best Price in India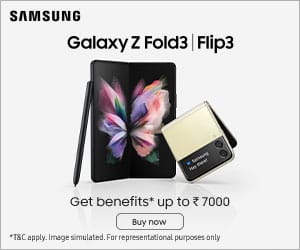 "HOME is where the soul is, but these days, the PHONE is where our life is!!!
Welcome back to the world of Samsung with Poorvika!!
Today let's dive into something very traditional and back in style, the Samsung Galaxy Z flip3 5G. Remember those days when you played with flip phones as a kid…? Classic, right?? Experience your childhood again with Samsung's latest flippable smartphone.
Flippable? Yeah, flippable, you heard it right. It is a compact, stylish and cute device; just slide it into your favourite skinny jeans.
Vivid Colours:
If you want something brave and elegant, go with Samsung Galaxy Z Flip 3, which comes in four tints: Cream, Phantom Black, Green, and Lavender. Every shade has a black column on the cover screen that is home to the Dual Camera, which is unique to its style. Pick the item that resonates best with your attitude at Poorvika.
Pacesetting Display:
Experience smooth scrolling, swiping, dragging, and dropping with Samsung Z flip 3 's 6.7 inches (17.03cm) Dynamic AMOLED 2X display. It weighs 183g and has a smooth refresh rate of 120Hz that optimizes itself based on what you're seeing. Let's not forget the Coverscreen, which is 1.9 inches (4.82cm) in size and enables you to check messages, weather, take photos, play music and a lot more without flipping your phone open. Look into various display options that are available and choose the one that suits you the best. Drop your phone down and encounter no blemishes as the front and back cover is made with the most robust Gorilla Glass ever – Corning Gorilla Glass Victus.
Vigour Battery:
Please do not get tricked when told that the battery capacity of this mobile is 3300mAh (typical), as it's significantly less when compared to an average smartphone. The mobile automatically adjusts its power usage and consumes minimal power than others. Charge your mobile once, and it will last you the whole day.
Potent Processor:
This mobile comes with a powerful Qualcomm Snapdragon 888 5G (5nm) Octa-core processor with an upgraded CPU, GPU and NPU.
There you go, you got what you want for high-speed gaming and multi-tasking.
Multi-tasking? Yeah, Multi-tasking. It is challenging to text your best friend and watch your favourite show simultaneously, right?
No worries anymore. Split your display into two and continue with the tasks you wish to perform by dragging the app into the desired side.
Hands-free Camera:
Having coffee with your friend on a rainy evening? Or Going out to swim with your chums on a cloudless morning..? Flip your phone and capture these moments hands-free in different angles as the phone comes with a Dual camera system: 12MP Wide, 12MP Ultra-Wide Camera and a 10MP front camera. Take your smartphone fearlessly for a swim as the mobile is entirely waterproof. Go immersed, discover new creatures and record to have them forever.
Repository Zone:
There is no issue with taking too many photos and videos as the flip phone have a memory of 8 GB and a storage of 128GB and 256GB.
Samsung Knox is developed into the hardware and software of your phone, guarding with layer upon layer of defence to hold your data private.
Look to Unlock:
Do not remove your mask to unlock your phone anymore. Just take a look, and your phone will open as it identifies you by scanning your eyes. It also comes with an excellent fingerprint unlock. Locking and Unlocking have become easy now.
Do not linger anymore. Visit Poorvika.com to know the Samsung Galaxy Z Flip 3 Price in India. There are a lot of other gadgets and devices that you can discover on our official Poorvika website. We also have a ton of other offers, discounts, and Easy EMIs curated just for you. Have your devices delivered right to your doorstep with our 2 hours fast delivery option. Our delivery experts make sure that all your deliveries are Safe and Sanitized.