10 Sep 2021
Buy Samsung Galaxy Z Fold3, Galaxy Z Flip3 Online at Poorvika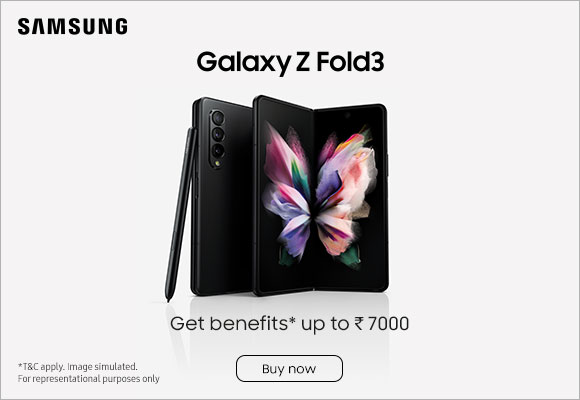 Samsung has recently launched two Flagships: Galaxy Z Fold3 and Galaxy Z Flip3. Poorvika has already started reservations, and a lot of bookings have already taken place. Perplexed of which one to choose between the two? Decide after looking into the specs of Galaxy Z fold3 and Galaxy Z flip3.
Let's take a look at Galaxy Fold3:
Display and colours:
Are you looking for a device with a large screen to carry around like a pro?
The Galaxy Z fold 3 is specifically built for you, with the main screen display of 19.19cm (7.6″) Dynamic AMOLED 2X and a cover screen display of 15.82cm (6.2″), both with a refresh rate of 120Hz that allows you to enjoy smooth scrolling, swiping and dropping and weighs 271gms. It also comes with an under-display camera that disappears like a magic as soon as you start watching your shows.
It comes in the following three shades: Phantom Black, Phantom Green, and Phantom Silver.
Processor and Multitasking:
This Flagship features a powerful Qualcomm Snapdragon 888(5nm) Octa-core processor powered by enhanced GPU, CPU and NPU. Play your favourite game and video call your mom simultaneously, as the mobile comes with a split-screen option that allows you to multitask. Simply drag and drop the app on the side you wish to use.
Camera and water resistance:
Take your phone to date nights and capture several pictures as the folding phone has a multi-camera system: 12MP Wide, 12MP Ultra-Wide and 12MP Telephoto camera along with 10MP Front Cover camera and 4MP Front Main Under-Display camera. Capture and view your photos side by side without reaching out to the gallery with the split-screen option. Also, take your phone with you to swim and forget about it getting wet as it is entirely waterproof.
Battery and Storage:
This phone has a 4,400mAh battery, which may seem small compared to other phones, but the good news is that it intelligently adapts its power usage and lasts a long time. Keep all of your images safe on the Samsung Knox-protected phone, which has a memory of 12GB and storage options of 256GB and 512GB. "Corning Gorilla Glass Victus" is the most durable Gorilla Glass ever made is in-built on the mobile.
Now, let's have a look at the Galaxy Flip3's specifications.
Are you seeking a tiny and adorable phone? This one is dedicated to you.
Display and colours:
Galaxy z flip 3 phone has 6.7 inches (17.03cm) Dynamic AMOLED 2X main display and a cover screen display of 1.9 inches (4.82cm), weighs 183gms with a refresh rate of 120Hz. The cover screen enables you to check messages, weather, take photos, play music and a lot more without flipping your phone open.
Dropped your phone down?? No worries. This phone is protected by the most robust gorilla glass ever- "Corning Gorilla Glass Victus." This sleek, stylish device comes in four shades: Cream, Phantom Black, Green, and Lavender.
Battery:
Do not be put off by the fact that this phone's battery capacity is 3300mAh, which is substantially lower than that of other common smartphones because the phone automatically adjusts its battery usage and consumes less power than other phones. It only needs to be charged once and will last for several hours.
Processor and Multitasking:
The phone is powered by a Qualcomm Snapdragon 888 5G (5nm) Octa-core processor with improved CPU, GPU, and NPU. Play your favourite games at rapid speeds while multitasking, thanks to the smartphone's split-screen feature. Simply drag and drop the programmes you want to utilise to the desired side.
Camera and Storage:
With a dual-camera system, you can take hands-free images, including a 12MP wide, 12MP ultra-wide camera and a 10MP front camera. A Samsung Knox-protected phone with 8GB of memory and 128GB or 256GB of storage will keep all of your photos safe.
Unlock:
Do you have a mask on? There are no difficulties. The phone unlocks by scanning your eyes and has a good fingerprint scanner as well. You can go out and use your phone without removing your mask.
You may now have a better sense of which one is best for you. Please don't put it off any longer. You can book one from the comfort of your own home on the official Poorvika website. Visit poorvika.com to know Galaxy z fold 3 price in India and also check Galaxy z flip 3 price in India remember to select our 2-hour delivery option, as we ensure that all products supplied are safe and sanitised.