14 Sep 2021
What are the best laptops in 2021 for Rs.50,000?

If you were asked to choose a product for official and productivity purposes? What will be the name of the product? Most of us will choose a laptop over a smartphone and desktop any day. Because a laptop is free from the limitation of a smartphone, it is very convenient to use, and portability is not an issue with a laptop. This blog is going to reveal Which are the best laptops in 2021 for Rs.50,000?
Honestly speaking, this price segment is the sweet science of the computing industry. Because there are several options from every brand at this price segment. And brands primarily focus on this category to exhibit utmost dominance in the midrange segment.
HP 15s Ryzen 5 3500U: Best laptop in 2021
HP is known for manufacturing laptops without any compromise. By launching the 15s-gr0500AU laptop, HP has cemented its position in the market firmly. It has got the entire arsenal to take down the whole midrange segment. Curious to know what is it? It is none other than the hardware. No other laptop has got the hardware that is on par with the HP 15s-gr0500AU laptop.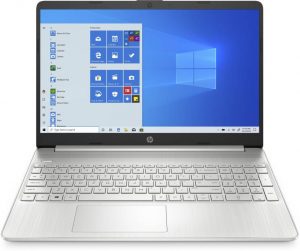 HP 15s Ryzen 5
At this price point, the HP 15s 15s-gr0500AU is one of the very few laptops to run on a Quad-Core chipset because most of the laptops under the 50,000 rupees category find it ideal for sticking onto a Dual Core chipset. However, the performance of a Dual Core chipset is satisfying and sufficient during most of the scenarios. Its limitation can be explicitly seen while working on demanding applications like Android Data Studio and WordPress.
The HP 15s 15s-gr0500AU laptop runs on AMD Ryzen 3500U chipset. It has a base clock speed of 2.1GHz, and it can achieve a maximum clock speed of 3.70GHz. This kind of clock speed is not necessary for a Quad-Core chipset. But AMD has optimized all nuances so that users can experience world-class performance without any stutters and hanging issues.
The laptop has a mighty 512GB Solid State to drive for storage, which can work at unimaginable speeds. You can buy the HP 15s-gr0500AU which is one of the best laptops in 2021 for rupees 49,499 from our website Poorvika.
Best laptop in 2021: ASUS VivoBook 14
This laptop is the second-best laptop under the 50,000 price category. It has almost similar hardware to the HP 15s-gr0500AU laptop. But the only difference between the two laptops is the screen size and design. Though both laptops follow a traditional clamshell design, HP has done an excellent job by providing a sandblast finish to the laptop's lid.
The VivoBook 14 laptop runs on the Intel Core i5-1035G1 chipset. It was after launching this chipset; Intel was able to regain its former glory. Because this is was Intel's first chipset which was manufactured using 10-nanometre lithography.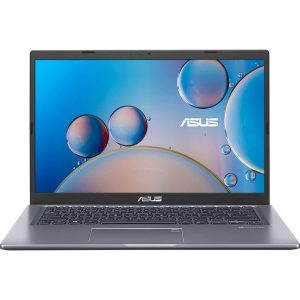 ASUS VivoBook 14
It can handle very demanding tasks like Photo editing and running an emulator on Android Data Studio. The laptop is ideal for all sorts of heavy tasks except Gaming and Video editing. Considering the performance, it is valid to state the VivoBook 14 is one of the best laptops in 2021.
This laptop has also got a 512GB Solid State drive. Thus the read and write speeds of the ASUS VivoBook 14 laptop is incredibly good. The price of the ASUS VivoBook 14 X415JA-EK094TS laptop for just rupees 48,990 on our website Poorvika.
Avail of our safe and secure delivery service to get your products instantly delivered to your doorstep.