15 Sep 2021
Apple launches iPhone 13 Series, Price in India, Specifications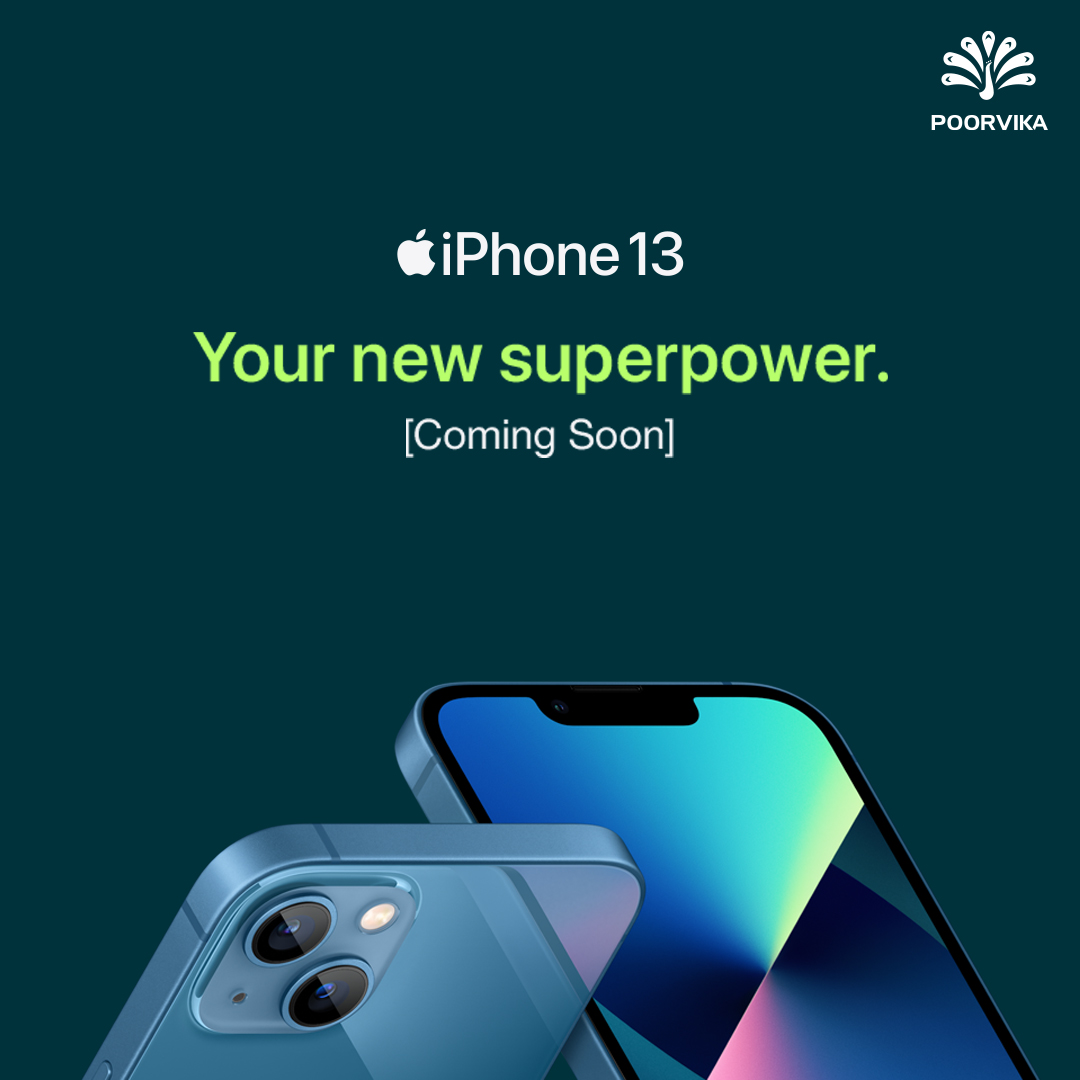 While your life will never be perfect, your phone can!
Smartphones have evolved from a communication instrument to a way of life in recent years.
After Apple's recent iPhone 13 series launch at the California Streaming event, we know that there are significant updates in iPhone features.
We, Poorvika, have never let you down when it comes to keeping up with the latest Smartphones, and today, we are here with iPhone 13 review, flagship phones from a brand famed for its perfection.
Let's bob into iPhone 13 series features and Specifications:
Exciting Shades:
These mobiles sport a sleek, compatible design curated just for you. iPhone 13 and 13 Mini comes in the following shades: Red, Starlight, Midnight, Blue, and Pink, while Pro and Pro Max come in Graphite, Gold, Silver, Sierra Blue. These might be the most robust phone you have ever seen as the front display is covered with a ceramic shield. iPhone 13 and 13 Mini have a glass at the back with a complete aluminum design, while Pro and Pro Max have Textured matt glass back and stainless steel design.
Dashing Display:
Ever felt irritation in your eyes after playing your favorite games for soo long?
It'll no longer be the same as iPhone 13 and 13 Mini come with Super Retina XDR display while Pro and Pro Max come with Super Retina XDR display with ProMotion that is super sensitive to your eyes.

iPhone 13 weighs 173 grams, 13 Mini weighs 140 grams, and Pro and Pro Max weighs 203 grams and 238 grams.
Watch videos at peak brightness of 800 nits and 1000 nits with a 20,00,000:1 contrast ratio. Even after several hours of gaming, there will never be a trace of fingerprint on your display as it's covered with an oleophobic coating.
Vigour Processor:
I know your jaws are gonna drop when you know its processor type.
It's an A15 Bionic chip.
Yess!!
Leave the competitors behind.
The new superpower is camera elevating, power optimizing, privacy-protecting, and game-changing. The lightning speed chip powers cinematic mode and locks all your private info in Secure Enclave, along with longer battery life.
It is the fastest chip you can ever find in a Smartphone as it has a 50% faster CPU and 30% faster graphics than any of its competitors.
Happy Clicks:
Can you imagine a life without Instagram and Snapchat?
Looks arduous, Right?
We all are in a phase where capturing and recording every incident has become necessary.
Keeping this in mind, the designers from the Apple team have developed a mobile with the best camera system ever.
Forget the multi-camera system.
The iPhone 13 and 13 Mini have a Dual 12MP camera system, placed at 45 degrees with sensor-shift optical image stabilization.

The best Ultra-Wide and Wide-angle cameras are here.
The best feature is the cinematic mode that uses a Rack focus technique that automatically shifts focus from one subject to another, creating a beautiful depth-of-field effect.
The 12MP triple camera system of Pro and Pro Max has Telephoto, Wide, and Ultra Wide cameras.
These have a 12MP true-depth camera that captures your best moments at pristine clarity.
Warehouse:
Download all you want, and don't worry about storage because these phones have 128GB, 256GB, and 512GB of storage. The Pro and Pro Max also have storage expandable up to 1TB.
It has twice the storage capacity of any other smartphone, and now is the time to start downloading your favorite music, documents, photos, and videos.
Fuel – Zone:
The battery life on this series seems to be much longer than on any other smartphone. They possess a built-in rechargeable lithium-ion battery that supports up to 7.5W of Qi wireless charging. It only needs to be charged once, and it will last indefinitely.
Let's look at the pricing of phones from the series:
iPhone 13 Mini:
128GB is priced Rs.69,900
256GB is priced Rs.79,900
512GB is priced Rs.99,900.
iPhone 13:
128GB is priced Rs.79,900
256GB is priced Rs.89,900
512GB is priced Rs.1,09,900.
iPhone 13 Pro:
128GB is priced Rs.1,19,900
256GB is priced Rs.1,29,900
512GB is priced Rs.1,49,900.
1TB is priced Rs.1,69,900.
iPhone 13 Pro Max:
128GB is priced Rs.1,29,900
256GB is priced Rs.1,39,900
512GB is priced Rs.1,59,900.
1TB is priced Rs.1,79,900.
iPhone 13 is the best series of phones Apple has ever launched.
It is available for pre-book from 17th September here at Poorvika check the iPhone 13 Price in India. Just log in to the official Poorvika website and book yours!
For more product reviews and news from the best tech geeks, sign up for the blog. poorvika newsletter.