08 Oct 2021
Samsung Galaxy Buds Pro review: Samsung's best TWS yet?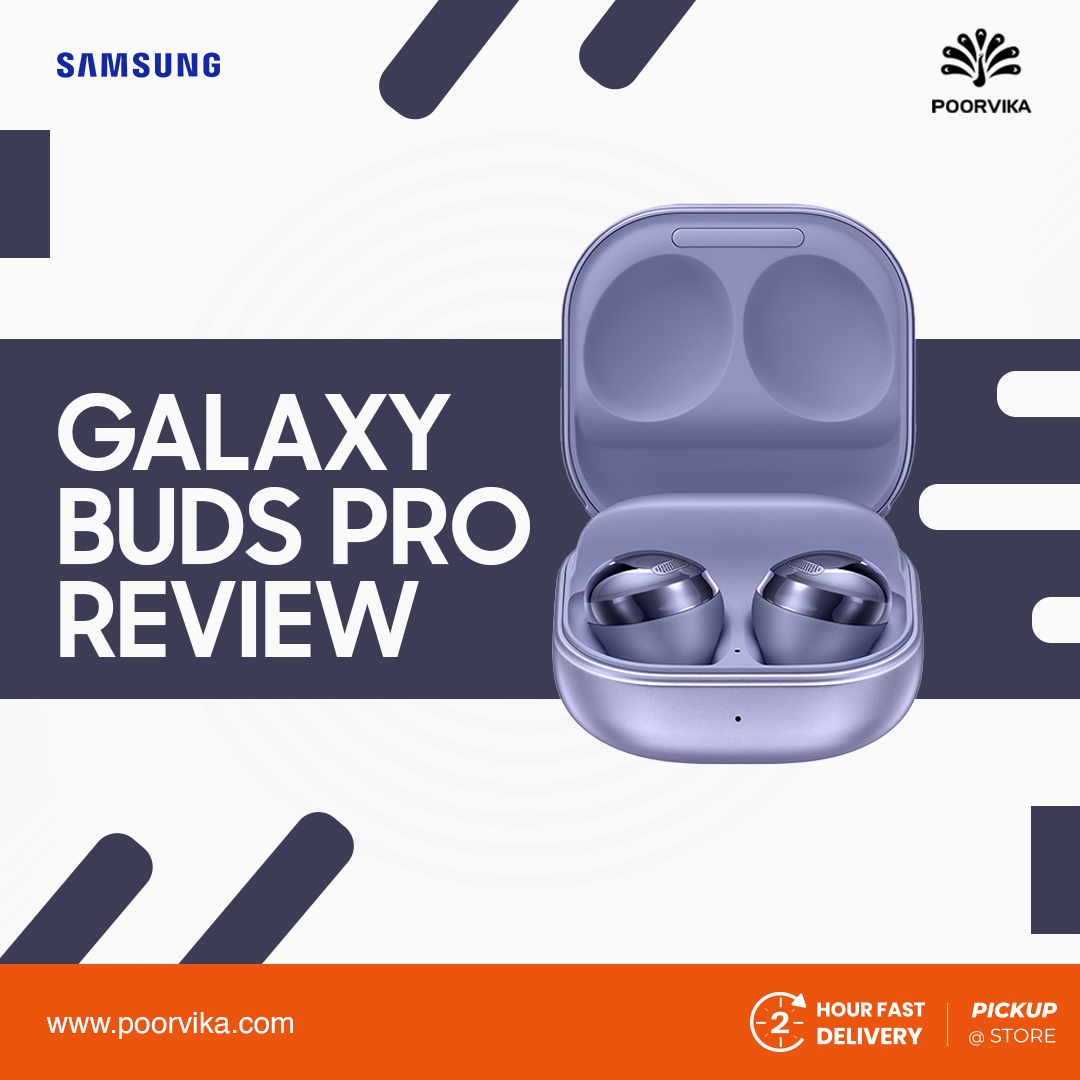 Despite Samsung being late to the party with its true wireless earphones, the Galaxy Buds range has gradually become competitive with Apple's AirPods.

Featuring the new true wireless technology with professional-grade audio for immersive sound like never before. With Intelligent ANC, you can seamlessly switch from noise-cancelling to fully adjustable ambient sound. So listen to the world around you or keep it out. You can enjoy your music to the fullest with Galaxy Buds Pro.

ANC that lets you adjust the sound level with an intelligent algorithm that cancels out the noise: Turn it to high on a noisy bus or Low in a quiet library – there's no need to adjust the volume.
These Samsung buds have active noise cancelling system that filters up to 99% of the environmental noise and background noise, which helps users immerse in music. The microphones inside and outside monitor noise in real-time.
ANC – ACTIVE NOISE CANCELLATION:

Voice Detect switches ANC on and off instantly when it detects your voice. Ambient sound doesn't mean that you have to take out the bud to join any conversation; instead it adjusts the sound automatically according to the surroundings. An intelligent algorithm raises the volume of the environment by four levels so you won't miss out on essential parts of the conversation.

With the best immersive sound, it makes you get lost in the studio sound. The sound done by AKG is awe-inspiring, and starting from the highest treble to the deepest bass, notes come through beautifully through the custom-built two way speaker.
Samsung earbuds have a Dual mic array for superior beamforming performance. Samsung galaxy buds have a high SNR mic for picking up the user's voice. These buds also have a voice pickup unit, mic mesh, and chamber to minimize wind noise. Take noise-free calls that will for sure blow your mind. With true wireless earbuds, you get less noise and a clearer voice whether you're at home or on the go.
The low protrusion design and Wind Shield minimize wind contact, and both technologies block the sound of wind during calls. With three built-in microphones and the voice pickup unit, every word is crystal clear.

FEATURES OF GALAXY BUDS PRO:

Samsung galaxy buds give lifelike audios that help the users to immerse themselves with incredible realism. Using Dolby Head Tracking technology, Pro shifts you into the middle of the action in any movie, video, or TV show. The motion-tracking sensor tracks the direction of the sound as you move your head, creating a powerful sense of realism. And with content in Dolby Atmos, you'll hear every detail with greater clarity and feel more connected to the narrative.

Samsung galaxy buds pro can be switched up without a hitch. Galaxy Buds Pro automatically switches to what matters most and switches the audio to the device you're using; for example, when watching a movie on your tablet and receiving a call, Galaxy Buds Pro will switch to your phone. Galaxy Buds Pro connects seamlessly with your tablet once you hang up, so you can change from device to device without touching anything.

Samsung earbuds have an intelligent assistant called the "BIXBY VOICE WAKE UP." Samsung voice assistant is always in standby mode. With Bixby, you can make things happen without touching your phone.
A "Hi Bixby" wakes it up, and then you simply tell it what to do. You can change your music, make a call, and more. It is possible to activate or deactivate Ambient Mode on Samsung devices by simply saying their name.
SmartThings application helps the users to find their lost headphones.
Usually, earbuds always win the game of hide and seek, but now we can win the game of hide and seek using the smart thing application. The SmartThings app gives you instant access to your lost headphones.

Samsung galaxy buds pro allows sharing your music with your buddy through the bud. Stream with two sets of Galaxy Buds Pro at once. Buds Together will enable you to connect two groups of Galaxy Buds Pro at once, so you can both enjoy your friend's playlist simultaneously.
Samsung buds pro has epic sound calls for the epic design and has glossy finishes to strike the right note and is also available in three on-trend colors. Its polished exterior is complemented by the matte interior, which feels comfortable against your skin.

Samsung galaxy buds pro: the right fit is right here. While still maintaining the classic earbud shape, the design is comfortable for long listening sessions and keeps them securely in your ears while working out. This earphone's air vents balance the pressure in your ears and increase airflow, so it's such a natural fit that you may even forget you're wearing it. It is essential to test the ear-tip sizes to achieve an excellent seal to make ANC work efficiently. Three ear-tip sizes are available so that you can try each one out.

BATTERY CAPACITY:

Samsung galaxy buds pro has the power to keep going. Pro on with ANC enables to give you 18 hours of playtime and 13 hours when it's in the case. When you turn off ANC, you get 28 hours of total play time. Whether you are at video conferences or just listening to your favorite music you can carry it all the time.
Samsung galaxy buds pro are fast charging options where a five-minute charge gives one hour of playback time. Samsung galaxy also has a wireless power share, which gives the boost on the go. Wireless charging of Galaxy Buds Pro is as simple as placing them on the back of your Galaxy smartphone. It also has the highest standard of water resistance that is the IPX7 rating.

Samsung Galaxy buds pro has a battery capacity of 472 mAh when in the case, and buds with a battery capacity of 61 mAh, which is compatible with higher android versions above ANDROID 7.0 and should have more than that 1.5GB of storage.
Samsung galaxy buds pro has various sensors Accelerometer, Gyro Sensor, Hall Sensor, Proximity Sensor, Touch Sensor.