12 Oct 2021
Buy Oppo Enco X True Wireless Headphones, at Poorvika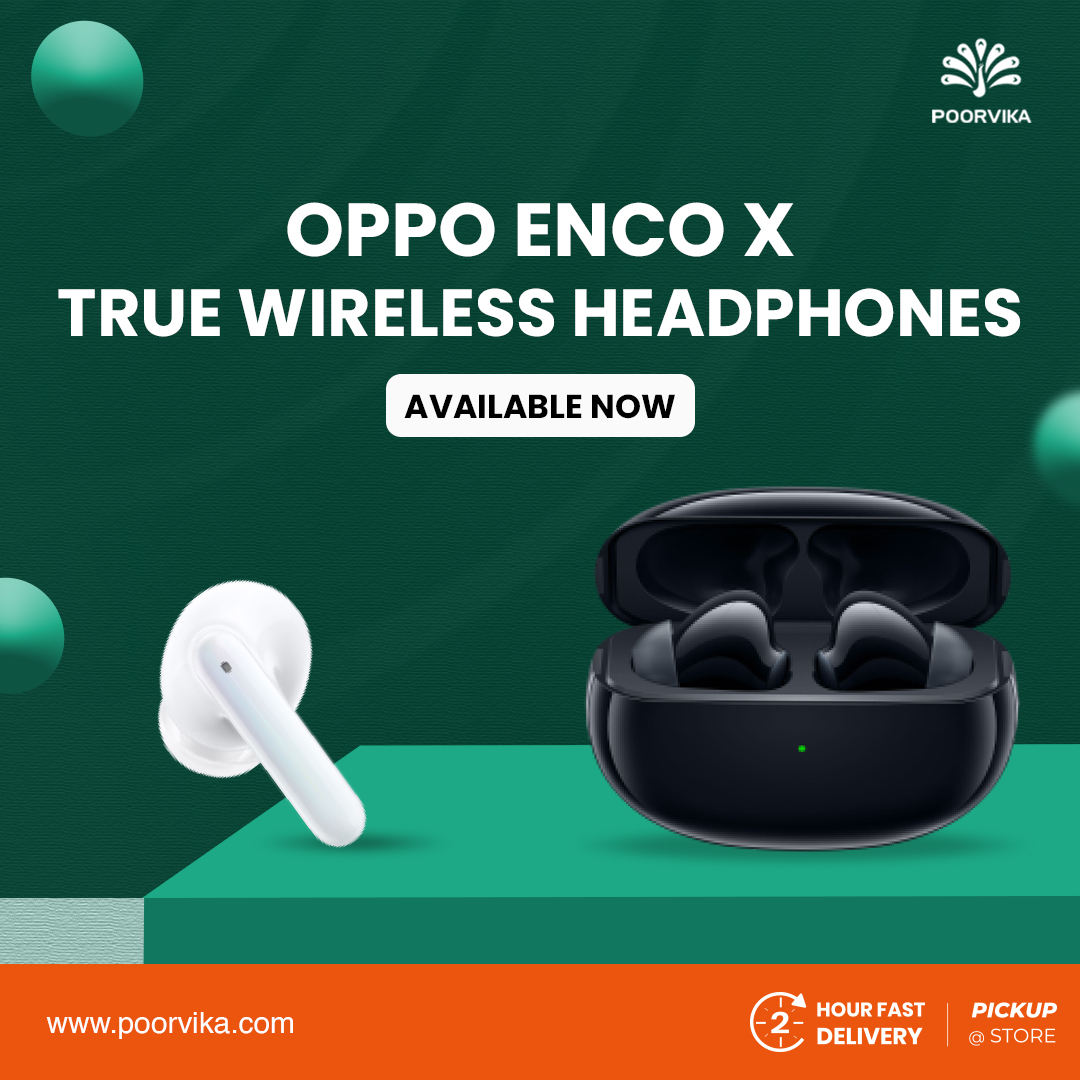 Since most modern smartphones do not have the 3.5mm headphone jack, finding truly wireless earphones can be challenging. Many people have started switching from wired earphones to wireless earphones. The lack of a dedicated headphone jack has forced most people to use Bluetooth earphones that work with their smartphones to listen to music, listen to podcasts, and watch videos.
Over the past few years, true wireless earphones have started sounding better, and more importantly, they have become more affordable. Many true wireless headphones are available, but choosing the right one can be tricky.
CONNECTIVITY:
So here is the OPPO Enco X, Acoustics that Inspire.OPPO Enco X might be your best option of all our budgets. If active noise cancellation (ANC) is what you are after, These earbuds have a neutral sound so that audiophiles might appreciate them. Enco X earbuds deliver crisp, detailed audio that's immersive. They also offer decent ANC performance. These headphones feature Bluetooth 5.2, AAC/LHDC, three microphones per Earbud, and dual drivers. The device also has active noise cancellation and transparency modes, mostly found in pricier models from other brands. In addition to automatic wear detection, the case features a USB Type-C charging port, fast charging, and wireless charging via the Qi network. It is also dust and water-resistant, with an IP54 rating.
Its Co-Created with Dynaudio, Enco X earphones, co-designed by OPPO and Danish hi-fi brand Dynaudio, founded in 1977, combining advanced technology and decades of Northern European heritage. Their acoustic laboratory at Dynaudio, the largest globally, worked with us to tweak the structure 120 times to ensure digitally precise audio.
DESIGN:
These true wireless headphones are designed with Coaxial Dual-Driver Design. With its dual-driver coaxial design, the Enco X earphones are an advancement over traditional earphone models. Dual speakers positioned on parallel axes ensure a natural and high-resolution audio output using a magnetic balanced membrane driver for high frequencies and a triple-layer composite dynamic driver for middle and low frequencies.
Oppo Enco X true wireless headphones have a magnetic balanced membrane driver. They have award-winning PM-1 headphone and packed them into the mighty Enco X earphones. These earbuds extend the reach of high-frequency audio, which also delivers crystal-clear sound.
These true wireless headphones have LHDC (Low Latency High-Definition Audio Codec)Wireless Transmission for Flawless Playback. With LHDC technology, you hear every note with rich, clear sound rather than the basic SBC technology. These true wireless headphones also have a flagship-level transparent mode that lets you keep a better view of your surroundings, so you never have to take your earphones off when talking.
These true wireless headphones are earphones that understand your ears. Designed for optimal performance, the Enco X earphones are lightweight, durable, and extremely comfortable, thanks to their ergonomic design, silicone tips, which come in two hardness levels and ensure stability and comfort.
Oppo Enco X true wireless headphones increase stability, system-level energy-saving optimization, and more dramatic latency reduction. It was designed with solid interference scenarios in mind. Additionally, they have cut down on lagging and connection interference and further improved audiovisual synchronization.
NOISE CANCELLING ALGORITHM:
Oppo Enco X Equipped with a triple microphone noise cancelling algorithm, an adaptive filter, and wind detection, the Enco X ensures that your voice is appropriately transmitted during calls. Wireless charging on the Enco X earphones is as easy as placing the charging case on a charging pad. The earphones can also reverse charging, so you can continue listening to music while they charge.
BATTERY LIFE:
Oppo Enco X has remarkably long-lasting battery life. The battery lasts up to 25 hours on one charge – that's two whole weeks if you listen for 2 hours a day. You won't have to travel with a charging case. At long last, low-battery worries are a thing of the past. With IP54 dust and water resistance, your Enco X earphones can withstand heavy wind, rain, and workouts alike.  
Controlling your earphones has never been easier with the app's additional controls. Turn on or off noise-cancellation mode by pressing on the earphones for 1 second. Change songs by tapping the earphones. Answer and hang up the phone by double-tapping the earphones. Change the volume by sliding your finger up and down.
Once you lift the lid and turn the earphones on, a connection will be automatically established. I'm using them right now, and they seem to have reestablished their connection automatically. Earphone Fit Test is a new feature that provides comfort and excellent audio quality and noise cancellation results.