13 Oct 2021
Bose Smart Soundbar 300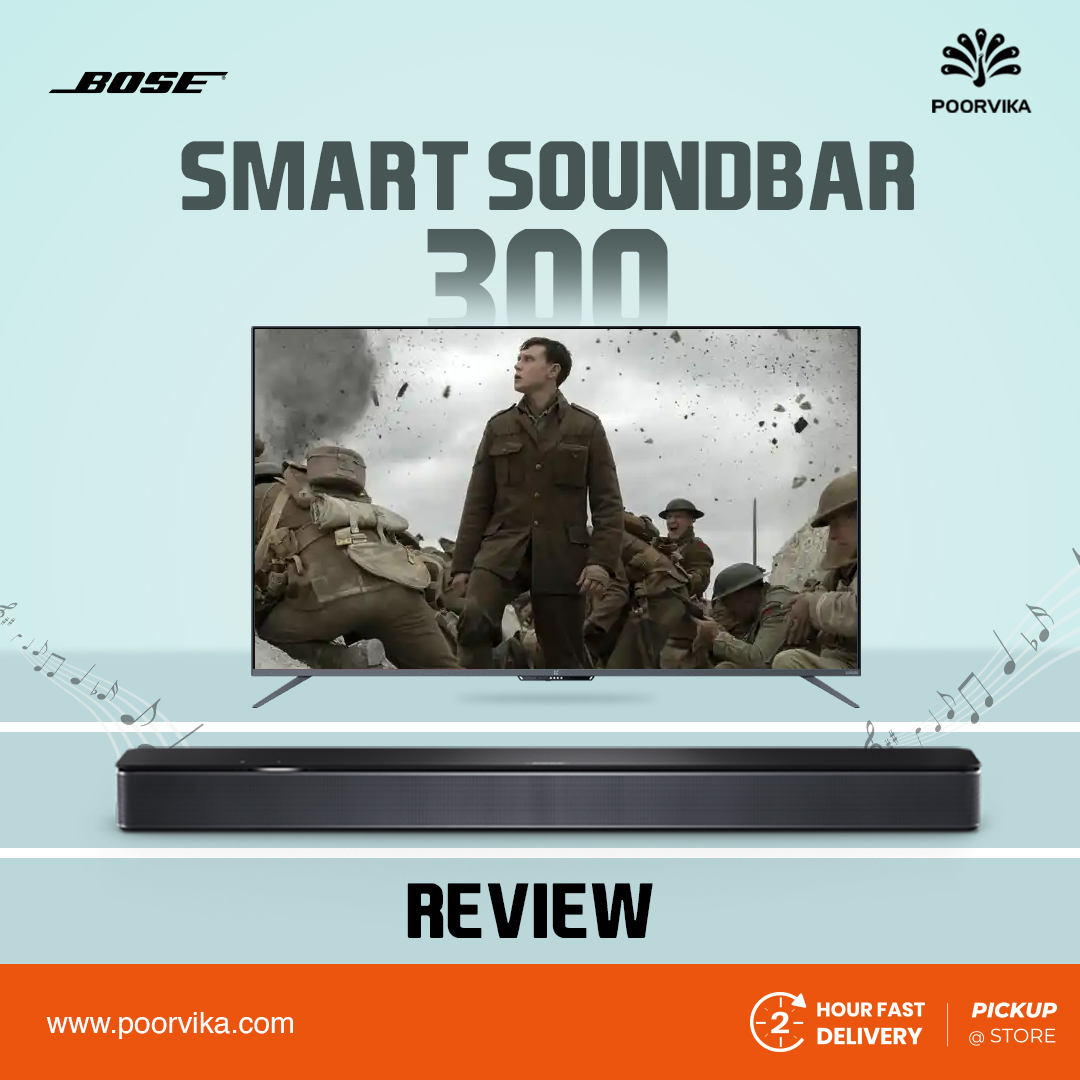 If you bought a new TV in the last decade, you likely experienced two conflicting emotions: awe over the picture quality and disappointment over the audio quality. In general, the sound quality on most modern TVs is not excellent, especially if an action movie is being watched in high definition. Adding a soundbar to your flat panel TV is the easiest to improve the disappointing sound quality.
Buying a soundbar on a budget is simple. Soundbars are easy to set up and operate. What is the most challenging part about buying a soundbar? Deciding between all the brands on the market!. So, today, we will speak about Bose Soundbars. 
The Bose Smart Soundbar 300 delivers clear dialogue, spacious audio and deep bass for movies, music, and games. Its sleek design and exceptional acoustics make this a great partner to any home theatre/home entertainment system. Also, with Bose Voice4Video technology and its built-in virtual assistants, tasks typically requiring several steps can be made simple with just one voice command. With Bose Voice4Video technology, you can control your TV, external cable or satellite box, and your Bose Smart Soundbar 300 with just your voice. No other soundbar can achieve this. With Alexa, even tech-challenged guests and match-day partygoers will feel like experts. All you need is your voice to turn on your TV and choose your preferred channel.
SIMPLE SYNC WITH BOSE:
With Bose SimpleSync, you can pair your soundbar with another Bose product for a personal viewing experience. Want to watch TV without disturbing others? Contact Bose to set up a private viewing experience. Bose Smart Soundbar 300 connects only to your TV via an optical audio cable or HDMI cable. Connect the soundbar, turn it on, and then connect it to power. Download the Bose Music app to complete your setup, connect to Wi-Fi, and choose your voice assistant.
The Bose Music app allows you to set up your soundbar, select a voice assistant and browse all of your music in one place, jumping seamlessly between stations, playlists and services without leaving it. With the app, you can also access other smart home devices and configure presets with one touch. You can also personalise multiple users' content and experience. Bose Smart Soundbar 300 delivers incredible sound on its own, but we have more when you're ready. Add separate bass speakers or surround speakers to create a complete home cinema system and enhance the sound experience. 
BEST IN CLARITY:
A Bose Smart Soundbar 300 offers the best dialogue clarity in its class. The Smart Soundbar 300 comes in just one piece and takes less than ten minutes to set up and be ready to go. There are lots of sources available on the soundbar, and Voice4Video and SimpleSync are great features. The remote control is simplistic, with eight buttons: power on/off, volume up/down, Mute, TV (input select), Bluetooth (input select), Music (Bose Music App select), and Play / Pause / Skip Forward / Skip Back. Moreover, the soundbar itself has dedicated power and microphone on/off buttons. 
Bose Smart Soundbar 300 joins the Bose Smart Family, which works wirelessly together. Add multiple products to your Bluetooth group to transport music seamlessly. The Bose Smart Soundbar 300 is a great soundbar you'll want in your home if you want a speaker with excellent audio quality that fills your home with sound. From the compact and streamlined design of the unit, one can easily connect, enjoy the expansive sound, and experience crystal clear audio.
The Smart Soundbar 300 offers many features that make it an undeniable upgrade from the paltry sound that comes from your HDTV. Bose has always commanded a premium price because of its long heritage and Apple-like "just works" approach to sound reproduction. This soundbar is a top contender in the market for a soundbar if you want a simple setup and clear, understandable dialogue.