29 Oct 2021
Deepavali Deals on TCL Televisions – Poorvika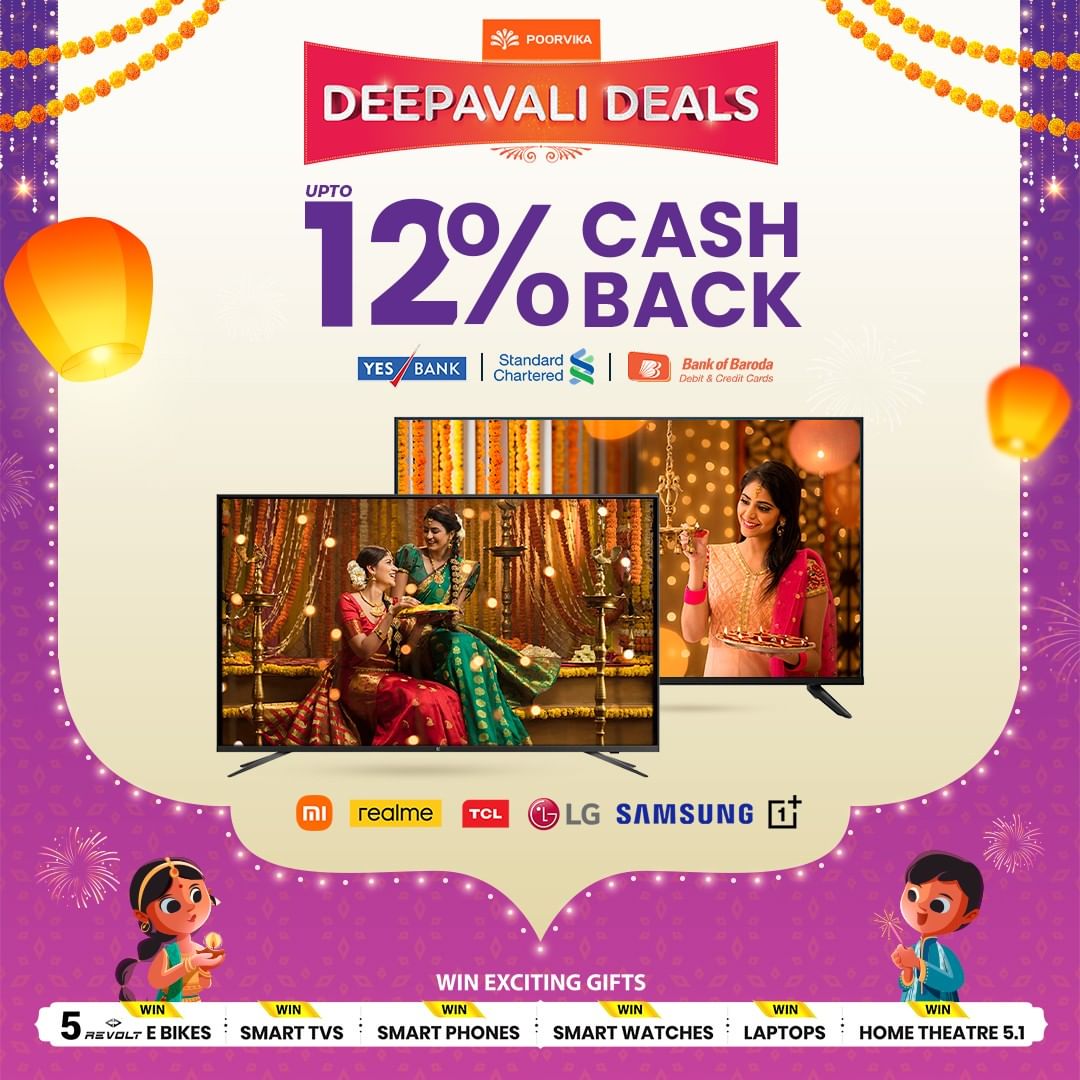 TV purchases are far more difficult than they once were. Two decades ago, you could buy a TV at your local TV dealer and have it delivered the next day. It is now almost impossible to do this. The high number of features and complex technologies in modern televisions, however, make them challenging to understand for the general public. Smart TVs and Android TVs are so similar that you can argue that an Android TV is essentially a smart TV. However, Android TVs and smart TVs do not have the same features. The differences between a smart TV and an Android TV may influence what you choose.
The Android App Store carries over 7000 apps, which gives Android TV an absolute edge over smart TV in terms of the application program. Smart TV also supports apps, but it's fewer in number. The TCL TV features a wide range of applications, including YouTube, Netflix, Hulu, and Prime Video. Just like on smartphones, Android TV users can access and use numerous applications. Smart TVs running other operating systems, such as Tizen OS and WebOS, however, will have a limited number of supported applications. In addition to YouTube, Prime Video, and Netflix, there will be no more apps available to you.
Android TV is superior to a smart TV in terms of updating applications and streaming media resources because the developer community for Android TV is very active and the developer pushes new updates regularly. Furthermore, Android TV can update applications automatically when it connects to WiFi, which is difficult for smart TVs to do.
The Google Assistant built into Android TV makes it so unique in that users are able to control channels and search for programs using their voice, without any input device, through voice control. A smart TV differs in some ways from Android TV, although Android TV has some more features and options in certain areas, such as auxiliary functions and application libraries.
As televisions are adapted to the internet, playing streaming material without an external device, and offering voice-control features, they have become smarter. In addition, some smart TVs can also act as control devices for smart homes. The growth of smart TVs and Android TVs is now reshaping the global TV market. If you are looking for the best Android TV in India, you will not want to skip one of the best Android TV brands – TCL. With a large selection of smart TVs within your budget, TCL is undoubtedly providing the best Smart TV in India. The pricing of smart TVs will vary based on their resolution, size, and brand reputation. However, TCL Android TV is clearly the leader in this area. It has an increasing number of loyal customers in the world due to its low price and high-quality picture, making TCL the second largest manufacturer of smart Android TVs. .
Buying TCL TV in India is an excellent way to save money and receive the same size and functions as any other smart TV. The QLED and mini LED technology TCL uses to produce enhanced contrast and color range allows it to produce images with brilliant colors, bright spots that pop out more, and more vivid dark scenes by enhancing contrast and color. Thanks to TCL due to TCL's proprietary technology, TCL Android TVs deliver better image quality as well as a better viewing experience than you could imagine.
Buy TCL P715 108 cm (43 inches) Ultra HD (4K) LED Smart Android TV with Full Screen with great like Cashback up to Rs.4000 in Poorvika with Kotak Mahindra Bank.
You can also Buy a TCL P615 ultra HD LED smart tv with a full screen with great offers like 40% offer only in Poorvika.
SLOGAN CONTEST
STEPS TO BE FOLLOWED:
STEP 1: Purchase a SMART PHONE above 10,000 @ Poorvika' Mobiles Outlet.
STEP 2: Download the POORVIKA APP from Google Play store.
STEP 3: Install & Open the app, Click the FEEDBACK CONTEST BANNER
STEP 4: Fill the details & give your suggestions/feedback, & press submit.
STEP 5: Wait for some time, we will get back to you if you are the winner.