29 Oct 2021
Deepavali Great Festive Deals On Moto G60 – 2021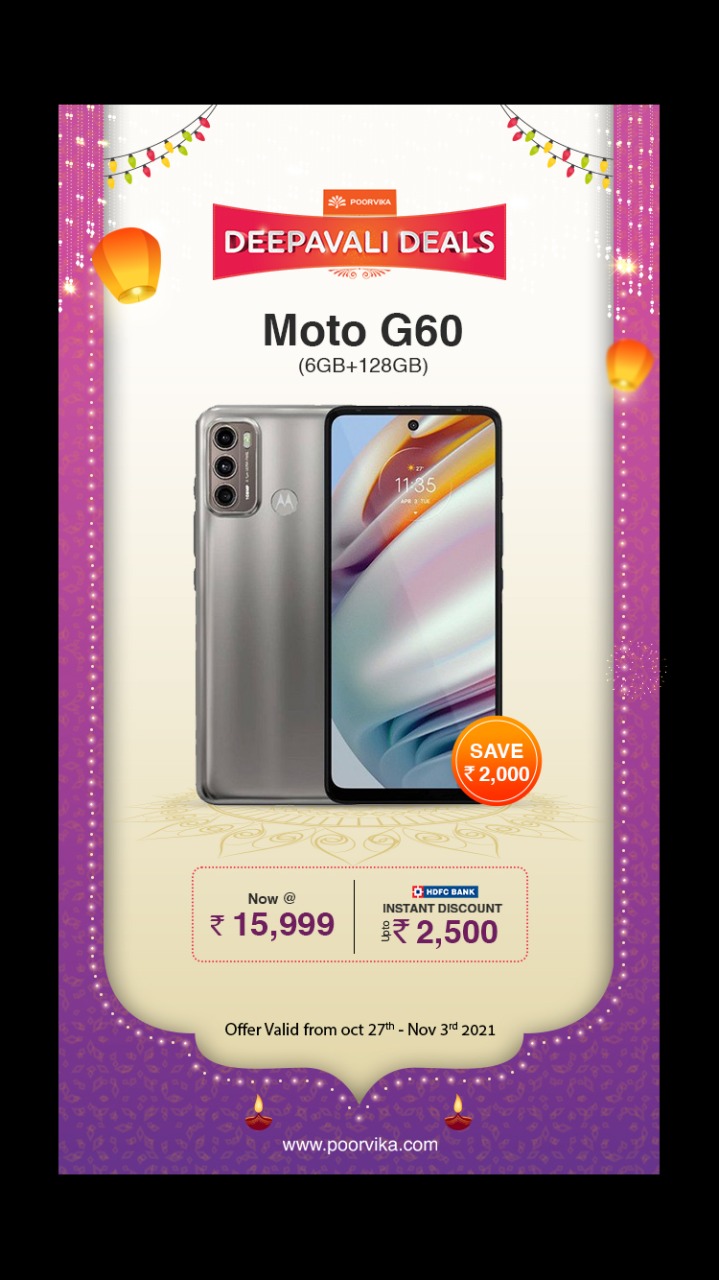 Today's budget-tier Smartphones are undeniably awesome, and Moto G60 from Motorola has a top performance with a beautiful design. And you know what? We've Deepavali Great Festive Deals On "Moto G60" – 2021 at Poorvika. So scroll down and know more about Moto G60 and get it at Poorvika.
Battery Battery Battery:
The Moto G60 is equipped with a 6000mAh battery. The charge in the Smartphone offers more charging time than the standard regular charge. Additionally, get a quick boost of charging power in just seconds with TurboPower 20 charging and fully 100% charged in the blink of an eye.
Display:
Your favorite games, movies, and images come alive with vivid, true-to-life colors on the 6.8″ Max Vision FHD+ display with an Aspect Ratio of 20.5:9. With a 120 Hz refresh rate, you can expect twice as fast as other usual Smartphones in the market.
The Dimensions of the Moto G60 are 169.6 x 75.9 x 9.8 mm, and it weighs just 225 grams.
Qualcomm Snapdragon 732G:
The Moto G60 is powered with Qualcomm Snapdragon 732G processor that can easily handle various processes, such as launching large applications, playing games, watching high-definition movies, or editing photos. Enjoy the pure and simple Android 11 OS, and you won't face any clunky software surfaces or duplicate apps to get in your Smartphone.
Ultra-high-resolution camera:
The Moto G60 is accompanied by a 108MP Ultra high-resolution camera system​, 8MP Ultra-wide angle, 2MP depth camera. It boasts various Rear Camera Software such as:
Auto smile capture, Shot Optimisation, Smart composition, Gesture selfie, HDR, Active photos, Timer, Portrait mode, Cutout, Pro mode, pot Colour, S Cinemagraph, Macro, Live filter, Panorama, RAW photo output, Best shot, High-res zoom, Google Lens integration.
Enjoy the 32MP (f/2.2, 1.4 µm) Quad Pixel technology selfie camera, and it comes with various Front Camera Software such as Face beauty, Auto smile capture, HDR, Timer, Shot Optimisation, Gesture selfie, Pro mode, Portrait mode, Cinemagraph, Active photos, Spot Colour, Live filter, Group selfie.
It's nice to have many Gestures features, right. Feel good that you'll get many features like a Fast flashlight, Three-finger screenshot, Pick up to silence, Flip for DND, Quick capture, Swipe to split, Lift to unlock.

You'll also get many playtime features like Audio effects, Gametime, and Media controls.
A water-repellent design in the Moto keeps your Smartphone protected inside and outside. It creates a shield to help protect against everyday exposure to water, such as accidental spills, splashes, or light rain.
With My UX, your Moto G60 works the way you want. Just customize your game settings and control it with simple gestures to play the ultimate game time.
The Rear fingerprint reader is integrated for an accurate fingerprint, providing a more stable and responsive fingerprint unlock. You'll get your two color options: Dynamic Grey and Frosted Champagne.
Click the link to know the price in India of the Moto G60 at Poorvika.
Clutch your Moto G60 from Poorvika in Deepavali Festive Deals and utilize our 2-hour Delivery, so our super delivery experts make sure that they have thoroughly sanitized all your orders before delivering them to you.
Happy Shopping!
SLOGAN CONTEST
STEPS TO BE FOLLOWED:
STEP 1: Purchase a SMART PHONE above 10,000 @ Poorvika' Mobiles Outlet.
STEP 2: Download the POORVIKA APP from Google Play store.
STEP 3: Install & Open the app, Click the FEEDBACK CONTEST BANNER
STEP 4: Fill the details & give your suggestions/feedback & press submit.
STEP 5: Wait for some time, we will get back to you if you are the winner.