03 Nov 2021
ONE PLUS TV SERIES DIWALI DEALS – Poorvika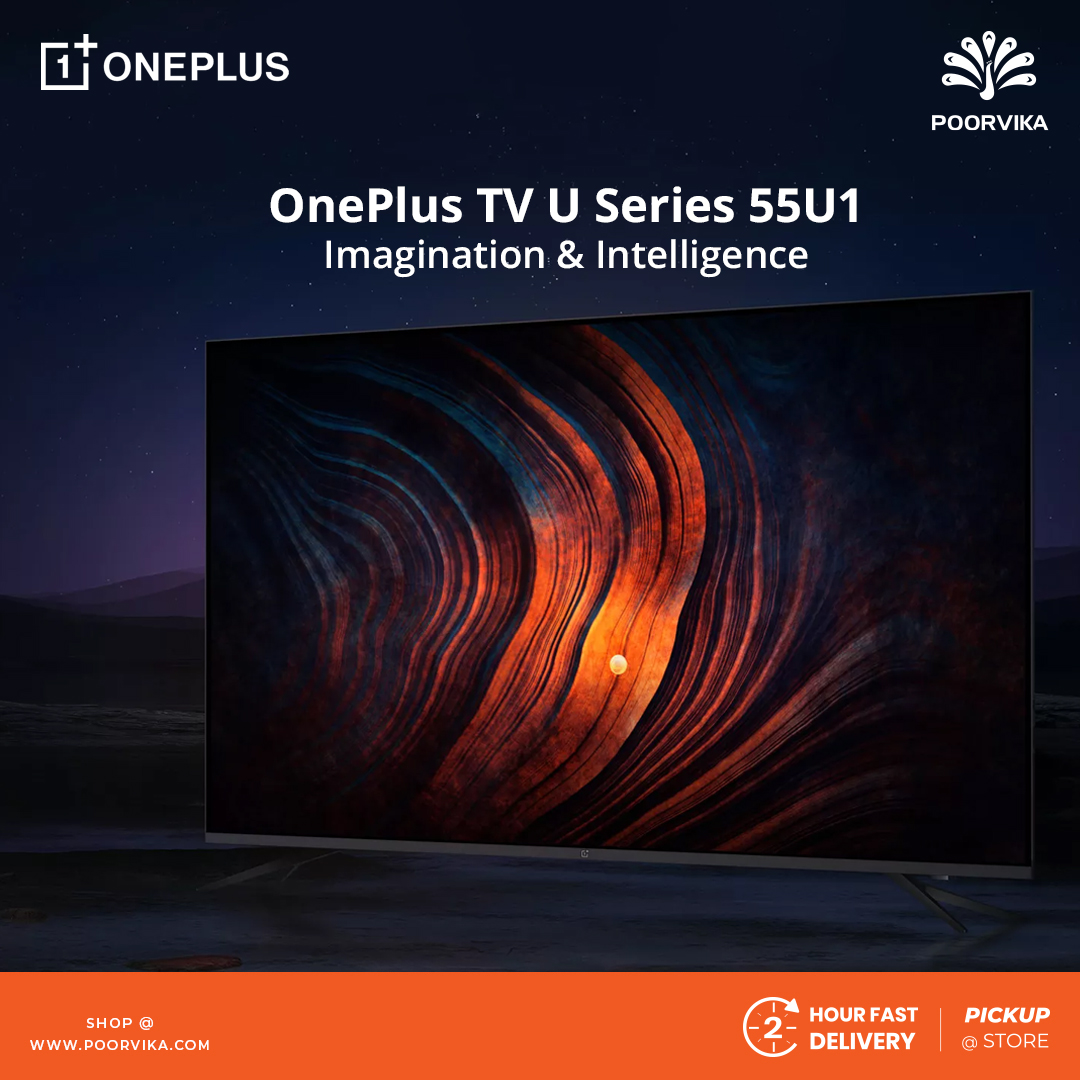 By delivering flagship products at affordable prices, OnePlus has attracted the attention of customers, which is also the reason behind the company's successful worldwide expansion. OnePlus TV delivers vivid and high-quality visuals with its HD display and Gamma Engine. It also features 20W speakers that deliver rich and clear audio to ensure the viewing experience is enhanced.
Fascinating Visuals:
Enjoy the immersive image quality and high color range with the OnePlus TV Y Series. The OnePlus TV Y Series features a wide color gamut of 20% more than DCI-P3–authentic cinematic color.
Gamma Engine:
Experience the finest picture quality with real-time optimization of your video content. Our sophisticated Gamma Engine provides unmatched visuals for an immersive experience.
Dolby Audio:
A rich, immersive audio experience. Thanks to the 20W box speakers and Dolby Audio enhancement, the OnePlus TV Y Series delivers crystal clear sound quality that you'll love.
Bezel-less design:
One plus y series offers a Bezel-less design that immerses you in a new world of entertainment. Get the feeling of being in every scene with captivating picture quality.
Connect it All:
The OnePlus TV Y series lets you connect it all to your TV, from video games to your favorite shows. It's a home entertainment center you'll love with multiple ports.
Google Assistant is a Click Away:
Google Assistant is built directly into the Android system, allowing you to ask questions voice-to-voice through Google Assistant, access a range of apps from the Play Store, and even receive personalized recommendations.  The Google Assistant can be accessed effortlessly in English, Hindi, and eight other Indian languages. Use Google Assistant to get weather data, news updates, and more.
Simple Connection For Easier Interaction:
The OnePlus Connect app will give you complete control over your TV in the same way you can control it from your phone. From Type Sync to Quick App Switch, you can make it all happen right from your phone.
Share Moments Share Memories:
Whether you are at home or abroad, share your photos straight from your phone to your TV with just a click. Shared Album makes it easy to create new memories and relives old ones.
View More With OxygenPlay:
Accessing content you love is just a click away with OxygenPlay. You spend less time searching and more time enjoying the content you love. OxygenPlay has been improved to include top-of-the-line, high-quality content that is sure to delight the entire family, including a complete home theatre experience and an array of premium entertainment. Also never miss what you love with Our integrated Content Calendar makes it easy to keep track of your favorite shows and the newest movies.
OnePlus U1 series is the perfect entertainment appliance for immersive, unlimited, and exciting audio-visual enjoyment. The three features that make this television stand out: its 4K UHD Display for detailed, clear, and immersive visuals, Dynaudio technology for well-balanced audio, and OnePlus Connect 2.0 to connect your smartphone.
4K UHD Display with a Billion Colours:
With HDR10+, HDR10, and HLG support, the display delivers amazing detail and dynamic contrast. Once you turn the display on, you'll see the impressive 8.3 million pixels that make for impressive and realistic visuals.
30 W speakers Co-tuned with Dynaudio:
The U1 series TVs feature integrated sound co-tuned with Dynaudio, a Danish loudspeaker manufacturer. You can enjoy clearly balanced, cinematic audio quality.
OnePlus Connect 2.0:
OnePlus Connect 2.0 lets you control your entertainment through your smartphone. By simply tapping your phone, you can change apps, transfer files, and much more.
Sleek and Stylish Design:
An immersive viewing experience is provided by the bezel-less and 95% screen-to-body ratio. Your television will look aesthetically pleasing even when it is off thanks to the elegant design and durable metal stand.
Seamless Connection with OnePlus Buds:
OnePlus Buds and Buds Z can easily be connected to this TV, allowing you to enjoy live music whenever you like.
Android TV 10:
Android users have access to voice commands through Google Assistant, use a range of apps from the Play Store, and cast photos and videos thanks to the built-in Chromecast functionality.
OxygenPlay 2.0:
The OxygenPlay 2.0 application offers a variety of content providers so you can watch videos, movies, and more. It also keeps you informed of news events.
Smarter Integration with OnePlus Watch:
A OnePlus Watch lets you control the volume, turn on the TV, and more using this home entertainment appliance with its comprehensive connectivity options.
Shared Album:
OnePlus TV comes with a OnePlus TV Shared Album. It lets you share memories and moments directly with your near and dear ones while keeping you connected to them.
Hands-free Voice Control with Speak Now:
The Google Assistant has been integrated into this feature so you can play, search, and connect hands-free.
Just get aww struck by the offers on One Plus Tvs like y series, U1s series available in Poorvika for this Diwali. Get exciting offers Up to 12% cashback through YES bank.