05 Nov 2021
BOSE COMPANION 50 Multimedia Speaker Review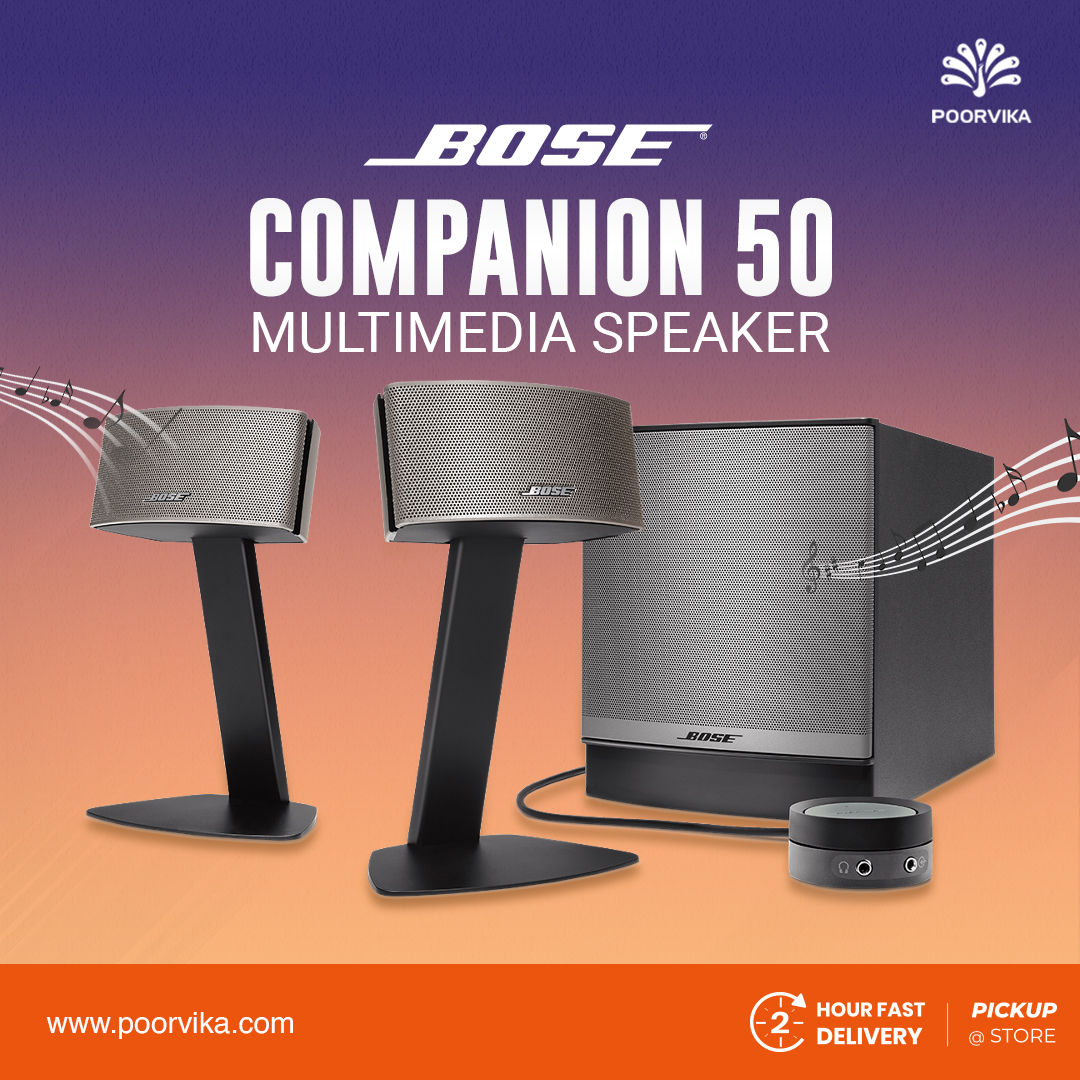 These speakers provide the most immersive computer audio experience you can find from Bose. Bose is well known for its premium brands, such as these. Then and now, Bose has continued to conduct research, develop and innovate with each new release of speakers. The Companion 50 system produces an acoustic experience you can only get from a five-speaker system. Yet, all this is accomplished by using just two Acoustimass modules hidden behind two elegant desktop speakers. With the Acoustimass module, you can hide Bose speakers under your desk and enjoy the rich, detailed sound with a large soundstage. Additionally, it has deep bass from the deep, accurate bass that Bose speakers boast. It features a single connection to your computer, so no sound cards or software upgrades are required, and offers you an Energy-saving sleep mode after 30 minutes of inactivity.
Nowadays, we're using our computer for more and more entertainment. This includes music. Films and TV shows. Gaming. But if we're still using your laptop speakers or the ones that came with your desktop, we're not getting the full audio experience you deserve. The Companion 50 system amplifies music, films, and games with a wide, spacious soundstage with proprietary TrueSpace digital processing circuitry. It reproduces the original dramatic intent behind music, films, and games.
Two small, elegant desktop speakers rest on stands for optimum performance and more usable desk space. The speakers produce an enveloping sound you might expect from a five-speaker system – fine for a living room but unpractical for a computer. It has an all-in-one control pod that allows you to access volume control, single-touch mute, headphone jack and auxiliary input with ease. There is no need to purchase any software or hardware upgrade to connect the speaker system to your computer. A half-hour interval after the system has been inactive, it will shift to sleep mode and wake up when an audio signal is heard or the control pod is tapped.
Bose wireless and Bluetooth speakers deliver loud, room-filling sound thanks to their large cabinet and other useful features. Their only flaw is the high price tag. It features a minimalistic design in the form of a rectangular black box with a metallic matte finish at the top. However, it features a mesh grill at the front, wood-effect sides, and a metallic grille at the front. In addition, the bose companion can enhance lower resolution recordings with UHQ 32-bit upscaling. Within its feature set, the speaker supports multiple file formats, such as AAC, MP3, WAV, OGG, FLAC, AIFF, and ALAC.
Bose's speakers are also incredibly powerful, so you can drive them very loud without them distorting or sounding strained. The solidly constructed cabinet also offers plenty of basses, giving drums a powerful presence during low-end sections. Bass is well integrated with the midrange, but the speaker isn't just about bass and treble, with an excellent tweeter that delivers female vocals and violins without sounding brittle or sharp.
Bose Companion delivers even complex mixes with pleasing precision, showing that its versatility made it adept at every genre of music. The speaker is certainly capable of providing an ambient background soundtrack to your day-to-day activities, but if you listen to it carefully, you'll discover a more sophisticated and nuanced sound. Despite its large cabinet and extensive features, the Bose speakers cannot deliver deep, bass-filled sound due to a higher price tag. It is the only downside to this excellent Bluetooth and Wi-Fi speaker.