13 Nov 2021
Which are the best 4G Lenovo Tablets available online?

Lenovo has been a big name in the laptop industry for several years. They are known for manufacturing top-notch products at a very affordable price. And now the question is, are Lenovo tablets worth the money? In short yeah the qualitative state of Lenovo tablets are top-notch. Lenovo tablets come with impressive hardware, decent User Interfaces. Thus Lenovo still continues to exhibit their dominance in the tablet industry. After the advent of 4G, Wireless technology demand for tablets began to rise. Because 4G network offers outstanding clarity over voice calls and impressive data connectivity across our country. With this kind of internet connectivity, watching high-quality videos without buffering has become possible after the 4G network came into existence. That being said about 4G network, now few of you might wonder Which are the best 4G Lenovo Tablets available online?
Lenovo
The prime reason behind the popularity of Lenovo is nothing but the pricing factor. Even after having budget-friendly products, the qualitative state of Lenovo products is on par with other tablets from leading companies.
Best 4G Lenovo Tablet available Online
As of now, the Lenovo Yoga Smart Tab is the best 4G Lenovo tablet available in the market. Because the Yoga smart Tab outperforms its siblings in almost every area. And this claim is purely based on how it is maintaining the lead against other Lenovo tablets in the league.
The tablet packs impressive hardware which can make the eyes of the beholder to envy. Why? Because this hardware allows the Lenovo Yoga Smart Tab to perform greater computational calculations in a short span.
The Lenovo Yoga Smart Tab is powered by Qualcomm Snapdragon 439 processor. This processor comprises 8 physical cores which are capable of taming the most demanding tasks too. This is why many companies are using Snapdragon processors in their products. Because the core architecture and Kryo cores of Snapdragon chipset are phenomenal.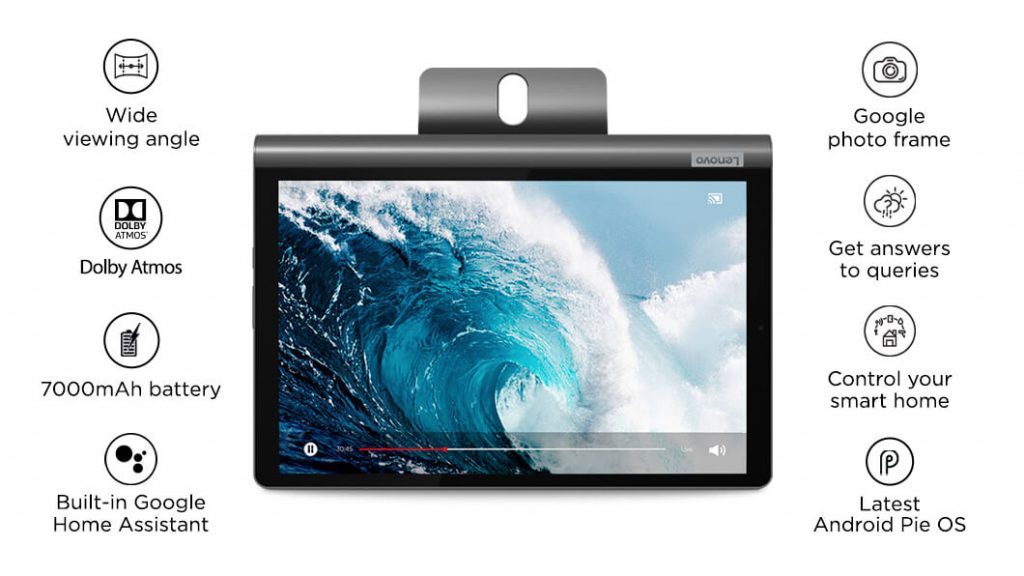 As a result snapdragon processors perform better than MediaTek processors. In addition to performance, the cooling efficiency of Snapdragon processors is optimized. Thus they are able to perform well even at higher clock speeds. But this may not be the case with other processors, as some chipsets may deliberately slow their clock speed in order to save themselves from thermal throttling issues.
According to the capability of Snapdragon 439, we will say it is ideal for casual gaming and maintaining massive amounts of data seamlessly on your tablet.
Memory
4GB Non-volatile memory of the Lenovo Yoga Smart Tab does an exceptionally good job while the user is multitasking. Due to the higher capacity RAM, larger applications load quickly on the Lenovo yoga smart tab.
For storage, Yoga smart tab comes with an in-built 64GB ROM where you can store all your data which includes photos, documents, and applications too.
There is one more thing that makes the Lenovo Yoga smart tab emerge as the winner of the title best 4G Lenovo tablet available online. What is that? media consumption of the Lenovo yoga smart tab is fantabulous. Round-shaped speakers on the bottom of the yoga tab deliver clear vocals with the required amount of bass.
This is something that other tablets fail to offer. So considering all the aspects, we had to declare that the Lenovo Yoga smart tablet is the best 4G Lenovo tablet available online. It is available for just rupees 21,999 from our official website Poorvika. Avail our safe and secure delivery service to get products instantly delivered to your doorstep.