15 Nov 2021
Get MagSafe Power Bank for iPhone 12 with AirPods Charging – Poorvika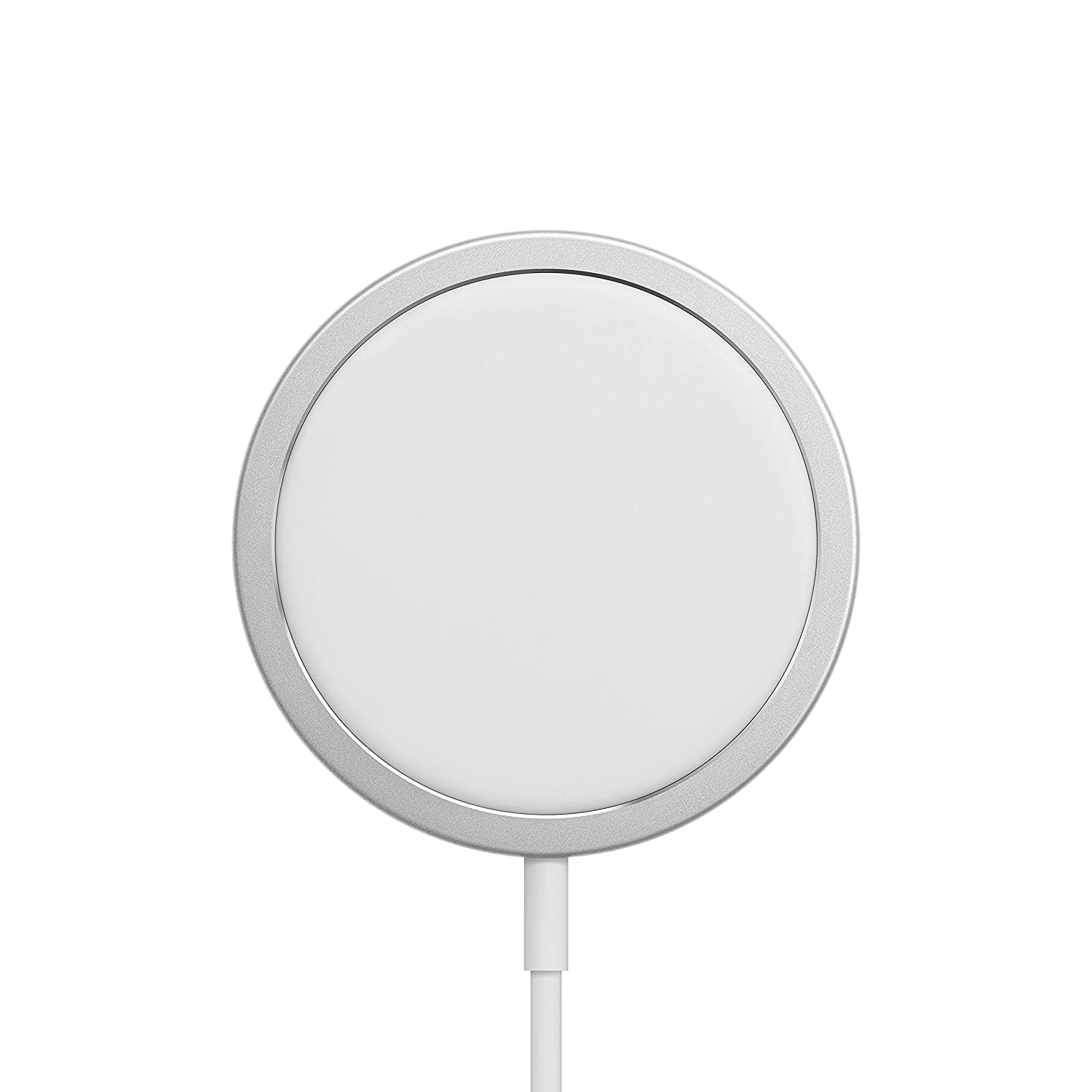 MagSafe has now solved one of the major issues for iPhone users that arise when wireless charging first became available with the iPhone 8. Users no longer need to line up the iPhone correctly on the wireless charger to achieve optimal charging results. Due to its built-in MagSafe magnets, the Apple MagSafe Charger eliminates these complications by snapping into place automatically, allowing for proper placement so that the iPhone 12 can charge at 15W.
With its compact, intuitive design, you can easily attach the MagSafe Battery Pack on the go. The perfectly aligned magnetic strips keep the MagSafe Battery Pack attached to your iPhone 12 and iPhone 12 Pro, or iPhone 13 and iPhone 13 Pro, so you can charge wirelessly without worry. The charger is automatically charged, so you don't have to turn it on or off. It doesn't interfere with your key fobs or credit cards.
When it comes to wireless charging, simply plug in a Lightning cable for up to 15W of speed. You can charge even faster when using a 27W charger, like the one that ships with MacBook. A MagSafe Battery Pack is a convenient solution. It's smaller than most battery packs you can buy, and it easily fits in your pocket. It's also convenient because it uses MagSafe to charge, so you don't have to worry about cables.
The MagSafe charging system uses an induction coil to transmit energy. It is compatible with Qi charging, the standard used by many tech companies to charge without cables. Both systems transmit power to a pad that is connected to a device that receives it. Both MagSafe chargers and iPhones have magnets built-in for better switching efficiency between the coils. They both charge in a similar manner, but with MagSafe, you can charge your iPhone 12 or 13 at up to 15W while Qi charging is limited to 7.5W.
Apple devices can charge at 7.5 W, instead of the 10 W permitted by some phone brands, perhaps for safety or efficiency reasons. When charging headphones, including Apple's AirPods and AirPods Pro, the maximum voltage you can use is 7.5 W. MagSafe charging requires both a MagSafe charger and a compatible iPhone – currently, the iPhone 12 and 13 models – in order to charge at the full 15 W rate. Apple recommends using a 20 W or greater power adapter with MagSafe chargers.
The charging of an iPhone with a case requires that you have a MagSafe case. A MagSafe case contains magnets arranged into a MagSafe Case Magnet Array. You can charge an iPhone 12 or 13 with a Qi charger, but the voltage will be lower. Apple's clear case for the iPhone 13 shows Apple's MagSafe Case Magnet Array.
A round array magnet conducts the charge through the case to the device, whereas a straight orientation magnet ensures the device is aligned properly. The company sells MagSafe cases made from clear plastic, silicone, and leather, as well as a leather sleeve and wrist strap for the iPhone 12 models. Apple also offers cases from OtterBox, and a number of third-party companies sell MagSafe-compatible cases.
MagSafe chargers can be used with thin cases that are not designed for MagSafe, but the charging may not be as efficient in these cases. MagSafe is the standard charger Apple recommends for charging iPhones, and third parties sell MagSafe compatible chargers, but they utilize the slower Qi charging standard. Using a MagSafe charger is the best way to benefit from faster charging and more efficient charging for your iPhone.
The MagSafe charger from Apple features a USB-C jack, which means you will need a USB-C charger with a 20 W or higher power rating to get fast charging. MagSafe Duo works great with both an iPhone and an Apple Watch, and the charger folds to make it portable for portability. It uses a USB-C to lightning cable, so you'll need a charging brick, as with the simple charging disc. 
This charger is only capable of charging wattages of up to 14 Watts with a 27 W power adapter, whereas a 20 W adapter can charge up to 11 Watts. Presumably, the lower charging power comes from the fact that the device contains two chargers. MagSafe was introduced by Apple in 2020, and a battery pack was announced the following summer. The MagSafe Battery Pack snaps onto any iPhone 12 or 13 and offers additional charges from 40% to 70%. (The charging percentage of iPhone Pro Max models depends on the battery size; since these models have the largest batteries, the percentage is lower).
The battery is sized to fit the iPhone 12 or 13 mini, so it's a bit small on bigger phones, but it's sleek and works well with iOS, with an output on the screen when you connect it. The iPhone's battery widget shows the remaining charge.
There are some small magnetic tripods that can leverage the magnets in the phone, and some MagSafe accessories are about power, but the magnets in iPhones let you use mounts in a car that grip the air vents, and there are many MagSafe accessories about power. Apple should come up with some other MagSafe accessories in the future, as MagSafe is a practical way to charge iPhones, and the magnet will hold iPhones to stand well. I'm interested to see what Apple comes up with next in terms of MagSafe accessories.
Now Shop any Smart Devices at Poorvikamobile.com and get instant 2 hours fast delivery.