15 Dec 2021
Is the ROG a good gaming laptop?

Asus Republic of Gamers, abbreviated as ROG, is a brand that is well renowned for its Gaming laptops and they quite a reputation for their hardware as well. From the quality of materials used to the kind of technology that runs these machine; every aspect of their devices are well thought of and produced.
They have laptops that vary from an affordable price range to devices with high-end specs. But all of them are known for one thing across all their laptops, reliable performance.
Some of the devices worth mentioning are the ASUS TUF Gaming F15 Intel Core I7 10th Gen Windows 10 Home Laptop(Bonfire Black, FX506LU-HN125T, 16GB-512GB
The device is pretty light for a gaming laptop meant for heavy gaming. This model weighs 2.3 kg and measures 256 x 359 x 24.9 mm. From the outside, it is evident that this is meant for gamers. It has a brushed finish on the lid that looks and feels premium.
The body, though made of plastic, is still extremely tough and has been built to military specs. The company makes sure that the laptops meet MIL-STD-810H standards by Putting them through drop and shock tests. Every TUF Gaming laptop has been made to resist damage from unexpected falls, bumps, and knocks during shipment and daily use.
This laptop comes with a 15.6-inch Full HD LED Backlit IPS Anti Glare Display and an aspect ratio of 16:9. The Asus TUF Gaming F15 FX506LU-HN125T Gaming Laptop has a screen resolution of 1920 x 1080 pixels, a display density of 141 PPI and a refresh rate of 144Hz. The screen has 250 nits Brightness, 1000:1 Contrast Ratio and a 45% NTSC Color Gamut which can make colors pop out.
Under the hood, the laptop houses an Octa-Core 10th Gen Intel Core i7, which has a base clock speed of 2.2 GHz and a max clock speed of 4.8GHz and has 16 MB Cache Memory.
Along with this, Asus TUF Gaming F15 FX506LU-HN125T Gaming Laptop has a dedicated 6GB NVIDIA GeForce GTX 1660 Ti GPU for a graphic card.
The laptop comes with 16GB DDR4 RAM that makes any workload a breeze, and a 512GB M.2 NVMe PCIe 3.0 SSD gives gamers the ability to store any amount of data they wish and retrieve them at high speeds.
It has a backlit keyboard that is very ergonomic to use with a decent amount of key travel. The yellow highlights on the keys give it a very sporty aesthetic look that goes with the whole gamer look.
Asus boasts that the laptop has a very good battery life, although it has a smaller chassis which makes it lighter. It comes loaded with a 4-cell battery and a 180W AC adapter.
It has various connectivity options that include 1 x USB 2.0 Type-A, 1 x USB 3.2 Gen 2 Type-C Support DisplayPort / G-SYNC, 2 x USB 3.2 Gen 1 Type-A & 1 and a 3.5mm Combo Audio Jack.
The price of the Asus TUF Gaming F15 FX506LU-HN125T is Rs.89,990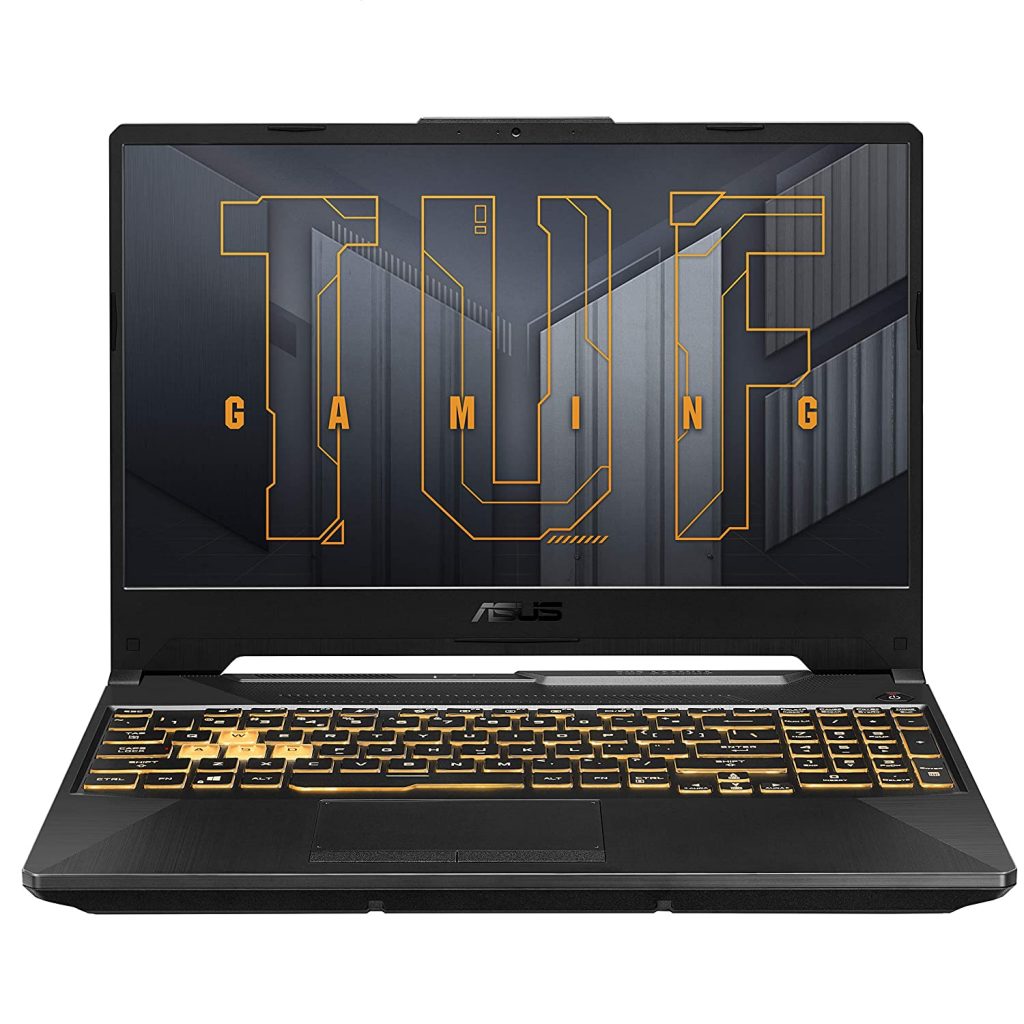 Another laptop worth mentioning is the ASUS TUF Gaming A15 Ryzen R7 5800H Windows 10 Home Laptop.
The device features a 15.6-inch FHD anti-glare display with a screen resolution of 1920 x 1080 pixels, 144Hz refresh rate and an Aspect Ratio of 16:9. The laptop features a brushed metal look with chiselled edges, giving it an aggressive outlook. The honeycomb design on the laptop not only enhances the aesthetics but also gives it grip in terms of feel.
The device has an AMD Ryzen 7 5800H Processor that is extremely fast and is known for its multi-core performance. It is assisted by a 6GB GDDR6 NVIDIA GeForce RTX 3060 Laptop GPU with speeds up to 1630MHz at 90W but can be amped up to 95W with Dynamic Boost.
The device has two 8 DDR4 RAM cards with a speed of 3200 MHz SO-DIMM, meaning the data transfer from various pools will be extremely fast.
The device also has a 1TB M.2 NVMe PCIe 3.0 SSD that can boot up really quickly. It ensures that the user doesn't have to worry about a lack of storage at any point in time.
It has a built-in noise-cancelling array AI microphone with DTS software with 2x 2W speakers. The AI noise cancellation system intelligently blocks ambient noise instantly, making your zoom calls clearer. The Speakers have a decent amount of clarity to provide a good gaming experience.
Connectivity options include a 3.5mm Combo Audio Jack, an HDMI 2.0b, 3 USB 3.2 Gen 1 Type-A, and a USB 3.2 Gen 2 Type-C. The price of the ASUS TUF Gaming A15 Ryzen R7 5800H is Rs.1,03,990.
The last one on the list is the ASUS ROG Zephyrus G14 Ryzen R7 4800HS Windows 10 Home Laptop(Moonlight White, GA401IU-HA246TS, 16GB-512GB)
The laptop has a 14-inch QHD Anti-glare IPS Display with a 60Hz Refresh-rate and a resolution of 2560 x 1440 Pixels. The display has 300 nits of Brightness and a 170 by 170 viewing angle that lets you watch content on the screen from almost every angle.
The exterior design of a laptop is something that catches anyone's eye, and the ASUS ROG Zephyrus G14 is no exception. It has a beautifully designed exterior lid with an LED panel comprising of 1215 individual LEDs. It uses a technology called AniMe Matrix display that can be customised to display almost any kind of graphics or imagery that you choose.
The lid has 6536 perforations carefully made by a CNC Machine that emit just enough light from the AniMe Matrix display to create subtle animations that are stunning.
The device packs an AMD Ryzen 7 4800HS Processor that has 8 cores and 16 threads. AMD processors are known for their multi-core performance owing to their hyperthreading feature.
It has a powerful 6GB GDDR6 NVIDIA GeForce GTX1660Ti GPU. Asus' revolutionary Turing architecture creates a fusion between real-time ray tracing, programmable shading and artificial intelligence.
Handling heavy workloads is never a problem as the laptop has 16GB of DDR4 RAM. Its onboard 512GB M.2 NVMe PCIe 3.0 SSD is more than enough to store ample amounts of data. Users need not worry too much about running out of space or data transfer speeds as an SSD doesn't have moving parts.
The device has up to 8 hours of battery life, making it quite an efficient device considering its powerful components. The Audio system on the laptop comes with Smart Amp Technology and is further enhanced by the inbuilt Dolby Atmos Software, giving you an audio experience that can rival most laptops.
Connectivity options include a 1 USB 3.2 Gen, 2 Type-C, 2 USB 3.2 Gen 1 Type-A, 1 Type C USB 3.2 Gen 2 with Power Delivery, 1 HDMI 2.0b, Display Port G-Sync & a 3.5mm audio jack
The price of the ASUS ROG Zephyrus G14 Ryzen R7 4800HS Windows 10 Home Laptop GA401IU-HA246TS, 16GB-512GB is Rs.1,05,990
You can find these laptops, TVs, Phones, Accessories, Personal grooming appliances and much more right here on the Offical Poorvika Website. We have tonnes of offers, discounts and cashback curated just for you. Avail of our Fast delivery options to have your device delivered right to your doorstep Safe and Sanitized by our Delivery Experts.