15 Dec 2021
What are the pros and cons of the Microsoft Surface Pro 7?

Every product on the market has its fair share of pros and cons. Electronic gadgets, however handy, also have their drawback, but in most cases the deciding factor of what can be considered a pro or what can be considered a con is a matter of personal choice.
The Microsoft Surface Pro laptop has an iconic design that hasn't changed much since the very first model came out. It was originally intended to kick off a whole new generation of ultraportable, compact PCs by showing off all the touch-friendly features of Windows.
The Surface line is part of the Microsoft premium segment. Microsoft has the level of integration that makes Apple's Macs stand out by having control over the hardware as well as software. Interestingly enough, few other companies seem to think there's much demand for Windows-based tablets with detachable keyboards.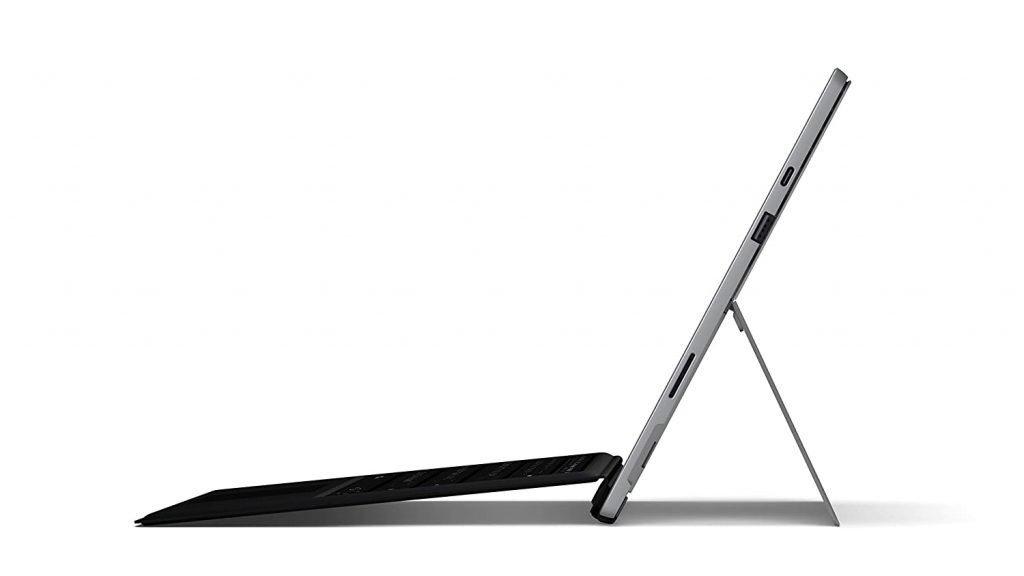 So what are the pros and cons of the Surface Pro 7? Is it worth its price?
The first thing you notice about the device is its large screen. It is 12.3 inches, with a 3:2 aspect ratio that is perfect for a device that can be used in a landscape or portrait orientation. The bezels around the screen are pretty large by today's standards but it accommodates the 5-megapixel front-facing camera and the infrared sensor for Windows Hello face recognition pretty well with space to spare.
The Pixel Sense Display makes sure you get nothing short of rich colors whether you are working, surfing the web or watching a video. There are magnets at the borders at the bottom of the screen that allow the type cover to fold.
It also serves for the device to be at a slight incline to make typing a wee bit more comfortable. Flipping the cover shut lets the tablet go to sleep however there aren't any magnets to hold them together when closed.
The Surface Pro 7 has a very sturdy chassis made of a magnesium alloy, and you can get it in Platinum or Matte Black. The Surface Pro's design is most recognizable for its iconic kickstand. It seamlessly blends in with the back of the body when folded and stays steady no matter how hard you use it. You could rest your hand on it when drawing or even jab the screen with a stylus while you are trying to 'make a point.
Considering this is a 2-in-1 device, it can either be used as a tablet in your hands or turned into a mini laptop with the Type Cover. However, extending the kickstand means it's an extra footprint; hence you need extra room to place it.
Also, using the kickstand means the display cant stay upright like a normal laptop, making it impractical to use anywhere else than on a tabletop. That said, the Surface Pro 7's portability and convenience make it a favourite.
Another pro about the device is that it's got an i5 processor, which is a jump from its predecessor. The new i5 processor makes sure workflows are faster, making your day more productive.
The Intel Core i5-1035G4 is a power-efficient quad-core System on Chip for laptops and Ultrabooks. It is based on the Ice -Lake-U generation and integrates four Sunnycove cores with 8 virtual threads thanks to HyperThreading. It has a base clock speed of at 1.1GHz that can be boosted all the way up to 3.7 GHz in Turbo mode.
The Soc has pretty good performance during hyperthreading but is stronger in single-core performance. Intel claims the Sunnycove cores can reach 18% more IPCs and therefore have a similar CPU performance to the Whiskey-Lake predecessors with higher clock speeds like the Core i5-8365U that can reach a whopping 4.1 GHz.
As far as its graphic capabilities are concerned, 3DMark software measures relative graphics power by rendering highly detailed, gaming-style 3D graphic sequences that emphasize lighting and particles.
With the 3D Mark subtest Sky Diver, the results are slightly different but are evident that the Surface 7 Pro is more powerful than the Dell, Lenovo and HP. Sky Diver is a DirectX 11 benchmark, but it is more suited to laptops and mid-range PCs.
The only con is the fact you have to get the Keyboard and the Microsoft Stylus separately. Hopefully, if Microsoft includes them in the same package, it will be a much more complete package considering its price.
Overall the Microsoft Surface Pro 7 is a pretty good deal when it comes to its utilitarian factor. Other than the part that the keyboard and the stylus are sold separately, the device is worth its price.
You can get the Microsoft Surface Pro 7 right here at Poorvika for Rs.90,990. There are loads of other gadgets and devices that you can find on our official Poorvika website. There are also a ton of other offers, discounts, and Easy EMIs curated just for you. You can have your devices delivered right to your doorstep with our 2 hours fast delivery. Our delivery experts make sure that all your deliveries are Safe and Sanitized.