17 Dec 2021
Best Bluetooth Speakers and Soundbars 2021 – Poorvika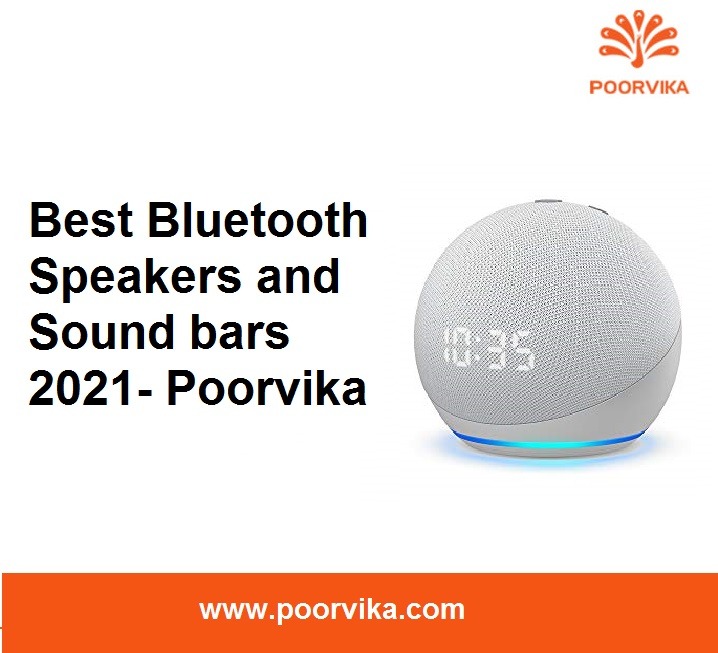 As technology advances, every electronic gadget, from TVs to speakers, has gone through a series of changes, focused on the user's convenience and expectation. In this blog, we will be glimpsing at the best Bluetooth Speakers and Sound Bars you can purchase so that you can endlessly keep grooving to your favorite high-quality music. So, let us dive into the topic and look at the best speakers on market at present.
Amazon Echo Show 8
The Amazon Echo Show 8 is a new video-enabled version of the Echo Show that includes a 5.5-inch touchscreen with improved audio. It also features two physical buttons for controlling volume, one on the left side and one on the right side of the soundbar, and an infrared port for communicating with other devices like TVs or Blu-ray players.
Some of the features are:
Alexa Voice Command– Listen to your favorite music, daily news, and weather forecast with just a voice command from you. Also, control your other devices in your house using this device. So, buy this unit, sit back, relax, and order it to do your work. How simple, isn't it?
Top Features List – The new feature allows customers to browse videos more conveniently. It will organize videos by categories and by most recent video added. This feature is designed to help customers find what they are looking for with one search.
Featured Videos – The new feature allows customers to see recommended videos right on the Amazon Show home page. All the recommended videos will be marked with blue "Star" icons to indicate frequently viewed. Customers can tap on a "Star" icon to watch the recommended video or look at other categories that other customers have recently suggested.
Music Search – The new feature lets customers listen to music from various online sources like Amazon Music Library, Pandora, and Spotify by talking to Alexa to play music on Amazon Show or by asking for lyrics. Customers can search for artists, songs, or albums by voice, such as "play hip hop" or "play pop music from 1986.
boAt Stone 1500 Bluetooth Speakers
Boat Stone 1500 is a brand new Bluetooth speaker that may have just caught your eye because it looks unique. But while its exterior design may be eye-catching, it's the sound quality and durability on the inside that earn this device its spot on our list.
The Boat Stone can produce high-quality sound for any activity: whether you're jamming at a barbeque with friends, listening to tunes around a bonfire, or gathering in the backyard for an impromptu dance party. It's the perfect speaker for all of your outdoor activities.
The Boat Stone is one of the few Bluetooth speakers completely waterproof, so it can go wherever you want it to go. And while its size is small enough to be easy to carry around, it's large enough to sound good in any room. The audio quality is good enough for most people who prefer to listen to normal listening levels, but with a bit of tweaking, you can make the Boat Stone hum in a way that's perfect for you.
This Bluetooth speaker is also incredibly durable and built with high-quality materials that won't get damaged even if accidentally dropped on concrete or other hard surfaces. The specifications include, up to 15 hours of battery life, Built-in Mic with echo canceling technology, Waterproof and Shockproof Design, and Thumping passive radiators.
Marshall Stockwell II Bluetooth Speakers
Many people use Bluetooth speakers to provide a more personalized audio experience. Marshall Stockwell II Bluetooth Speaker is one of the many options that can make your life much easier and less stressful. Whether you listen to music, watch videos, talk on the phone, or play games while exercising, this speaker has all your needs covered.
The Marshall Stockwell II Bluetooth Speaker has a robust and sturdy design that makes it look great in any setting. It is available in two different color variants: Black and White. Both versions look elegant and can complement any decors.
This speaker has a very large sound output level, perfect for larger rooms. It also has an excellent mid-low frequency response, which means that the bass levels will not disappoint you. Furthermore, it delivers clean treble sounds, ensuring that all of your favorite music and audio tracks will be heard in their most actual form because of this speaker's capabilities.
Specifications include 20+ hours of playtime, multi-directional Blumlein Stereo speakers, Water-resistant, multi-host personality, and classic type control knobs to adjust the treble and bass.
Bose TV Speaker- Sound bar
Sitting on your couch and reading a book is not nearly as enjoyable without some decent form of background music. Sure, you could just turn the volume up on your TV, but that's hardly better than listening to background noise. If that's the case for you, we recommend checking out the Bose TV Speaker — which delivers quality sound and looks great to boot!
The Bose TV speaker is great as it has excellent sound quality. This is especially important when watching movies and shows with a complex audio mix. Thanks to its superior bass response and rich midrange, you'll hear every word delivered beautifully without having to crank up the volume on your TV so that you can make out dialogue.
You can also connect other devices to this speaker like your smartphone, PC, and video game console. Sure they're not speakers themselves, but they're all compatible with Bluetooth. The idea here is to allow different devices to work together seamlessly. This will enable you to turn your TV into a smart TV with your smartphone via its Bluetooth connection. A PC or laptop can play music or game audio from your phone through the Bose speaker.
Realme 100W Sound bar
The Realme 100W Soundbar is a smart, modern soundbar that delivers immersive audio with crisp highs and deep bass under stunning visuals.
It's perfect for gamers, music lovers, or even professionals who need to hear every note of the piano. It features built-in 14-watt speakers with Dolby Digital 5.1 decoding technology, promising to take your TV viewing experience to the next level. The Realme 100W Soundbar is wirelessly connected via Bluetooth or an AUX cable, bringing you digital sound quality on your TV without any complicated installation process. This sleek-looking device will make it much easier for you and your guests to enjoy an evening movie and listen to their favorite audio tracks together.
With a dimension of 490mm x 80mm x 175mm (LWH), the Realme 100W Soundbar will add a touch of style to your TV, turning it into an entertainment hub that everyone in the house will enjoy. It features a trendy and smart design with a black piano finish and a slim profile, making it the perfect complement to any type of home décor. A built-in Bluetooth function allows you to listen to music from up to 10 meters away from your TV for up to 5 hours before the next recharge is required.
Also, it features two built-in speakers capable of delivering crystal clear audio, so you'll always be able to enjoy your viewing experience in complete silence without having to hear the sound of a fan. Furthermore, an incorporated 40mm satellite speaker and 50mm subwoofer provides great audio clarity for movies and an experience that's made even more realistic thanks to Dolby Digital 5.1 decoding technology on the Realme 100W Soundbar.
Buy your favorite branded speakers and soundbars for the best price at Poorvika and get two-hour assured delivery. Visit the Official website to know the Offers & Cashback Deals on a wide range of gadgets. Order now for more surprises.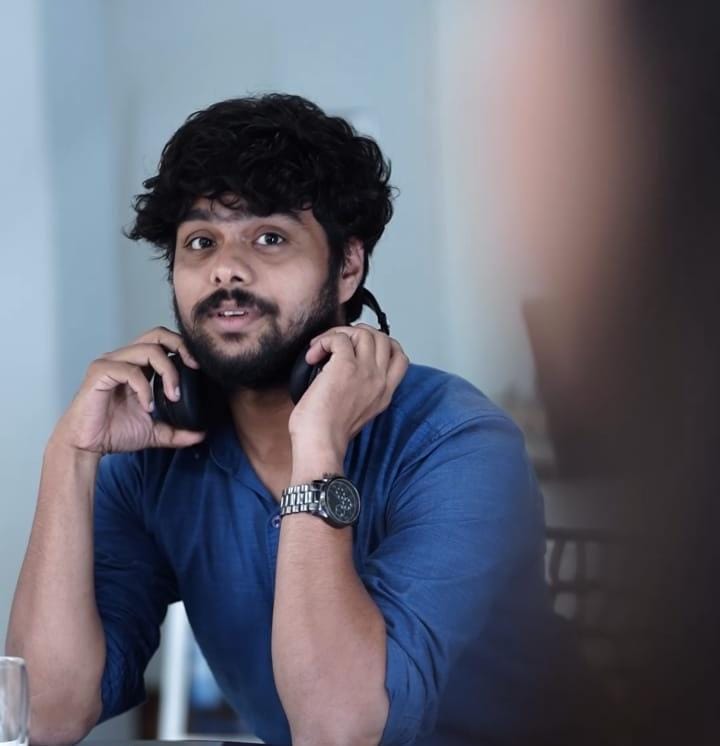 Content Writer. Digital Marketing. SEO.