20 Dec 2021
Why OnePlus TV U Series could be the best choice for a budget Smart TV? – Poorvika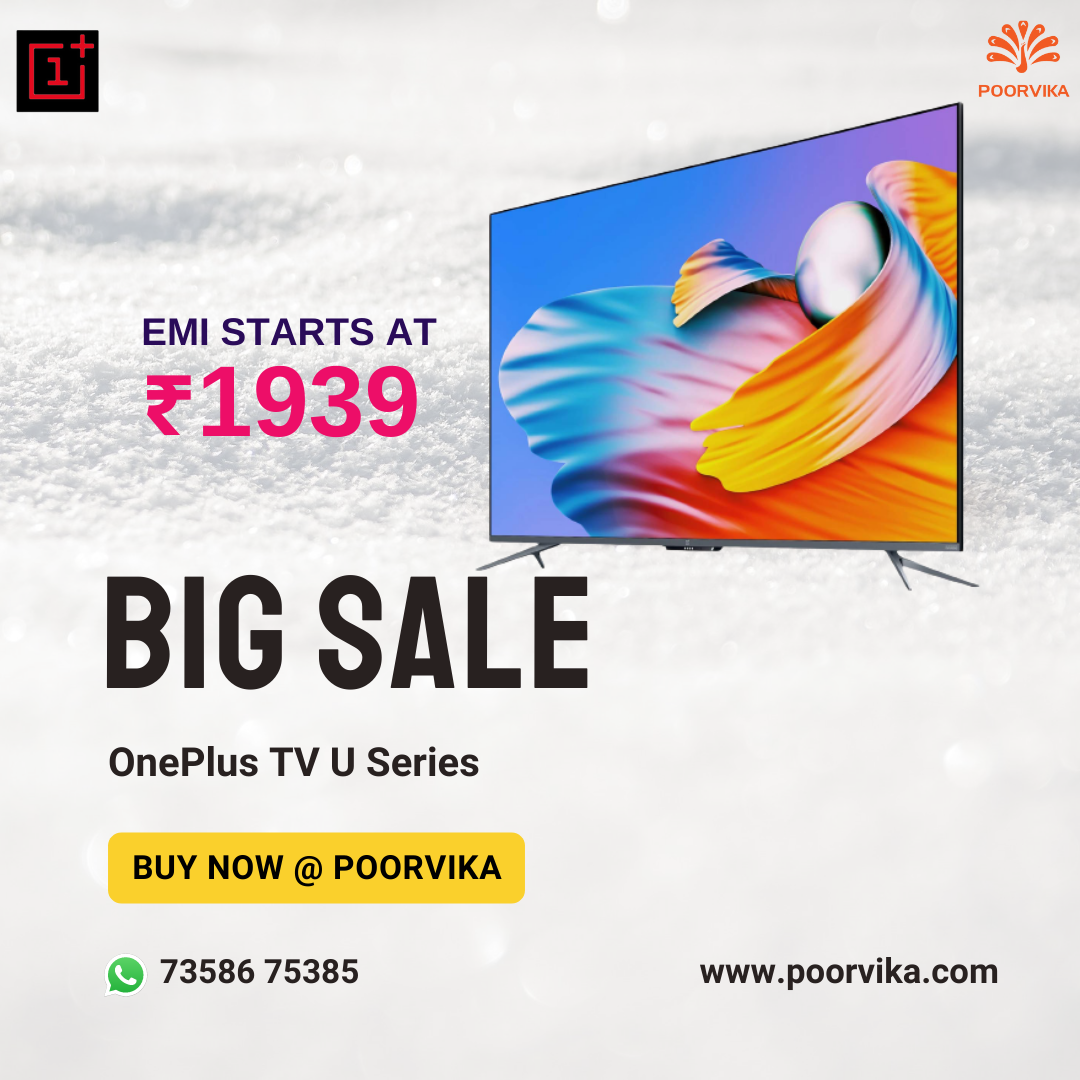 If you're looking for a Smart TV that has all the features you'd want at a price tag that won't break your bank, then look no further than the OnePlus TV U Series. The U Series is perfect for those researching on a budget and who don't have much room in their budget to spend on a 65-inch Smart TV. It's one of our most popular models ever thanks to its entry-level design, outstanding performance, and the seamless integration of top apps from Google Play like YouTube, Netflix, or Amazon with your OnePlus smartphone.
Overview
The OnePlus TV U Series is a 4K UHD display with a refresh rate of 120/100Hz and has a maximum resolution of 3840×2160. It also supports HDR10, which means it can display content in high definition. The TV's operating system is Android Pie, which comes with the latest security updates and the ability to support any app developed by third-party developers on the Google Play Store. The AI of the TV even allows you to use voice search to search for videos or play music on your mobile device!
Design and Display
In terms of design, it's by no means unique as most of its competitors are very similar in terms of sizes. However, the curved bezels do make it stand out from the crowd. The device itself is all plastic, but it is, nevertheless, very solid and sturdy. It weighs around 4.8 pounds, and its dimensions are 1.3 in x 16.9 in x 18.5 in (H x W x D).
The OnePlus TV U series offers greater brightness with a better contrast ratio thanks to an upgraded panel technology for enhanced color production with greater contrast and lower reflectivity. Furthermore, OnePlus TV U Series utilizes an intelligent panel that automatically selects a better picture mode depending on the content being displayed. Also, instead of one big screen, OnePlus has developed five different variants of their U series to cater to various kinds of usage scenarios. The U1 is perfect for watching movies and sports, while the U3 is better for video games and movies.
Navigation & Apps
The on-screen menu makes navigation a breeze with the included remote control, which comes with a full QWERTY keyboard for those times when you need to type something instead of using the voice assistant. The menu itself is very intuitive, and there's no learning curve whatsoever, even if you decide to use a Smart TV for the first time. Also, the bundled remote control makes it easier to adjust settings and navigate through the menu.
With a focus on the entertainment side of things, the Oneplus TV has an impressive native media package that includes Netflix and YouTube apps, which will get you started on enjoying your favorite content immediately. Furthermore, even OnDemand is included in the device, offering instant access to your favorite shows and movies.
Connectivity
With the OnePlus TV U Series, you don't have to worry about cable management and broken HDMI cables. With a magnet built into the cable, you can leave it anywhere around your television. In terms of connectivity, the device comes with an HDMI 2.0 port, USB-C PD (power delivery), Ethernet, and standard 3.5mm audio jack, along with an optical audio cable. There are a couple of USB ports, but you shouldn't expect any other connections that are standard on most Smart TVs.
Performance
In terms of performance, the device does excellent in most cases. It's more than capable of handling anything you throw at it, whether streaming video on YouTube for hours or playing your favorite HD games. The powerful Quad-Core CPU and 2GB RAM allow you to enjoy all your favorite content without a glitch. Its sleek design gives you value for money.
With an impressive Quad-Core 700MHz processor, users will be able to enjoy all forms of multimedia entertainment while they relax at home. For those who enjoy gaming on their phone or tablet, Oneplus TV U Series has a Dolby Atmos sound system perfect for immersing you in your favorite game worlds without wires or additional hardware setups getting in the way. This unit also includes the latest software and features found in the OnePlus flagship smartphone line, such as OxygenOS and Face Unlock.
Audio
This Smart TV delivers the ultimate all-in-one entertainment & audio experience. The awesome 4K HDR television and Dolby Atmos home theatre system will transport you into another world, while the wireless soundbar and subwoofer bring all your favorite movies, games, and music to life. With its sleek and modern design and intuitive smart features, a new configuration of speakers with tweeter, midrange driver, and woofer have been specially designed to work together for the best possible audio experience.
Other Features
Built-in Chromecast: Oneplus TVs also have a built-in Chromecast functionality allowing you to stream content directly from your smartphone or tablet. Thus, playing games, watching videos, and accessing apps are more accessible than ever with the Oneplus TV U Series. It offers 4K Chromecast functionality that viewers enjoy their favorite content live on their screen. 
Dual Screen Multitasking: This OnePlus TV allows you to use two apps on one screen for true multitasking. For instance, if you want to watch a youtube video and browse something through the internet, OnePlus TV U Series allows you to perform both tasks simultaneously.
OxygenPlay: OnePlus TV U Series features OxygenPlay, which allows users to search for their favorite shows or movies for a content-centric search. Various streaming platforms such as Zee5, SonyLIV, HungamaPlay, etc., are supported in this feature, providing the users with a more accessible interface to browse a specific movie. 
Buy this budget-friendly OnePlus TV U Series for the best price at Poorvika. Order it online now and get it delivered to your doorstep in 2 hours. Visit our website to know more Offers & Discounts on a wide range of gadgets at Poorvika.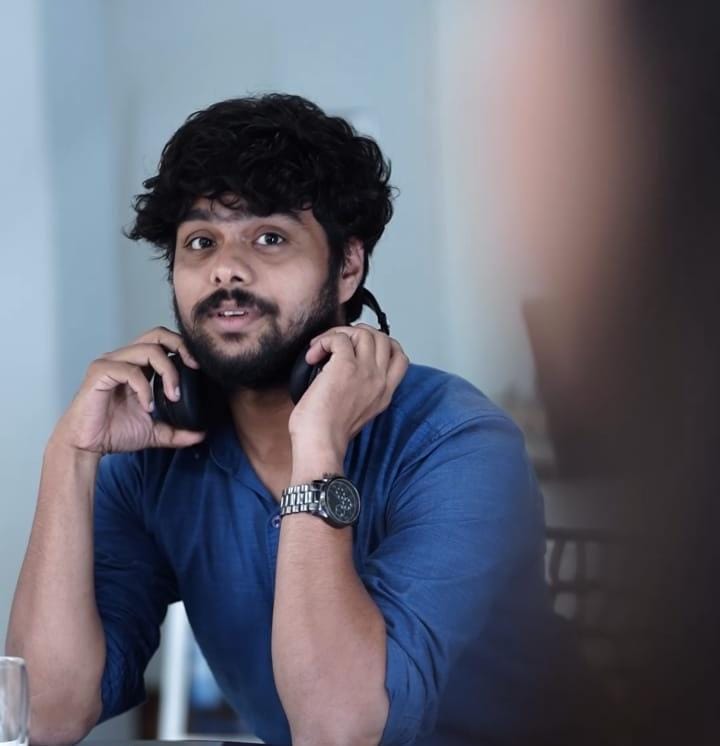 Content Writer. Digital Marketing. SEO.