27 Dec 2021
Best gaming keyboards under Rs 2,000

Gaming for some of us is recreation; for others, it's a hobby they take seriously. With the recent trend of gamers rising, Games of various gerners have become very popular. With so many games coming up, serious gamers have also increased drastically.
There are different platforms that people choose to play games, High-end Gaming consoles, handheld portable devices like the Gameboy, and Gaming PCs. However the most gamers go in for PCs as they are versatile, and a good keyboard is as important as any other part of their computer when it comes to gaming.
If you are a novice looking for a good keyboard on a budget, then this is the blog for you. We will look at one of the Best Gaming Keyboards Under Rs.2,000, The Zebronics Zeb-War Wired Keyboard.
This keyboard hails from one of India's most renowned homegrown brands, Zebronics. At first look, one can easily make out that this is a gaming keyboard from its shape and form factor and, yes, of course, the lights.
The Zeb-War keyboard is a full-sized keyboard with a number pad located on the keyboard's right. However, being a full-sized keyboard, it is still pretty compact and light at 435 x 125 x 40 mm, weighing a mere 600g. The full-size keyboard has 104 keys with a keystroke life of 12 million times. That's an extremely long lifespan for the keys and gives you a clear idea of how much usage it is built to handle.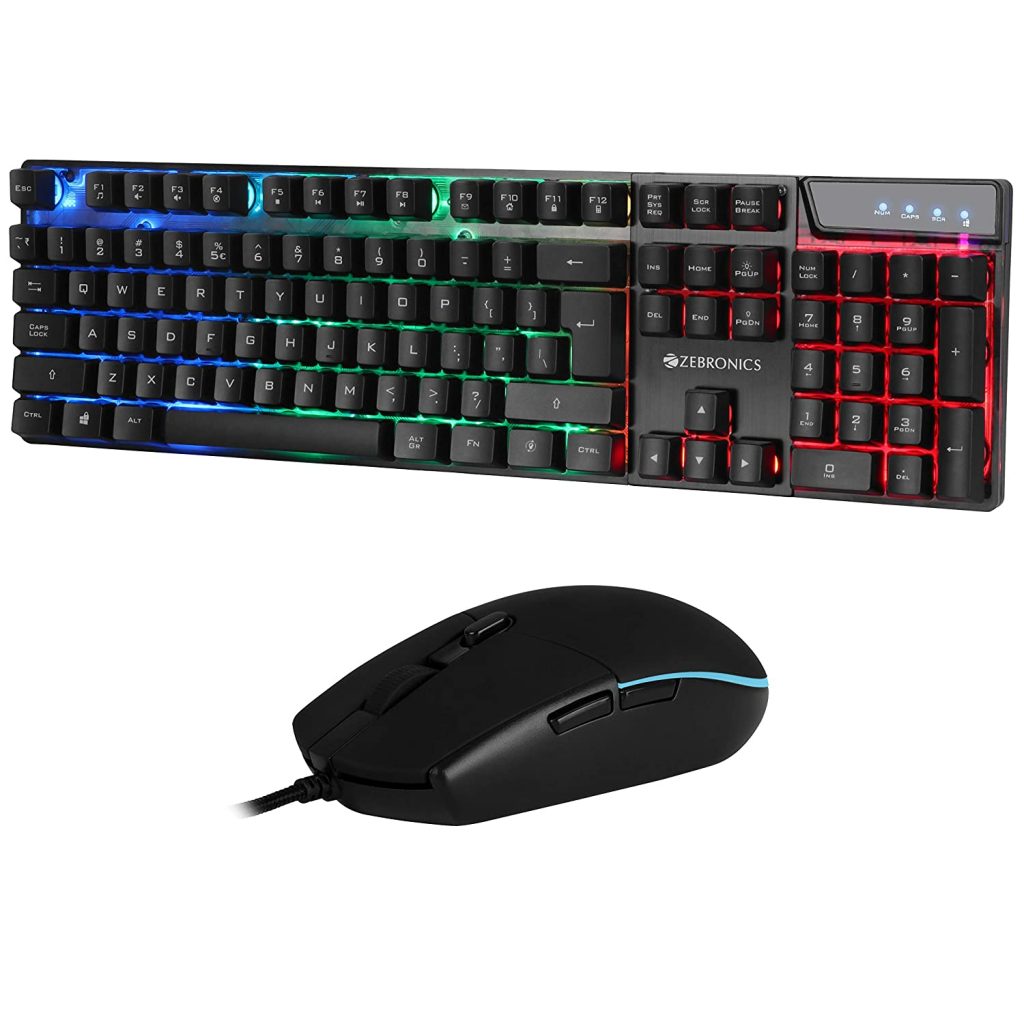 The keyboard is a wired one and comes with a braided cable which makes the cable extremely durable and tough. Another advantage with the wired cable is that you don't have to change the batteries like in the case of wireless keyboards. Therefore you avoid the inconvenience of losing power in the middle of an intensive game session.
Speaking of power, the keyboard uses a mere 5V and can be connected to your computer or laptop via a USB connector that is Gold plated. Gold-plated USBs allow for Lower Latency issues and Improved Signal Efficiency hence improving response times.
What makes the Zeb-War gaming keyboard even more aesthetically pleasing is the RGB lighting underneath the keys. The glow emitted by these lights sets it apart from almost all the other keyboards on the market. The RGB lighting comes with three brightness levels and four modes to glow in various patterns.
The Zeb-War keyboard also comes with a dedicated gaming mouse that is no less impressive. This high-precision device comes with 3200 DPI and six buttons instead of the two buttons you find on a regular mouse.
It has breathing LEDs that match the one on the keyboard, making it an eye-catching piece of tech, and the ergonomic design gives it an amazing hand feel during those intensive gaming sessions. The level of responsiveness on this device is pretty commendable, while its 1.8m braided cables make it highly durable.
Despite its chunky-looking design, the mouse weighs just 120g. It has a button life of 3 million clicks, making it perfect for avid gamers who push their devices to the limit.
This is the perfect combo for those who take gaming seriously and are just starting their gaming journey, making it the best gaming keyboard and mouse you could get under ₹2,000
You can find the Zebronics Zeb-War Wired Keyboard with Mouse right here at Poorvika for the price of ₹1,049
Apart from that, we have loads of other Gadgets, Phones, and smart devices that you can check out on our Official Poorvika Website. If you are looking for EMI options, we have that as well, with lots of discounts and offers curated just for you.
Poorvika also encourages that you purchase its Poorvika Protection Pack that starts at just Rs.649 to protect your smart devices against accidental physical and liquid damages. Contact your nearest Poorvika Store to know more about it.
Also, avail of our 2 Hours Fast Delivery option when you place your orders to have your favorite gadgets or smart devices delivered right to your doorstep. Our delivery experts are highly trained and take extreme care to ensure all your deliveries are safe and sanitized according to government-approved safety protocols.