29 Dec 2021
Tech in 60 Seconds (29-DEC-2021)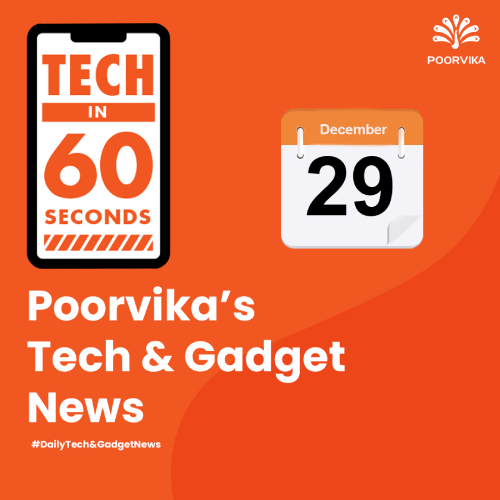 Huawei P50 Pocket with Clamshell Design, Circular Outer Display Launched. One of the key talking points of this foldable is the multi-dimensional hinge, which helps achieve the seamless flat-holding and crease-less design. feature of the Huawei P50 Pocket is the double ring design on the outside panel. let us know if you're interested in this all new design for a foldable.
iQOO 9 Series with Snapdragon 8 Gen 1 Confirmed to Launch on January 5.iQOO recently shared an official image of the iQOO 9 BMW M Motorsport Edition on Weibo. rumors suggest that it will come with a 6.78-inch Quad HD AMOLED display with support for a 120Hz refresh rate.
5G Services to Reach Delhi, Kolkata, Mumbai, Bengaluru,  Chandigarh, Ahmedabad, Lucknow, Pune, Bengaluru, Gurugram, and Gandhinagar in 2022.  the government is also planning to commence 5G spectrum auctions prior to rollout. It is revealed that the test bed project has reached its final stages and could end on December 31, 2021.
Motorola to Launch Moto Razr 3 in 2022, Confirms Company Executive. Chen Jin, an IT manager in Motorola's parent company Lenovo, recently took to Weibo to confirm the launch of the Moto Razr 3 in 2022. The company executive, in his latest post, shared an image, teasing the device.  we can expect Motorola to pack Qualcomm's latest Snapdragon 8 series chipset inside the next Moto Razr.