11 Jan 2022
Tech in 60 Seconds (11-Jan-2022)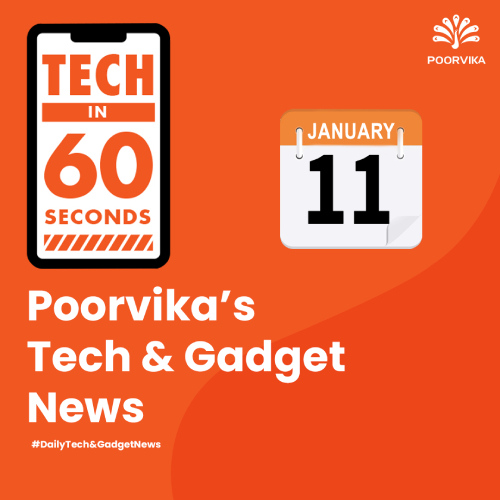 Lenovo Legion Y90 Rear Design Officially Revealed by Company Ahead of Launch. Lenovo is also preparing to launch its upcoming Legion Y700 gaming tablet.  Y90 will be equipped with a large 6.92-inch E4 AMOLED display with a refresh rate of 144Hz and a touch sampling rate of 720Hz, according to the company.
Qualcomm's Digital Chassis Platform Aims to Make Cars Smarter, More Futuristic. it is primarily a set of cloud-connected platforms to enable carmakers to integrate various customizable features into their next-gen vehicles.  Snapdragon Cockpit platform that could allow carmakers to add a multi-display, multi-camera setup in the interiors of cars. 
Alienware's Concept Nyx Lets You Stream Games on Any Device Connected to Your Home Wi-Fi. Just imagine that you are playing a AAA title like Cyberpunk 2077 on your PC and want to shift to your living room for a more comfortable experience. With Concept Nyx, you will be able to do so by seamlessly transferring your ongoing game to your smart TV connected to your home Wi-Fi network.
LG Is Developing a Waterless Washing Machine That Uses Carbon Dioxide Instead of Water. The LG waterless washing machine would be able to wash dirty clothes using no water or detergent at all. This would save a lot of water that is currently being used in households to wash clothes.